Industry news, January2011
PHARMACEUTICALS
New pharma bosses take up challenge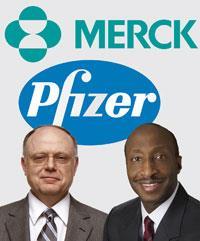 Two of the big US pharma companies have appointed new chief executives. Jeff Kindler has unexpectedly retired from Pfizer after four and a half years as chief executive, a period he described as 'extremely demanding on me personally'. The vacancy has been filled by Ian Read, who has headed the biopharmaceutical businesses since 2006. In addition, Merck & Co has appointed Kenneth Frazier chief executive, effective 1 January 2011. He will succeed Richard Clark, who has been chief executive since 2005 and will continue as chairman of the board. Frazier was executive vice president and president of global human health from 2007 to 2010. Read has spent over 40 years at Pfizer and is a scientist by training, having studied chemical engineering at Imperial College London, although he joined Pfizer in an accounting role. In contrast, Kindler worked as a lawyer in the early stages of his career before joining Pfizer from US fast food company McDonald's.
The pundits say Read is facing an enormous challenge. Much of Pfizer's dominant position rests on Lipitor (atorvastatin) for the treatment of cholesterol problems, which made $11.4 billion in 2009 sales. But Lipitor will face generic competition in 2011, which means the company desperately needs new blockbusters to replace it. In recent years, the Pfizer strategy has been to acquire other companies to benefit from their pipelines of drug candidates - the company effectively buying its way out of trouble.
Andrew Turley
Merck & Co invests in 'smart' insulin
US drugmaker Merck & Co has agreed to buy SmartCells, a US biotech working on a 'smart' insulin product for the treatment of diabetes designed to respond to blood glucose levels. SmartCells shareholders will receive an upfront cash payment and additional payments totalling up to $500 million (?320 million) if key goals on the route to commercialisation are achieved. The company says the approach could lead to reduced risk of blood sugar levels in patients with diabetes becoming dangerously low.
Testosterone lotion approved
The US Food and Drug Administration (FDA) has approved for marketing a testosterone lotion from Australian drug delivery company Acrux. Axiron is a topical solution applied in the underarm region to treat testosterone deficiency in men. Acrux signed a licensing deal with Eli Lilly in March, giving the US drugmaker access to Axiron for $53 million up front, $87 million upon FDA marketing approval and $195 million in commercial milestone payments.
R&D spending remains high
The global pharmaceutical and chemical industries were two of only three global industries that managed to increase research and development (R&D) spending in 2009, according to a report from the UK Department for Business, Innovation and Skills. The global pharmaceutical industries led the field, increasing R&D spending 5.5 per cent compared with the previous year.
Job cuts loom at Roche and Bayer
Swiss pharma major Roche has said it will cut 4800 jobs - 6 per cent of its global workforce - in 2011 and 2012. In addition, 800 jobs will be transferred within the organisation and 700 outsourced. The move comes as part of a cost cutting initiative that the company says will save it CHF2.4 billion (?1.5 billion) annually. However, the restructuring will cost Roche CHF2.7 billion from 2010 to 2012. 'The initiative is a response to mounting cost pressures in healthcare, particularly in the US and Europe, and to increasing hurdles for the approval and pricing of new medicines,' the company said. As part of the plan, it will look to sell two US sites - in Florence, South Carolina, and Boulder, Colorado - and close one site in France.
Meanwhile, German pharma and chemical company Bayer is doing likewise, with plans to cut 4500 jobs worldwide by 2012. It has said that 2500 new jobs will be created 'particularly in the emerging markets' so that the net loss will be 2000, 1.8?per cent of the 108 700-strong total workforce. The move will save Bayer €800 million (?685 million) annually from 2013, it says, although a one-off cost of
1 billion is expected by 2012 to cover the costs of restructuring. The company added that 'sales and earnings are under pressure from generic products, rising development costs and the effects of health care reforms'.
Anacetrapib hits 'bad' cholesterol
In Phase III trials, cholesterol candidate anacetrapib reduced 'bad' cholesterol by almost half and more than doubled 'good' cholesterol, according to recently published research (C P Cannon et al, N. Engl. J. Med., 2010, DOI: 10.1056/NEJMoa1009744). Anacetrapib is a cholesterylester transfer protein (CETP) inhibitor developed by Merck & Co. In the Define trial, anacetrapib reduced low-density lipoprotein (LDL) cholesterol by 40 per cent, from 81 to 49mg per decilitre. At the same time, it boosted high-density lipoprotein cholesterol (HDL) from 40 to 101mg per decilitre, without raising blood pressure. High levels of LDL or bad cholesterol and low levels of HDL or good cholesterol are associated with clogged arteries and risk of cardiovascular disease.
'Anacetrapib has a knock-your-socks-off effect on HDL and a jaw-dropping effect on LDL,' said Christopher Cannon, a physician at Brigham and Women's Hospital in Boston, US. 'These changes are striking because virtually all the patients in the study were already taking cholesterol-lowering drugs and achieved previously unattainable levels of good and bad cholesterol.' Side effects sometimes seen with statins, which are often used to alter cholesterol levels, including changes in kidney function, blood pressure and liver activity, were not seen in the trial.
GSK welcomes new UK IP tax rule
UK drugmaker GlaxoSmithKline (GSK) has responded to new UK government tax plans by promising to invest ?500 million in manufacturing projects. The government said in December 2009 it would introduce a 'patent box' that will lower the rate of corporation tax on profits generated from intellectual property (IP). It hopes this will encourage investment in UK-based research and development. GSK welcomed the plan, saying it would build its next biopharmaceutical manufacturing plant in the UK and establish a new ?50 million UK venture capital fund for investment in early-stage healthcare companies and university spin outs. In addition, the company said it would make a 'significant financial contribution' to a new green chemistry unit at the University of Nottingham, UK. The company estimates that these investments will create 1000 new UK jobs. The patent box will apply from April 2013, when the tax rate on profits generated from IP will fall to 10 per cent.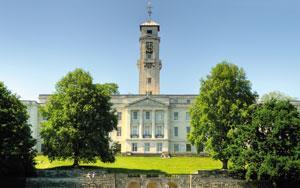 It has been a busy few weeks for GSK. The company says it will increase its stake in biotech Theravance. The two have agreed that GSK will buy 5.8 million Theravance shares at a price of $22.50 (?14.40) per share - a total investment of over $129 million. This will boost the GSK stake to 15 million shares - 19 per cent of Theravance. In addition, it has agreed to buy Chinese company Nanjing MeiRui Pharma (MeiRui) for $70 million. Under the deal, GSK will buy the 90 per cent stake held by Pagoda, a partner organisation of MeiRui, and the 10 per cent stake held by Swedish company Allergon. MeiRui has a portfolio of urology and allergy products, including Prostat for the treatment of benign prostatic hyperplasia and Sheniting for the treatment of overactive bladder syndrome.
Brilinta news
Blood thinner Brilinta (ticagrelor) from pharma major AstraZeneca has been approved in Europe for the prevention of heart attacks and other cardiovascular events in patients with coronary problems. In September, the drug received a positive opinion from the European committee asked to review it. In trials, the drug has been compared with Plavix (clopidogrel) from Sanofi-Aventis, which generated sales of
5.2 billion in the first nine months of 2010 but is on the slide as European sales are eroded by generic competition.
Positive opinion for obesity drug
Obesity candidate Contrave (naltrexone, bupropion) from US biotech Orexigen has received a positive opinion from the US committee asked to review it ahead of a marketing decision from the FDA. It is an interesting twist in the story of three obesity drugs that generated column inches earlier in 2010. The first two to come under scrutiny by the authorities - Qnexa (phentermine, topiramate) from Vivus and Lorqess (lorcaserin) from Arena - failed to impress the committee, and the FDA subsequently turned down their applications. But this time it was good news. The committee voted 13-7 in favour of approving Contrave, concluding the benefits to the intended patient group outweighed the risks, although it also voted 11-8 in favour of further studies to investigate the cardiac risks.
In September, Japanese pharma company Takeda paid $50 million upfront for marketing rights to Contrave. It looked like a bit of a gamble back then; it looks more like good planning now. The obesity market could be extremely lucrative, but pharma companies have struggled to get past regulators, who seem to have grown extremely wary. Several high-profile drugs have been pulled from markets around the world recently owing to harmful side-effects.
CHEMICAL
Foundry chemical joint venture
German speciality chemical company S?d-Chemie and US speciality company Ashland have combined their activities in the area of chemicals for the foundry industry. Each company now holds a 50 per cent stake in the joint venture, ASK Chemicals, which is based in Hilden, Germany and employs 1300 staff. A wide range of chemicals, such as additives, catalysts and coatings, are used in foundries, which produce metal castings using moulds.
Meanwhile, S?d-Chemie has also said it will invest up to
20 million (?17 million) in catalyst research at the Technical University of Munich (TUM) in Germany. The company will provide up to
2 million per year for at least ten years. The work will cover development of new catalysts and methods of preparation, focusing on making base chemicals from carbon dioxide and olefins from non-petrochemical feed stocks.
BASF strikes Ineos styrenics deal
Privately-owned UK chemical giant Ineos has said it intends to combine its styrenic businesses with those of German chemical major BASF. The deal includes the styrene monomer, polystyrene, acrylonitrile butadiene styrene and styrene-based copolymer parts, but excludes expandable polystyrene. Each company will have a 50 per cent stake in Styrolution, expected to generate annual sales of over
5 billion. BASF said in October that it was looking to release this part of its operation, which employs 1460 staff and is expected to generate
2.5 billion in sales in 2010 (see
Chemistry World
, November 2010, p20). Ineos employs 2200 people for its styrenic activities, which are expected to generate sales of
2 billion in 2010. In addition, Ineos has said that it intends to buy the other 50 per cent of its 50-50 styrenic joint venture, Ineos Nova, from Nova Chemicals. The associated activities will eventually become part of Styrolution. The companies did not, however, disclose financial details.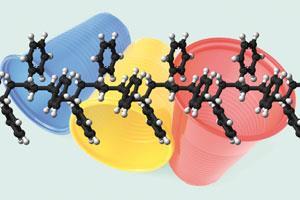 In other BASF news, the chemical giant has agreed to buy the styrene catalyst business of CRI Criterion, a US subsidiary of Shell. Financial details of the transaction were not disclosed. CRI makes catalysts for the dehydrogenation of ethylbenzene to make styrene, the second step in the production process. In the first step, benzene is reacted with ethene in the presence of sulfuric acid.
BASF investment
German chemical-maker BASF has said it will invest
9-10 billion in its Ludwigshafen site in Germany between 2011 and 2015. In addition, it has committed itself to a 'no-redundancy pledge' for the period. More than one third of the invested money will go towards research and development. The move comes off the back of good third quarter results, which saw sales increase 23 per cent compared with the same period last year to
15.8 billion and operating income increase 122 per cent to
2.2 billion.
Meanwhile, the company has started building a production site at Elyria in Ohio, US, for cathode materials used in the lithium-ion batteries of hybrid and electric vehicles. The project will run to over $50 million (?31 million), including a $24.6 million grant from the US Department of Energy under the American Recovery and Reinvestment Act. The site is expected to be fully operational in 2012, and according to BASF when opened it will be the most advanced cathode materials production plant in North America. BASF has access to lithium-stabilised nickel-cobalt-manganese cathode materials, technology licensed from the Argonne National Laboratory.
K+S grab potash
German fertiliser group K+S has agreed to buy all shares of Canadian company Potash One for C$4.50 (?2.81) per share, representing a total investment of C$434 million. The Potash One board is supporting the bid, which represents a 24 per cent premium on its 19 November closing price. Potash is the general term for naturally occurring potassium salts, most commonly potassium chloride. Such salts are important globally as a source of soluble potassium for crop fertilisation. Demand for potash collapsed in 2009 as a result of the global financial crisis.
Sigma boss dies
Jai Nagarkatti, chairman, president and chief executive of fine chemicals company Sigma-Aldrich, has died suddenly and unexpectedly of an apparent heart attack. He was 63 years old. Nagarkatti started working at Sigma-Aldrich in 1976. During his time at the company he held positions in research and development, manufacturing, operations, sales and marketing. He became president and chief operating officer in 2004, chief executive in 2006 and chairman in 2009. Rakesh Sachdev has become president and chief executive and Barrett Toan chairman, effective 14 November.
Arkema takes resins from Total
French chemical company Arkema has agreed to buy the photocure and coating resins businesses at French oil supermajor Total for
550 million. Specifically, Total is selling the coating resins units at Cray Valley and Cook Composites & Polymers and the photocure resins unit at Sartomer, which together employ 1750 people in 13 countries and are expected to generate sales of
850 million in 2010. The divestment is expected to take place in the first half of 2011.
Arkema seems to be spending a lot at the moment. The company has also said it will invest $110 million over the next three years at its acrylics sites at Clear Lake and Bayport in Texas, US. Weeks before, it said it would invest
30 million, in the production of dimethylaminoethyl acrylate (DMAEA) at its Carling site in France. And in September, it said it was planning to build a $30 million plant in China for the production of emulsion polymers for coatings and adhesives. A cursory inspection of its third quarter results suggests the company is in good shape, making sales of
1.6 billion, an increase of 41 per cent compared with the same period last year, while operating income increased from
28 million to
173 million. The acrylics activities acquired from
Dow
at the start of this year put in a 'good performance', the company said.
Third quarter financial results - part 2
We had a look at some of the financial results for the third quarter of 2010 in the last issue (see Chemistry World, December 2010, p13). Here's the rest of the data. (All percentage changes are based on the same period last year.)
PHARMACEUTICAL
AstraZeneca made sales of $7.9 billion (?5 billion), a 4 per cent decrease. Operating income decreased 25 per cent to $2.4 billion.
Bayer made sales of
8.6 billion (?7.3 billion), a 16 per cent increase. Operating income decreased 14 per cent to
560 million.
Merck & Co made sales of $11.1 billion, an 84 per cent increase. Net income decreased 89 per cent to $370 million.
Pfizer made sales of $16.2 billion, a 39 per cent increase. Net income decreased 70 per cent to $870 million.
Sanofi-Aventis made sales of $8.3 billion, a 6 per cent increase. Operating income decreased 2 per cent to $1.7 billion.
Merck KGaA made sales of
2.4 billion, a 25 per cent increase. Operating income increased 64 per cent to
360 million.
CHEMICAL
BASF made sales of
15.8 billion, a 23 per cent increase. Operating income increased 122 per cent to
2.2 billion.
Evonik made sales of
4.1 billion, a 24 per cent increase. Operating income increased 26 per cent to
540 million.
Dow made sales of $12.9 billion, a 23 per cent increase. Operating income decreased 25 per cent to $600 million.
DuPont made sales of $7 billion, a 17 per cent increase. Operating income decreased 11 per cent to $370 million.
Arkema made sales of
1.6 billion, a 41 per cent increase. Operating income increased 520 per cent to
170 million.
Lanxess made sales of
1.8 billion, a 35 per cent increase. Operating income increased 160 per cent to
170 million.
Solvay made sales of
1.7 billion, a 24 per cent decrease. Operating income fell 90 per cent to
26 million.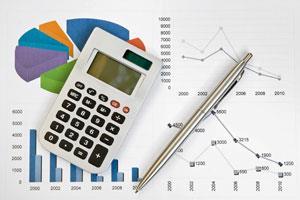 © THINKSTOCK
What can we take from this? In the pharma sector, sales at Pfizer and Merck & Co are going up while profits head in the other direction, a sign of integration costs following big mergers - costs that weren't on the accounts a year ago. Pfizer is paying for Wyeth; Merck & Co is paying for Schering-Plough. Things look a little healthier in the chemical sector - BASF in particular seems to be doing well. The company puts its good results down to high volumes, high prices and positive currency effects. In addition, costs associated with the integration of Ciba are now behind the company, which has presumably helped.
DSM and AGI
Dutch life and material sciences company DSM had said it plans to spend
48 million on a 51 per cent stake in Taiwanese company
AGI
. AGI makes UV curable resins and other products for coatings to be used in paper, wood, plastic and graphic arts applications. AGI made 2009 sales of TWD3.6 billion (?77 million).
Wacker builds US polysilicon plant
German chemical company Wacker Chemie says it will spend
1.1 billion on the construction of a new polycrystalline silicon production plant near Cleveland in Tennessee, US. The plant will have a capacity of 15,000 tonnes per year and create 650 new jobs in Cleveland. The company says it is expecting rapid growth in demand for polycrystalline silicon, driven by the solar power and electronics industries.
Lanxess gets new plant in India
German speciality chemicals company Lanxess has opened a new plant for ion exchange resins in India. Lanxess is best known as a manufacturer of synthetic rubber for tyres. The plant is located in Jhagadia in Gujarat and has an annual capacity of 35,000 metric tonnes. Lanxess says it has invested about
50 million in the site. Ion exchange resins are used for water treatment in power generation, microelectronics production and drinking water preparation.
IN BRIEF
Zometa so good for Novartis
Bisphosphonate drug Zometa (zoledronic acid) from Swiss pharma major Novartis helps patients with a type of cancer called multiple myeloma to live longer, according to new research (G J Morgan, Lancet, 2010, 376, 1989). Zometa is approved for the reduction or delay of bone problems in patients with multiple myeloma or other types of cancer involving bone. It is also approved for the treatment of hypercalcaemia of malignancy, when tumours lead to high levels of calcium in the blood. The effect on survival was independent of the effect on bone problems, according to the researchers.
Teva MS candidate trial results
Israeli generics company Teva and Swedish company Active Biotech have said that Phase III trial results show that their multiple sclerosis (MS) candidate laquinimod reduced relapse in patients with relapsing-remitting MS. Patients taking part in the Allegro trial were treated with a daily 0.6mg dose. Laquinimod has fast track designation in the US, which means it could arrive on the market more quickly than normal. Active Biotech developed laquinimod and licensed it to Teva in June 2004.
Herceptin gets Nice nod
The UK National Institute for Clinical Excellence (Nice) has recommended Herceptin (trastuzumab) for the treatment of certain kinds of stomach cancer. The cancer drug, marketed by Roche subsidiary Genentech, has become widely used for the treatment of breast cancer. It is a monoclonal antibody designed to block the function of a protein with cancer-causing potential called human epidermal growth factor receptor two (HER2).
Ireland move for Genzyme
US biotech Genzyme has moved its fill-finish activities for a range of drugs for the US market to its Waterford plant in Ireland. Until now, the company has carried out these activities at its Allston, US, site, hit by manufacturing problems in recent years.
Rhodia Asia biogas projects
French chemical company Rhodia has said it will build two new biogas plants in Asia. The company entered the biogas market in 2009 when it bought stakes in pilot plants in China and Vietnam from holding company Econcern. Biogas is a mixture of primarily methane and carbon dioxide obtained from fermentating organic waste.
EPA expands endocrine list
The US Environmental Protection Agency (EPA) has identified 134 chemicals that it intends to screen for their potential to disrupt the human endocrine system, which regulates growth, metabolism and reproduction. The list includes benzene, perchlorate, urethane, ethylene glycol and the antibiotic erythromycin. The EPA is already screening 67 pesticide chemicals as part of an initial wave.
Four die in China explosion
At least four people have died in a fire at a chemical plant in Shanxi Province, China, following an explosion on 20 November. A further 37 workers were hospitalised. The plant belongs to Chinese company Yushe Chemical Industry, which makes polyvinyl chloride, sodium hydroxide and other chemicals.
UK industry green performance
The UK chemical sector produced 22 per cent fewer serious compliance breaches in 2009 compared with the previous year, according to a report from the UK Environment Agency. In addition, it described the number of pollution incidents as 'low', adding: 'For a large sector, there were relatively few serious permit breaches.' But the industry recovered just 31 per cent of its waste in 2009, making it one of the worst offenders, the report said. It also accounted for 19 per cent of mercury emissions to water.