Industry news, September 2009
Animal rights activism on the rise
There has been an escalation in the wave of animal rights attacks aimed at the pharmaceutical industry - and they have been focused on Novartis ' chief executive, Daniel Vasella.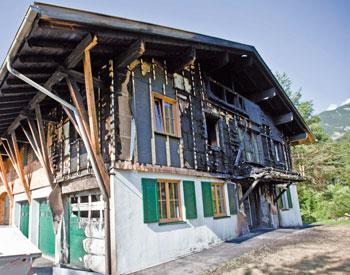 The campaign started in July with the desecration of the grave of Vasella's sister and the theft of the urn containing his mother's ashes from a graveyard in the Swiss city of Chur. A message demanding that the company severs its ties with UK animal testing laboratory Huntingdon Life Science was left in red spray paint on his sister's grave.
On 3 August, Vasella's Tyrolean holiday lodge in Bach, Austria, was doused with 15 gallons of petrol and set on fire. The Austrian authorities have said a group known as the Militant forces against Huntingdon Life Sciences has claimed responsibility for the attacks. Vasella has branded the attackers as terrorists.
'We have recently seen an increase in the wilful destruction by militant animal rights extremists of home properties and automobiles belonging to Novartis employees - including arson at the Novartis sports facility in St Louis, France, this past May,' a spokesperson for Novartis told Chemistry World .
'We have no doubt that the most recent attacks in Tyrol, Austria, and Chur and Risch in Switzerland, as well as the attacks and activities in the greater Basel area over the last months, were carried out by animal rights extremists.'
The company insists that any animal experiments they conduct are indispensable for the development of new medicines and that it imposes stricter animal welfare policies than those dictated by local governments.
Matt Wilkinson
CHEMICAL INDUSTRY
Chemicals sector at rock bottom?
Despite a general feeling that the worst of the recession has passed and that the world's economies are taking the first steps on the painful road to recovery, the chemical industry is less than bullish about the outlook for the near future.
The latest slew of financial results from chemical companies paint a bleak picture, with DuPont seeing its second quarter sales fall 24 per cent to $7.1 billion (?4.2 billion). Chief executive Ellen Kullman expressed apprehension for the future: 'My concern is true demand recovery. Are we going to be bumping along the bottom for a while?'
When German chemical and pharmaceutical giant Bayer announced that its second quarter sales had fallen 5.9 per cent to
8.5 billion (?7.2 billion), the company said that there were signs the bottom of the trough had been reached, although a lasting improvement was not yet in sight. This was particularly evident for its MaterialScience division, which saw sales fall 30 per cent compared to the second quarter of last year. But it was not all doom and gloom at the company, as sales from its Healthcare division grew 8.3 per cent to reach
4 billion and CropScience sales grew 2.7 per cent to
1.8 billion.
Some firms do at least see a small shimmer of light at the end of the tunnel. 'The economic outlook for the rest of 2009 appears to be stabilising with strong growth in Asia Pacific, especially China, where domestic stimulus programs have created demand,' commented Andrew Liveris, chief executive of Dow. Despite the company seeing demand grow 5 per cent during the second quarter compared to the first, second quarter sales were 30 per cent lower than the same period in 2008 at $11.3 billion. This caused Dow to record a $435 million operating loss for the quarter.
Sales at paints, coatings and speciality chemicals company AkzoNobel fell to
3.6 billion in the second quarter - 10 per cent lower than during the same period last year. With operating profits falling 12 per cent to
370 million, chief executive Hans Wijers warned that the company was seeing little recovery in growth, aside from within some of the emerging markets.
BASF's chief financial officer Kurt Bock echoed this sentiment: 'We think that the downturn seems to have bottomed out and there seems to be stabilisation at a low level. The trough appears to have been reached in North America, and China is again growing faster. But we see no signs of a sustained upturn.'
With the company's second quarter sales 23 per cent lower than last year at
12.5 billion, Bock also cautioned that 'there is still the danger of another painful setback due to overcapacities, bankruptcies and growing unemployment.'
LG Chem plans expansion
South Korea's largest chemicals manufacturer, LG Chem, has entered into a 50:50 joint venture with the China national offshore oil company (CNOOC) to build an acrylonitrile butadiene styrene (ABS) plant in Guangdong, southern China, and in the process become the world's joint largest ABS producer by capacity.
Meanwhile, LG Chem is also set to invest Won1.2 trillion (?587 million) developing three mass-production plants to manufacture glass for LCD panels for markets in Korea, China and Taiwan.
Huntsman in the money?
Huntsman has announced an impressive looking second quarter net-income of $406 million - thanks to compensation paid by the banks after the failed takeover by Hexion. For the same period in 2008 its income was just $24 million. But scratch below the surface and the numbers become less positive, with Huntsman reporting sales falling 36 per cent to $1.87 billion and an operating loss of $61 million.
Dow pays off Rohm & Haas loan
Dow has successfully paid off the bridging loan it used to buy Rohm & Haas, after making a series of divestments and selling $2.75 billion of debt securities. The latest asset sales involve the divestment of its Optimal group of companies to Petronas for $660 million and the sale of its acrylic acid plant in Clear Lake, Texas, and its North American UCAR acrylic latex business for $50 million to Arkema.
To date, Dow has managed to sell off some $3.3 billion of assets and is grouping its styrenics and aromatics businesses into a single operating unit in a bid to attract potential investors or buyers. Andrew Liveris, Dow's chief executive said that the businesses no longer fit with Dow's strategic direction and will be valued between $1 billion and $2 billion.
Sanofi's sales grow as it invests in animal health
Sanofi-Aventis has seen its sales for the quarter increase 11.2 per cent to
7.4 billion (?6.3 billion) helped by favourable exchange rates and recent acquisitions. The French drugmaker's operating profits soared 26.8 per cent to
3 billion with sales of its biggest selling drug, diabetes medication Lantus, increasing a similar amount (26 per cent) to
792 million. Several recent studies had linked the drug to an increased incidence of cancer, but Sanofi's chief executive Chris Viehbacher said the claims 'were not at all justified'.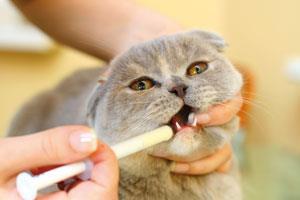 Meanwhile, Sanofi also announced it was buying Merck & Co.'s 50 per cent share of their animal health joint venture Merial for $4 billion (?2.4 billion). This will give Sanofi 100 per cent ownership of the company that was founded in 1997.
But this doesn't mean the companies are planning to call an end to their animal heath collaborations. At the same time, it was announced that Merck, Sanofi-Aventis and Schering-Plough have signed an agreement giving Sanofi-Aventis the option, after the planned Merck/Schering-Plough merger, to combine Merial with the Intervet/Schering-Plough animal health business to form a new animal heath venture, owned equally between the 'new' Merck and Sanofi-Aventis.
AGROCHEMICALS
Syngenta's sunflowers
Syngenta has consolidated its dominance of the sunflower market by purchasing Monsanto's hybrid sunflower business for $160 million in cash. The deal will strengthen Syngenta's position in Europe and Latin America and form a hybrid sunflower business with annual sales of around $275 million.
However, all is not blossoming for Syngenta as it saw sales slip 9 per cent to $6.6 billion during the quarter despite seed sales increasing 7 per cent to $1.7 billion. The company's net income fell 9 per cent to $1.3 billion.
BASF's sugarcane partnership
German chemicals giant BASF is teaming up with the Brazilian sugarcane technology centre, CTC (Centro de Tecnologia Canavieira), to develop genetically-modified sugarcane. BASF has so far invested
1 billion in gene technologies.
Even though the use of genetically-modified sugarcane is yet to be approved anywhere in the world, the company hopes to bring sugarcane varieties that deliver increased yields of 25 per cent to the market within the next decade.
Bayer teams up with CSIRO
Bayer's CropScience division has further strengthened its long-term alliance with Australia's Commonwealth scientific and industrial research organisation (CSIRO). The move is part of Bayer's effort to expand its seeds and traits research to include cereal crops. Initial projects will focus on developing new varieties that make more efficient use of phosphorus and are more resistant to drought and environmental stress.
PHARMACEUTICALS
Pharma's mixed fortunes
Not all pharma firms are being given a boost by the swine flu pandemic. Merck & Co. saw worldwide sales for the second quarter drop 3 per cent to $5.9 billion (?3.6 billion), although if the effects of poor foreign exchange rates were ignored, its total revenues would have increased by 3 per cent compared to the second quarter of 2008. The company saw its operating income fall 6 per cent to $1.9 billion largely due to increased research and development costs, which soared 19 per cent to $1.3 billion - a figure equal to 23 per cent of its revenues for the quarter. Sales of Merck's asthma drug Singulair accounted for 22 per cent of total sales - an increase of 16 per cent to $1.3 billion.
Despite Schering-Plough, which is soon to merge with Merck, reporting that sales for the quarter were down 5.5 per cent to $4.6 billion, its operating profits increased 53 per cent to $773 million.
Pfizer saw sales for the quarter slump 9 per cent to $11 billion, as nearly every big selling drug in its current portfolio suffered a fall in sales. However, its cost cutting programme compensated for the fall and led to a 9 per cent increase in operating profits - which rose to $3.04 billion.
Eli Lilly saw its sales for the quarter rise 3 per cent to $5.29 billion, although the company said the increase would have been larger had it not been negatively hit by unfavourable currency exchange rates that led to sales outside the US falling 8 per cent to $2.2 billion.
Sales of AstraZeneca's anticholesterol drug Crestor jumped 33 per cent during the quarter to reach $1 billion and account for 14 per cent of the company's sales. This surge in sales helped the company maintain its quarterly sales at $7.9 billion - however, unfavourable currency exchange rates masked underlying sales growth of 9 per cent. Operating profits increased 37 per cent to $3.6 billion.
Fatal explosions
There have been two fatal explosions within a day of each other at chemical plants on opposite sides of the world.
On the 14 July, seven night-shift workers died and 10 others were injured following an explosion at a chemical plant owned by the Luoran chemical dye company in Luoyang city in central China's Henan province. More than 100 local residents were reportedly injured by flying debris or smoke inhalation from the large fire that followed the explosion.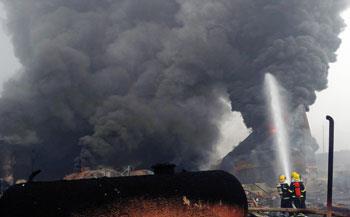 The next day, two workers died and six were injured following an explosion at a Total Petrochemicals plant in eastern France. The accident occurred while the steam cracker was being restarted after it had been shut down following recent storms - the cause of the explosion is still being investigated.
The company says it 'is profoundly distressed by this accident and expresses its heartfelt condolences and sympathy to all the victims and their families.'
Teva's record-breaking quarter
Israeli generics giant Teva has posted 'record-breaking' finanical results for the quarter according to Shlomo Yanai, the company's chief executive. The company's sales grew 20 per cent to $3.4 billion, partially driven by record sales of its multiple sclerosis therapy Copaxone, which saw sales grow 21 per cent to $981 million. Operating profits increased 44 per cent to $981 million compared to the same quarter last year.
However, the company came back down to earth with a bump after the US Food and Drug Administration (FDA) filed an injunction to prevent Teva's animal heath arm from manufacturing and distributing veterinary drugs in the US.
The move comes after two inspections - in 2007 and 2009 - at the company's facilities in Missouri found 'significant
good manufacturing practice (GMP) violations'. Before Teva Animal Health can resume production and distribution of their veterinary drugs it will have to assure independent experts that it has improved its facilities and procedures to meet the current GMP guidelines.
Elan and Biogen square up
In July, Johnson & Johnson (J&J) announced it was investing $1 billion to buy an 18.4 per cent of Irish biopharma firm Elan Pharma. It seems however this did not go down well with Elan's long standing partner Biogen Idec, and the lawyers have now waded in.
As part of the J&J-Elan agreement, J&J were given the option to acquire Biogen's 50 per cent stake in the multiple sclerois drug Tysabri if Biogen changes hands. Biogen has claimed that this breaches a previous agreement it had with Elan, and in response Elan has filed suit in a US court asking the court to rule that its new J&J collaboration does not breach earlier agreements with Biogen.
BMS buys Medarex
Bristol-Myers Squibb (BMS) is to pay $2.4 billion to purchase biotechnology firm Medarex, representing a 90 per cent premium over the company's closing share price the same day.
'Medarex's technology platform, people and pipeline provide a strong complement to our company's biologics strategy, specifically in immuno-oncology,' said James Cornelius, chief executive of BMS.
The company recorded a 3 per cent increase in sales for the quarter, which rose to $5.3 billion. Quarterly sales of its blood thinner Plavix rose 11 per cent to $1.54 billion and sales of its antidepressant Abilify soared 22 per cent to $643 million. Operating profits increased 42 per cent to $1.7 billion, helped by a 13 per cent drop in the cost of sales.
Mixed fortunes for antipsychotics
Danish pharma company Lundbeck and Belgium's Solvay are stopping development of their experimental schizophrenia drug Bifeprunox after evaluating Phase III trial data. Bifeprunox, a partial dopamine and serotonin 5-HT1A agonist, had already been tested on 2500 patients with schizophrenia worldwide.
Meanwhile, Schering-Plough's schizophrenia drug asenapine has obtained the backing of a US FDA advisory panel. While a positive outcome from this panel does not guarantee approval, it is viewed as a positive step forward.
Monsanto marks return to wheat with WestBred buy
Five years after resistance from the food industry caused it to pull out of the genetically engineered wheat market, Monsanto has marked its return to the field by buying US-based WestBred for $45 million (?27 million).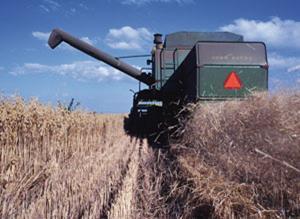 'The US wheat industry has come together to call for new technology investment, and we believe we have game-changing technologies - like our drought-tolerance and improved-yield traits - that can meaningfully address major challenges wheat growers face every season,' said Carl Casale, executive vice president of global strategy and operations for Monsanto.
'Through WestBred, we'll be able to deliver advances in breeding and biotechnology to deliver a step-change in yield while creating a springboard for new partnerships and collaboration opportunities that create additional value for farmers.'
Schizophrenia drug rethink
Finnish researchers have shown that schizophrenia patients given a cheap, older atypical antipsychotic drug are less likely to die prematurely than people on newer treatments. While clozapine has become well-known for its adverse side-effects, an analysis of records from 67,000 patients in Finland taking the drug showed they were 26 per cent less likely to die prematurely than those taking the first generation drug, perphenazine.
In contrast, the mortality risk was 41 per cent higher for those taking AstraZeneca's Seroquel, 34 per cent higher for those taking J&J's Risperdal and 13 per cent higher for those using Eli Lilly's Zyprexa.
Vertex to sell milestones
US pharma firm Vertex is trying to sell the rights to certain milestone payments that it will receive from J&J should its hepatitis C drug, telaprevir, reach the market in Europe. The milestones up for grabs total $250 million and Vertex hopes to receive a one-time cash payment reflecting a 'substantial percentage' of the amount. The drug is currently in Phase III trials and Vertex plans to submit the data to regulators for approval in the second half of 2010.
Arthritis drug safety warning
The US FDA has stated that safety warnings must be strengthened on anti-TNF (tumour necrosis factor) drugs, a class of drug used to treat rheumatoid arthritis, Crohn's disease and other inflammatory diseases. This comes after the completion of an FDA investigation, which concluded that TNF blockers increased the risks of getting cancer
when taken for a prolonged period of time (30 months on average) by children and adolescents.
In response, Amgen and Wyeth - who together sell the TNF blocker Enbrel - have said that 'they are committed to patient safety and support the continued evaluation of the potential risks and benefits of TNF blockers for patients who are prescribed these therapies'.
IN BRIEF
FDA wants melamine testing
The FDA has issued guidelines stating that certain ingredients used to make pharmaceuticals should be tested for melamine. It says that it has no reason to believe US pharmaceuticals have been contaminated with the chemical, but following recent scandals involving traces of melamine found in US animal feed and milk in China the agency wants to avert a potential future problem.
'Life sciences blueprint'
The UK government's Office for Life Sciences has announced a package of measures to secure the future of the UK's life sciences sector. Among the measures are an 'innovation pass' which will allow patients faster access to new medicines through the NHS; the launch of an ?18 million Regenerative medicine programme; the reinforcement of the need for greater emphasis on research in clinical trials in the next NHS Operating framework; and a commitment by the treasury to investigate the possibility of tax incentives offering a lower rate of tax on profits derived from patents located in the UK.
CSB investigating fatal ammonia release
The US Chemical safety board (CSB) is deploying an investigation team to the site of a fatal anhydrous ammonia release from a Tanner Industries site in Swansea, South Carolina. A woman driving her car near the facility was overcome by the ammonia vapour and was fatally injured, while seven others were taken to hospital for treatment for non-life threatening injuries.
DSM to slash spending
Dutch life sciences group DSM is targeting increased cost savings as it sees no end in sight to the current economic downturn. During the second quarter the company saw sales fall 20 per cent to
1.9 billion and operating profits plummet 71 per cent to
79 million.
TMO Renewables secures funding for bioethanol initiative
UK-based TMO Renewables has obtained ?11 million of financing - from institutional shareholders and private investors - to fund its entry into the US bioethanol market.
The company is commercialising a process for converting biomass into ethanol for fuel usage, which it says can be applied to new biofuel facilities or retrofitted to existing corn ethanol plants to increase their yields by 10-15 per cent.
Calcium carbide cartel fined
The European Commission has imposed fines totalling
61 million (?53 million) on nine suppliers of calcium carbide and magnesium from across the continent for their involvement in a price-fixing cartel. Dutch chemical manufacturer AkzoNobel had its fine dropped for its role in revealing the cartel, but German firm Evonik Degussa was hit with a 50 per cent increase to its fine owing to previous cartel involvement.
Ineos gets loan conditions reset
UK chemicals giant Ineos has come to an agreement with its lenders to amend its loan agreements in light of the global downturn. In January, Ineos warned that while it remained profitable and able to make the payments on its debts of ?6.3 billion, it was in danger of infringing rules that stipulated its debts should not be too high a multiple of its profit.
Dow AgroSciences to buy Pfister
Dow AgroSciences has agreed to buy Illinois-based corn seed company Pfister Hybrids for an undisclosed amount to expand its US seeds business. Pfister was founded more than 70 years ago and its innovations in corn breeding and production methods have aided the development of today's hybrid seed corn industry.