New rules eliminate the need for flame retardants in furniture
Speciality chemicals supplier Chemtura is suing the state of California, trying to overturn the state's new fire safety regulations. One aim of the rules is to phase out the use of chemical flame retardants, which Chemtura is a major producer of. The regulations came into effect on 1 January, replacing the state's 40 year old flammability standards.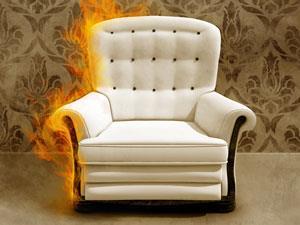 The new regulations only require furniture to pass a cigarette 'smoulder test'. Filling materials used in upholstered furniture no longer need to pass an 'open flame' test to replicate a candle, match or lighter flame. That means manufacturers won't necessarily need to treat the foam in their furniture with flame retardants, but chemical companies argue that this will compromise safety as well as hitting their sales figures.
'If left unchallenged, California's weakened fire safety standard could lead to more fires and more injuries, deaths and property damage nationwide,' warned Anne Noonan, senior vice president of Chemtura's industrial engineered products. The company filed its lawsuit on 16 January.
The American Chemistry Council's North American Flame Retardant Alliance also strongly opposes the change. The group cites National Fire Protection Association statistics indicating that candles, matches, and lighters were involved in 21% of fires and 12% of deaths involving US home fires that originated with upholstered furniture between 2005 and 2009.
'The regulations are a disaster and a disgrace,' Marcelo Hirschler, a fire safety consultant who runs GBH International in Mill Valley, California, tells Chemistry World. 'Without an open flame test, you don't know whether the material used in the furniture will burn and give out an enormous amount of heat and kill people.'
Trial by fire
However, California's Bureau of Electronic and Appliance Repair, Home Furnishings and Thermal Insulation stands by its new regulations. 'We are very confident in the science and the law that went into crafting these standards,' says spokesman Russ Heimerich. He adds that the new regulations address the predominant source of upholstered furniture fire deaths and injuries – smouldering materials – and that it would be rare for a fire to start from an open flame applied directly to foam inside furniture.
These revised standards are the latest effort by California to tighten chemical safety. They were born from a June 2013 directive by Governor Jerry Brown to remove flame retardant chemicals, which have been associated with hormonal and neurodevelopmental disruption, as well as cancer, from upholstered furniture.
Heather Stapleton, an environmental chemist at Duke University in Durham, US, says some flame retardants can leach out over time when applied to residential furniture, meaning people become exposed to them. She also points to toxicity studies demonstrating that the chemicals can harm human health, and to evidence that – once a fire takes hold – they burn dirtier, producing more smoke, soot and carbon dioxide.
While some of these issues could be resolved by moving towards polymeric flame retardants, Stapleton believes manufacturers should 'evaluate other approaches to fire safety without applying large amounts of potentially toxic chemicals to our furniture'. For example, using non-flammable barriers or linings underneath upholstery could provide the same level of fire safety, without flame retardants in the foam.