Rock varnish growth also linked to sealants used in conservation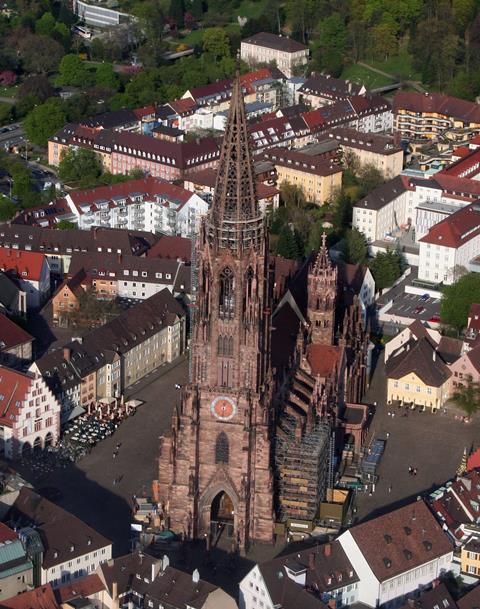 Traffic pollution could be the cause of mysterious black patches that have cropped up on historic buildings across the world.
A team of researchers working on the Freiburg Minster in Germany found a variety of black patches on the building's sandstone surfaces, many of which contained manganese. However, manganese patches were never found any higher than 7 metres off the ground. The team believe that the patches – also called rock varnish – are caused by car emissions, including dust from braking.
The team, led by Dorothea Macholdt at the Max Planck Institute for Chemistry, looked for sources of manganese in the local environment. 'The height of 7 metres fits quite well with the height up to which vehicle emissions are distributed in urban street environments,' she notes.
As part of the project, researchers studied the chemical composition of stone discolouration up to a height of 30 metres. They were firmly expecting to pin down a mineral dust source for the manganese patches. 'However, this was in conflict with the finding of manganese just up to a certain height,' Macholdt says. Instead, the team observed high concentrations of lead, barium and zinc in the manganese patches, which suggest car emissions as the source.
Black patches like the ones observed on the cathedral have been found on many historic sites across the world, including on the Smithsonian Institute in the US and the Khmer temples in Cambodia.
Previous conservation work on the Freiburg Minster saw the patches cleaned and the area treated with silicone resin to seal the stones' pores. This may have actually contributed to the growth of the patches by creating a pH shift on the stone surface, which favoured the oxidisation of manganese. 'It is very useful for restorers to know what products accelerate the process of manganese-rich patch growth, and should thus be avoided,' Macholdt says.
Black patches on sandstone monuments are a relatively recent phenomenon, with historic photos of the Freiburg minster showing no rock varnish in the early 1900s.
Edward Vicenzi, a scientist at the Smithsonian Institute who has investigated these varnishes, welcomes the Freiburg findings as a useful addition to what he says remains an under-researched field. However, he thinks the mere presence of trace elements related to car exhaust may not be enough to pin down with certainty what causes the black patches. 'These elements are enriched in manganese rock varnishes found the world over in a variety of geological settings, including remote locations far from civilization,' he says.