The Organisation for the Prohibition of Chemical Weapons (OPCW) has begun building a new centre for chemistry and technology to address new and emerging chemical weapons threats, and support the capacity building of its 193 member states. The intergovernmental organisation signed a contract with the Dutch construction company Dura Vermeer to build the centre on 14 April. Construction will kick off this summer, and the facility is expected to be completed by the end of 2022. The €33.5 million (£29 million) project will be funded entirely by voluntary contributions.
The new centre will replace the OPCW's current facility, which has an ageing infrastructure and increasingly severe space constraints, according to the organisation. It will be located in a business park outside of The Hague, the Netherlands.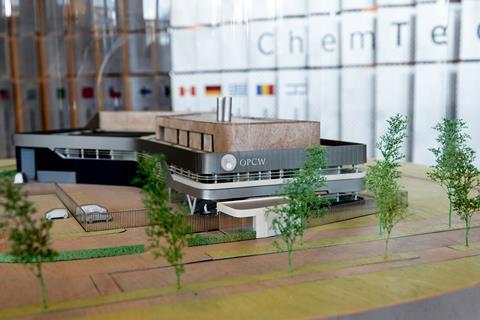 OPCW director general Fernando Arias said the forthcoming chemistry and technology centre will strengthen the organisation's scientific capabilities helping it to safeguard the Chemical Weapons Convention, the arms control treaty it administers. He also emphasised the important role that the new facility will play in building the OPCW's capacity in areas such as analytical chemistry, chemical safety and security, and sampling techniques. It will bring together the OPCW laboratory, equipment store and a range of state-of-the-art training facilities.
The centre will also serve as 'a knowledge repository to tackle chemical threats worldwide, as well as a platform to promote expert dialogue, exchange and collaboration in the field of peaceful uses of chemistry', the OPCW explained. It will also house a new logistics centre and training facilities to advance the professional development of OPCW inspectors, mission preparations and support deployments.

Rebecca became the US Correspondent for Chemistry World in September 2014, based out of Washington, DC, after writing for the magazine on a freelance basis since 2007.
View full profile