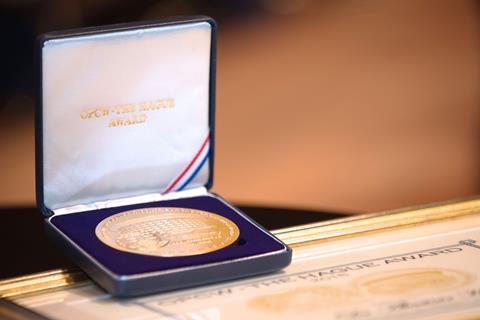 The Organisation for the Prohibition of Chemical Weapons (OPCW) has rewarded the efforts of two leading chemical arms control experts and the International Union of Pure and Applied Chemistry (Iupac) with this year's OPCW–The Hague award. Robert Mikulak, Cheng Tang and Iupac will share the €90,000 (£77,000) prize, which is jointly funded by the OPCW and the Dutch municipality of The Hague.
The award was set up 'to preserve the legacy' of the OPCW's 2013 Nobel peace prize and recognises individuals and organisations for their contributions towards the goals laid out in the chemical weapons convention (CWC).
Mikulak and Tang were both involved in negotiating the CWC in the 1990s. Mikulak is a former US permanent representative to the OPCW and advises the US Department of State on chemical weapons issues. Tang is the current chair of the OPCW's scientific advisory board and is also an adviser to the Chinese National Authority. He was also involved in the removal and destruction of Syria's chemical weapon stockpile.
Iupac was recognised for having provided objective scientific evidence to inform the CWC, as well as for its work producing educational materials on chemical weapons topics and advocating peaceful uses of chemistry.