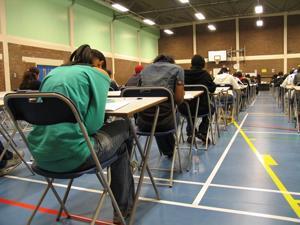 Chemistry students taking a pre-university examination in the southern Indian state of Karnataka have had exams rescheduled after the paper was leaked twice last month.
The first chemistry exam that students sat on 21 March was declared void later that day after the leak emerged. A tip-off from a student earlier in the day that the paper was doing the rounds on the WhatsApp instant messenger app led to an investigation. However, by the time the leak was confirmed the exam had already been held. The exam was then rescheduled for 31 March but was cancelled on the day as the paper was leaked again. Under tight security, the exam was held successfully on 12 April.
The leaks unnerved students as entrance exams to undergraduate courses soon follow the pre-university exams, raising fears of a clash in preparation and dates.
After the initial leak, students urged the department of pre-university education in an online petition to consider the results of the first exam. The second time around angry students staged protests demanding that the education minister resigns.
This is not the first time the leak of an exam paper has troubled students in India. In 2012, pre-university exams in Karnataka were rescheduled due to leaks of physics and math papers.
E Arunan, professor of inorganic and physical chemistry at the Indian Institute of Science (IISc) in Bangalore, says that it is not hard to plug such leaks. Arunan points to the Graduate Aptitude Test in Engineering (GATE) used by the Indian Institute of Science (IISc) and the Indian Institutes of Technology to determine entry to postgraduate science and engineering degrees. He was twice vice-chairman of the organising committee for the IISc GATE and tells Chemistry World that committee members have to sign a conflict of interest statement declaring that no relatives are taking the exam in the year they're serving on the committee. Those with relatives taking the GATE exam are forbidden from writing, evaluating or even handling the test paper. 'You never see any leaks [there]. It is not difficult to do,' says Arunan.
Arunan says that the reason the pre-university paper was leaked is 'obviously corruption'. But more than that, he adds, the root cause of it was likely that an administrative official's child was taking the exam.
The personal assistant of Karnataka's minister for medical education is alleged to have bought the paper from an inside source for his child and then sold it on. Several related arrests have been made and a number of officials in the education department have been suspended or reassigned.
While the case was under investigation by the Criminal Investigation Department, another exam paper leak has affected Andhra Pradesh University students taking their second year chemistry BSc exam. As before, the paper was circulated on WhatsApp and students had already sat the paper when the leak was confirmed and the exam invalidated.