Up to 15 dead and over 160 injured in a fire and explosion in Waco, Texas
A devastating fire and explosion have destroyed a US fertiliser plant, killing several people and injuring many more.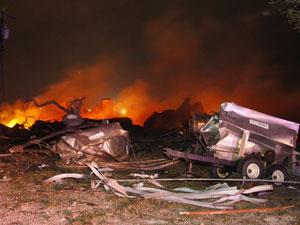 The plant in the town of West, Texas, caught fire last night, then exploded as fire crews attempted to tackle the blaze. Local police estimate that between five and 15 people have been killed and 160 injured, but expect those numbers to rise. Three to five volunteer firefighters are among those missing.
The explosion caused extensive damage to surrounding buildings, including a nursing home, an apartment block and a school. The explosion happened after school had finished for the day, but several people are believed to be trapped in collapsed buildings.
Police are treating the area as a crime scene, but do not believe the fire was started deliberately. They will now begin to investigate its cause, aided by the US Chemical Safety Board.
The cause of the explosion is currently unclear. The plant held large tanks of ammonia, which could have become pressurised and exploded in the fire's heat.