Lockdown and social distancing have discouraged donors, and the potential impact of convalescent plasma collection for Covid-19 treatment is unclear
A sharp fall in blood plasma collections in the US could lead to further strains on the supply of immunoglobulin.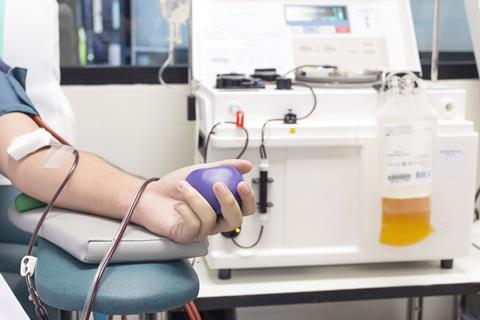 This concentrated mixture of antibodies is used to treat a wide range of conditions affecting the immune system. The UK relies entirely on imports, owing to the risk of transmitting Creutzfeldt-Jakob disease from British plasma donors. Most of the world's supply comes from the US, where plasma donors can be paid.
Manufacturer CSL Behring, which supplies half of the immunoglobulin used by the UK's National Health Service (NHS), says that there are no current issues with supply. However, earlier this month CSL warned investors that the ability to collect plasma is a key variable in its financial outlook.
'The Covid-19 pandemic has had an impact on plasma collections across the industry and we've seen some softness in donations. This is in a large part due to social distancing and stay-at-home orders,' said a CSL spokesperson. 'We will continue to monitor our plasma collection volume carefully, while working to ensure the safety of plasma donors and employees, and increasing our overall collection volume.'
The company collected 5% less plasma in the year to the end of June compared to the previous year. Disruption to collections, beginning in March, has counteracted a 17% growth in its collection centres, mostly in the US.
Because of the time needed for manufacturing and distributing immunoglobulin, a fall in plasma collections would take several months to have a knock-on effect on supplies. In a call with investors on 19 August, CSL chief executive Paul Perreault said that the company had called on its 'modest reservoir of finished product'.
There have been ongoing restrictions in immunoglobulin supplies as production has struggled to keep up with demand worldwide, which doubled from 2008 to 2016. Shortages in 2018 led to the creation of local immunoglobulin assessment panels for NHS Trusts to police its use and manage limited supplies. The NHS spent over £200 million on immunoglobulin in 2018–19, treating over 17,000 patients, many of whom require lifelong treatment.
A Department of Health and Social Care spokesperson said: 'Due to ongoing global pressures on the supply of immunoglobulin, we are working closely with the NHS and other stakeholders to safeguard supply and reduce the likelihood of future shortages. The Department has well-established procedures to deal with medicine shortages and works closely with all partners across the health system to help prevent shortages and ensure the risks to patients are minimised when they do arise.'
To help supply, the US Food and Drug Administration (FDA) has reduced the period of quarantine for plasma donations from 60 days to 45 days. This period allows manufacturers to recall plasma if the donor is later found to be at risk of carrying a transmissible infection.
On 23 August, the FDA gave emergency authorisation for treating Covid-19 with plasma donated by recovered patients. The American Red Cross has said there is an emergency shortage of convalescent plasma and is calling for donors. It remains to be seen if this will further affect plasma donations for extracting immunoglobulin, since it is not possible to use the same donations for both purposes.