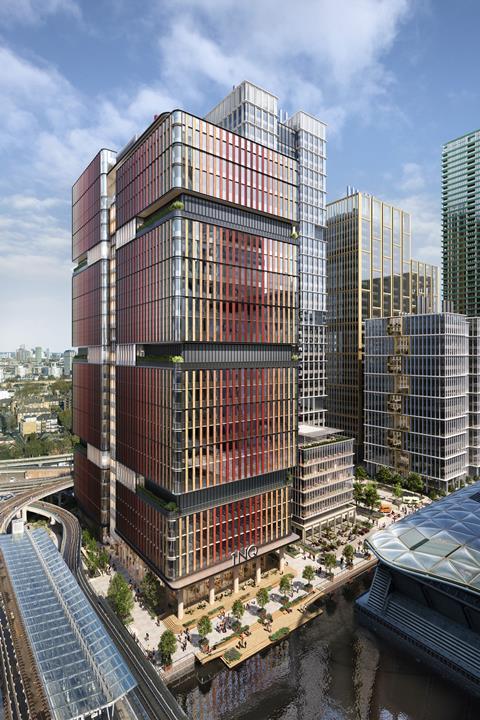 At a time when lab space is running short in the UK, the British property company Canary Wharf Group and Dutch real estate developer Kadans Science Partner have announced plans to build a state-of-the-art commercial health and life sciences building at Canary Wharf's North Quay in London. It will be a 23-storey, nearly 76,500m2 tower that is expected to be Europe's largest and most technologically advanced life sciences facility. The building is planned to be part of a larger scheme that will provide 325,000m2 of laboratories and related space.
'The building has been designed to allow up to 60% of laboratories, with the ability to provide chemistry and high containment facilities,' the two companies said, noting that it will also feature lab space on every floor.
Compared with traditional commercial lab buildings, this new vertical campus is expected to have enhanced power and data capacity. Further, it will incorporate dedicated clinical and chemical waste facilities, multiple goods-lifts with oxygen monitors, freezer farms, as well as specialised receiving and storage areas for hazardous, clinical or chemical goods.
'Traditional lab buildings have been low-rise campuses, but North Quay generates an innovative new paradigm – the vertical campus,' said Elie Gamburg, who works for Kohn Pedersen Fox Associates, the firm that designed the forthcoming facility.
A recent survey of R&D companies based in the UK revealed that almost half of larger firms identify a need for further lab or office space within the next five years, and a majority are hoping to expand their existing premises. The demand for lab space in the UK appears to exceed supply everywhere that was surveyed.

Rebecca became the US Correspondent for Chemistry World in September 2014, based out of Washington, DC, after writing for the magazine on a freelance basis since 2007.
View full profile