UPL accused of illegally storing hazardous chemicals that were released after arson attack at South African warehouse
Civil unrest is probably not at the top of most firms' lists of significant vulnerabilities for chemical facilities, but that might change after uprisings in South Africa last year. For over a week in July 2021, rioters looted buildings across KwaZulu-Natal and set them on fire, including a warehouse of agrochemicals producer UPL in Cornubia, north of Durban.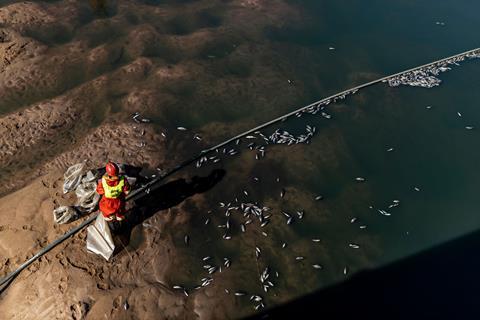 The chaos began after former president Jacob Zuma received a 15-month jail sentence for refusing to answer questions in a corruption investigation. It was also reportedly driven by joblessness and economic inequality that were made worse by the Covid-19 pandemic.
UPL may be held criminally liable for environmental harms caused by the release of its chemicals. Although its rented facility was deliberately set alight and burned to the ground, during the subsequent investigation it was revealed that the volumes of chemicals stored at the UPL warehouse exceeded 500 cubic metres. Such volumes should probably have required additional environmental permits, risk assessments and potentially mitigation measures, which UPL did not have in place.
The violence, described as the worst in South Africa since the end of Apartheid, led to an arson attack on the UPL site late on 12 July. Efforts to extinguish the fire were hampered by security concerns associated with the unrest in the streets, as well as lack of access to adequate water supply and personal protective equipment. Parts of the warehouse structure had to be demolished so that firefighters could safely quench pockets of smouldering materials.
The fire, which lasted about twelve days, overwhelmed the brand new facility's security and safety features. The fire released a large plume of smoke into the atmosphere, and the large amounts of water used to douse it overran catchment devices.
Indian-owned UPL quickly hired an industrial cleaning service, which worked to try to contain the overflow water. Environmental specialists also took samples from the nearby Ohlanga river and uMhlanga lagoon to determine whether the incident had caused any environmental contamination. The ongoing civil disturbance delayed transport of these materials to labs for analysis, leaving local people unsure of their possible chemical exposures.
Smoke and spillage
In the wake of the fire, UPL emphasised that a number of the products housed at its warehouse were water based, and would not represent a health concern, and that most of its fungicides and herbicides were likely completely burned up in the fire.
However, the firm acknowledged that some of the herbicides, such as chloroacetamides, and phenoxycarboxylic acids, may not have burned out completely. Two skin, eye and respiratory tract irritant pyrethroids – alpha-cypermethrin and lambda-cyhalothrin – may have been present in the smoke.
An entire ecosystem has been seriously impacted and may take several years to recover from this incident
By late July, experts had contained surface water runoff, and they were working with environmental authorities to investigate and control groundwater contamination.
Meanwhile, nearby beaches were closed after dead marine life washed up on the shores, and the public was asked not to fish or surf in those areas. Water and sediment samples were taken from along the KwaZulu-Natal north coast, and the South African government launched an investigation to determine the regulatory environment that the UPL warehouse was operating under, as well the environmental impact of the fire and chemical release.
Extensive environmental damage
UPL has argued that the spillage resulted from factors beyond its control, and that no level of compliance with environmental regulations could have prevented it. The company has also committed around R300 million (£14.5 million) to support the cleanup. From the beginning of October, UPL pushed for the affected beaches to be reopened, following analysis by a 'team of independent specialists'.
But on 3 October, South Africa's environmental agency released a preliminary report saying that the beaches and the coastal environment were significantly harmed. Not only did the fire cause widespread air pollution and damage to property in its immediate vicinity, but firefighting water also caused land, water and marine pollution, with associated harm to protected areas and biodiversity, the report concluded.
'Empirical evidence shows that an entire ecosystem, which includes the Ohlanga tributary, the uMhlanga estuary, the beaches and coastal environment, not only in the vicinity of UPL, but for several kilometres to the north of the uMhlanga estuary mouth, has been seriously impacted and may take several years to recover from this incident,' stated Barbara Creecy, South Africa's minister of forestry, fisheries and environmental affairs, when she presented the investigation's findings.
The immediate environmental damage included the death of around 3.5 tonnes of fish. The water downstream of the spill site, and upstream of the confluence with the Ohlanga, was assessed as having a 'very high acute/short chronic toxicity' hazard, which led to widespread death of aquatic organisms. In addition, sampling conducted on the Ohlanga upstream of the impacted tributary indicated that the river was also highly polluted. A notable death of vegetation was observed.
Assessment requirements ignored
The government's report cast significant blame on UPL. It concluded that the company had illegally stored hazardous chemicals by failing to apply for the mandatory environmental permits, licences and authorisations, complete required risk assessments, and implement appropriate controls. A fire in the UPL premises from any cause – whether accidental or deliberate – would have likely triggered a serious pollution event because of these lapses, the report asserted. Those missing steps, it said, could have allowed the company to prevent or minimise the spread of pollutants from the warehouse.
Carrying on an activity without an environmental authorisation is a criminal offence carrying significant potential penalties
A criminal case was opened against UPL in September, and South Africa's National Directorate of Public Prosecutions will make a decision on whether to pursue those charges, according to Creecy.
In responding to the report, UPL stressed that the report doesn't address the fact that the fires, which led to the pollution, were caused by rioters that the emergency services were unable to contain. The company pointed the finger elsewhere, saying there were 'many inadequacies' in the government's response to that civil unrest, including numerous 'disorganised, uncoordinated and contradictory' actions by authorities.
But Michael Kidd, an environmental and pollution law professor at the University of KwaZulu-Natal in Durban, says it is clear from the available information that UPL was required to obtain an environmental authorisation, based on an environmental impact assessment, to store those chemicals in the warehouse. The company also needed to apply to the municipality because the chemicals it was storing were potentially harmful to the environment or human health, he adds.
Had UPL followed these regulatory requirements, the warehouse location may not have been approved at all, and if it had, information relating to the chemicals being stored there would have been made public before the event, Kidd says. He suggests that this would have facilitated a quicker response by those exposed to the smoke, and others.
'On my interpretation of the relevant legal provisions, UPL will have to clean up everything,' Kidd tells Chemistry World. 'Certainly, carrying on an activity without an environmental authorisation in circumstances where it is required is a criminal offence carrying significant potential penalties.' These can include serious fines, and even imprisonment.
Learning lessons
UPL's story is a cautionary tale for other chemical companies, according to Kidd. It makes clear that chemical storage facilities holding hazardous compounds in such large quantities should never be located in an area so close to residential areas or schools, and demonstrates that proximity to a river is also problematic without suitable containment measures.
A further lesson is that chemical facilities need to be designed so that run-off of chemicals is impossible. 'Because chemicals ended up in the river, it is evident that UPL's containment measures for runoff of chemicals and water were inadequate,' Kidd says. 'Had they been adequate, this would not have happened.'
The majority of beaches that were closed finally reopened for recreational use on 2 November. 'While the specialists have concluded that the beaches are safe to open for now, further monitoring and analysis will be conducted and the public informed of the outcome thereof,' explained the Department of Economic Development, Tourism and Environmental Affairs. This monitoring will continue for the foreseeable future until evidence indicates that any risk has been adequately mitigated, the department said.
The partial reopening follows the recommendations of specialists' report on the safety of the beaches, which advised that that they be reopened for recreational purposes, but that an 'exclusion zone' of one kilometre north and south of the uMhlanga estuary mouth, and one kilometre out to sea should be maintained. This means that 96% of the beaches that were shut are now open, but not for fishing of any kind.

Rebecca became the US Correspondent for Chemistry World in September 2014, based out of Washington, DC, after writing for the magazine on a freelance basis since 2007.
View full profile