Scientists welcome promise to put science centre stage but remain cautious
Australia's scientists may have warmly welcomed the country's new premier when he addressed them in October at a science awards dinner, but they remain cautious and aren't expecting too much. Malcolm Turnbull replaced Tony Abbott as the country's prime minister in mid-September after toppling Abbott in a coup to take control of the ruling Liberal party.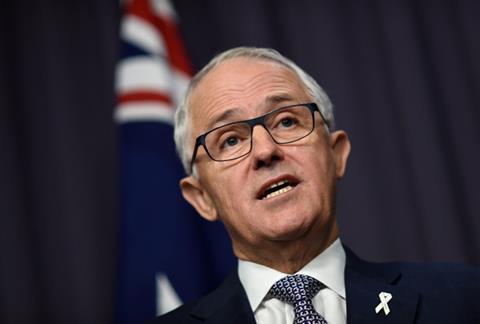 Two years of deep cuts in research funding still stand and are being keenly felt. 'Everyone is encouraged by Malcolm Turnbull's public statements on science and innovation, and by his appointments, but actions are what count and it is too soon to judge at this point,' says Steve Sherwood, director of the Australian Research Council's Climate Change Research Centre.
Turnbull told scientists that Australia would invest in science and put it 'right at the centre of our national agenda'. He has already appointed a highly respected engineer and entrepreneur, Alan Finkel, as the country's next chief scientist. The prime minister has also promised to implement in full a report calling for a national science strategy. It was penned by the outgoing chief scientist, Ian Chubb, but Turnbull's predecessor had left it to gather dust.
Government scientists will be listening intently to a statement on innovation expected next week. 'We understand it intends to place CSIRO at the centre of the agenda to translate research into commercial prospects,' says Sam Popovski, secretary of the Commonwealth Scientific and Industrial Research Organisation's union. 'But what might that mean in a practical way? We have low expectations of increased or even restored funding.' His organisation is still at loggerheads with the government over changes to pay and working conditions, which have led to a campaign of strike action.
Under Tony Abbott, the CSIRO lost one in five jobs, and in 2014 had its budget cut by a record A$115 million (£56 million). The CSIRO boast many of the country's leading climate scientists and was hit particularly hard by both federal and state government cuts in climate change and environment research.
'Softly-softly approach'
Abbott once called climate science 'crap' and although he later claimed to take it seriously, he scrapped the country's carbon tax, weakened its renewable energy targets and took billions from renewable energy programmes. He also abolished the Climate Commission, which had been established to provide public information on the effects of climate change. Another low point, from the scientific community's perspective, was when Abbott's education minister – now the minister for industry and science – threatened funding for 1500 research jobs at 27 national facilities if the government didn't get its way on proposed higher education reforms.
Once a gap in expertise is created it can take years to be closed even if funding is re-established
Paul Mulvaney, who is leading the working group developinga 10-year plan for chemistry for the Australian Academy of Science, says political realities will limit Turnbull's options. 'He has a mandate to instigate some change, but there are people who believe the Abbott policies were correct so he'll take a softly-softly approach to moving policy.'
That was perhaps evident in Turnbull's decision to reject a statement on reform of fossil fuel subsidies on the first full day of this week's talks on climate change in Paris. At home, however, he seems to have removed civil servants who were pro-coal and pro-fossil fuels. His new chief scientist is on record as calling for an end of coal-fuelled power generation in Australia.
Frances Separovic, head of chemistry at Melbourne University, is heartened to hear talk of innovation but 'the concern is to keep basic science going because that underlies innovation'. She says university research is currently subsidised by teaching budgets, and wants to see more invested in both universities and the CSIRO. But Separovic expects money may only be 'shifted around'. The Abbott government concentrated on health research, whereas under Turnbull she expects technology to get more cash.
Young scientists too, are wary. Andrea Taschetto, who has just been honoured by the Australian Academy of Science for her work on climate science, says cuts to the Australian Research Council's budget has meant a 30% fall in fellowships for mid-career researchers since last year. She fears talented young scientists will be forced out of research and many may never return: 'Once the gap [in expertise] is created it can take years to be closed even if funding is re-established.'