As COP26 approaches, many firms are announcing ambitious climate goals. But are they achievable?
At June's G7 meeting, leaders pledged to take action to decarbonise industrial sectors such as chemicals and petrochemicals by harnessing collective strengths in science and innovation. The chemicals sector has some catching up to do if it's to achieve the deep decarbonisation required to put the world on track to avoid the most dangerous increases in temperature. And such is its reach into every sector of society, its action is pivotal to enable the world to reach net zero.
In the run up to November's international climate summit, COP26, where ambition for the next decade will be agreed, more and more countries are setting net zero targets for 2050. And companies are following suit. To reach that destination, the sector will need vast amounts of clean energy; reliable and comparable data; and funding to deploy new technology such as electric crackers and green hydrogen.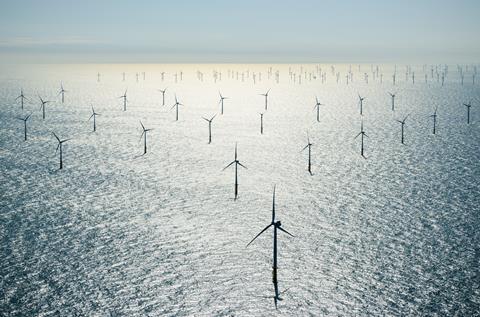 The International Energy Agency (IEA) estimates direct CO2 emissions from chemicals production reached 880 million tonnes in 2018 – and are growing. European industry (including the UK) contributed 141 million tonnes in 2017. Companies know that improving efficiency alone is no longer enough: switching to renewables forms a major component of commitments for 2030 and beyond.
In March, BASF set new targets to cut its worldwide greenhouse gas emissions by 25% - from 21.9 million to 16.4 million tonnes, by 2030 – even as it builds a new integrated 'Verbund' plant in China. The chemicals giant will progressively switch to renewables, investing in wind parks to do so. But it anticipates that electricity demand will grow three-fold by 2035, driven by new technology for producing basic chemicals like ethylene and propylene. It anticipates investing up to €4 billion to reach its goal.
Crop science and pharmaceuticals group Bayer has committed to cut the emissions directly in its control from 3.76 million tonnes in 2019 to 2.18 million by the end of 2029. These emissions (categorised as scope 1) cover its activities such burning fuel on site and vehicle fleets, while scope 2 covers the emissions from electricity it purchases.
Tracking the targets - pharmaceuticals
It expects that two thirds of the cuts will come from sourcing all the electricity it purchases from renewables. The remainder will come through increased efficiency – it will invest €500 million on innovations at its facilities – and from fuel switching. Energy managers have a newly installed project management tool where they can input activities and ideas, so the different business functions can learn from each other. It's also exploring a project to source heat for its Leverkusen plant from geothermal energy. About 25% of Bayer's current footprint comes from chemical process emissions – for example in its crop science division, which are very hard or impossible to abate.
However, with a changing portfolio and new technologies being introduced, Bayer's rough estimate is that about 10% of emissions will have to be offset or captured by 2050. However 'reduction is really the core of our climate strategy. And the compensation of the remaining emissions only works when we really stick to our ambitious reduction targets,' says climate programme director, Daniel Schneiders.
In the UK, as part of its net zero goal, Johnson Matthey (JM) wants to have 60% of its electricity coming from renewables by 2025. Making the switch is 'a bit easier in some of the more western deregulated energy markets than it is in some of the other locations where we have factories. We're working on it in all locations at sensible rates, depending on the market conditions,' says Julia Rowe, group sustainability manager. 'For scope 1, it's a similar story, but on a slightly longer time scale. Switching facilities that currently run off natural gas for something else depends on two things – availably of an alternative energy source, and then probably a capital investment in our factories, to change equipment over to whatever the alternative energy source is.'
In pharmaceuticals, AstraZeneca aims to eliminate the remaining 248,000 tonnes of its scope 1 and 2 emissions by 2025, having already achieved a 60% reduction since 2015. Apart from using renewables for electricity and heat, it will switch to a fully electric vehicle fleet and eliminate fluorinated greenhouse gas emissions at its sites. But how do we know that the targets being set will put us on a path compatible with the 2015 Paris Agreement to limit average warming to less than 2°C – and ideally no more than 1.5°C?
Tracking the targets - chemicals
JM and Bayer are among hundreds of companies and institutions signing up to the Science Based Targets initiative (SBTi). It was developed by the World Resources Institute (WRI), WWF, the UN Global Compact, and environmental reporting charity CDP, in response to industry requests for guidance on aligning with the Paris Agreement's goals. It uses emissions reduction scenarios developed by the Intergovernmental Panel on Climate Change (IPCC), that are specifically chosen so as not to rely on unproven technology, or on very rapid and high deployment, of (for example) emissions removal technology. 'It's entirely focused on emissions reduction targets,' says Nate Aden at WRI, who works on technical development of the programme.
In the early days, a big issue for the chemicals sector was its belief in the climate benefits of its products. 'For the first couple of years of the initiative, they were holding the line that they would not set science based targets unless they got some kind of credit for their avoided emissions. And we said no.' Eventually Japanese firms Sumitomo and Sekisui broke ranks, and others followed. Now 42 chemical companies have signed up (including five based in China). Of those, 15 have verified targets.
In materials, cement maker LafargeHolcim is one of 20 companies (around half of them in Asia and Latin America) who've committed to 2030 targets. 75% of its emissions come from the materials and fuel it uses to make cement. These will be cut by reducing the main component of cement – clinker – through substitution and recycling construction and demolition waste, for example. It's also developing new plants – using robotics, AI, predictive maintenance and digital twins across its network. These advances should make its facilities 15-20% more efficient than conventional plants.
New technologies like chemical recycling of plastics, power to heat (using excess renewables) and green hydrogen can all make a big dent in the sector's emissions, according to modeling by Camilla Oliveira at Agora Energiewende, a think tank based in Berlin, Germany. While it will still need carbon feedstock even in a greenhouse gas-neutral world, she says, 'it is possible to transform the sector by using renewable feedstock with carbon that was captured from the atmosphere….[which] opens opportunities for climate positive strategies'. Another large source of emissions, the steam crackers, can also be electrified. BASF, Sabic and Linde expect to have a demonstration plant using electric-steam crackers by 2023.
Merck KGaA has set targets for 2030 and 2040, when it aims to be climate neutral. These have taken over a year of work to produce. The German company says technology will be key. 'We cannot achieve [them] by just avoiding carbon emissions – you cannot just do less. We need to develop scientific solutions and new technologies which will help to create less emissions or which will capture emissions, or which can neutralise emissions,' says Petra Wicklandt, Merck's head of corporate affairs. But new technology is usually more expensive than using fossil fuels. Internal carbon pricing helps the equation, even if it's informal as in Merck's case.
Bayer uses a price of €100/tonne for all capital projects (except those which only reduce emissions from electricity). 'When we fixed this as the internal price, we looked at our own abatement curves, we looked at the external carbon prices on the market, for example, in [the EU emissions trading scheme (ETS)]. But we wanted to install a price which really moves the needle,' says Schneiders. Since then, the EU ETS has more than doubled to €55/tonne. 'We will re-evaluate it next year and I don't think that we will reduce it,' he adds.
However, BASF told a recent chemicals industry webinar that carbon pricing is not enough. Carbon contracts for difference – which would cover the incremental cost of new technologies over and above the carbon price in a national trading system – are needed to encourage transition. Such a mechanism would require financing, and there are suggestions of how it could be paid for, but all would require broad political commitment.
Many of the companies setting targets have what they consider to be reliable data for scope 1 and 2 emissions. The challenge is for scope 3, the emissions in the entire value chain from the materials purchased to product end-of-life. For most companies (apart from cement makers) these form the lion's share of emissions. One company's scope 3 emissions are another's scope 1 and 2, and hence decarbonisation can be pushed up and down supply chains. SBTi requires companies whose scope 3 emissions are greater than 40% of their entire emissions to set a separate 'ambitious and measurable target' across 15 categories.
'For some we have much higher quality information for than others,' says Rowe. 'With purchased goods and services, we have some of our own materials, we have high quality data that we've exchanged with our immediate supplier; some of them we're dependent on global databases for information. The real thing that is changing is strength of relationships and partnerships in supply chains to improve the quality of information on scope 3.' JM has just signed up to SBTi and began publishing a full breakdown of its scope 3 emissions in its 2021 annual report. 'The car manufacturers are our customers and they're quite vocal about their ambitions in this space,' she adds. 'So inevitably, those questions will come down to us in their supply chain.'
Production of JM's portfolio of nickel rich advanced cathode materials, eLNO, is intended to be carbon neutral by 2025, with its first plant in Poland running entirely on renewables from the start. The company is creating a European supply chain to minimise transport emissions and working with suppliers to align their carbon reduction targets with its own.
For Merck KGaA, which operates in the healthcare, life sciences and electronics sectors, selling over 300,000 products, analysing and measure scope 3 emissions is an ongoing task. 'We learned that even though you may identify a baseline, depending on the viewpoint and the methodology, you may face surprises,' says Andreas Kruse, who heads the group's environment, health and safety function. Expected business growth adds to the challenge. 'There could also be a significant portfolio shift, so what we sell today into the world, we may not sell in a few years or decades, not only driven by greenhouse gas optimisation, but by technology trends and market development. So it's an extremely dynamic area.' Moreover, 'in pharma everything is [highly] regulated; in electronics there's great sensitivity with our customers to any change because of the risk (for example) that yield will be lost at the end of very complex manufacturing processes.'
Bayer is leading a group of 31 chemical companies working on new sustainability standards for the supply sector and on supplier assessments. 'We are thinking that more and more we will use scope three emissions – our supplier's carbon footprint – as evolving criteria in the procurement process. We want to engage with suppliers, to adopt the same targets we set ourselves so that they (for example) also switch to 100% renewable electricity, and we will help them there, for example, how to deal with green power purchase agreements,' explains Schneiders. However, 'for small suppliers, it could be a burden to have new criteria here. We don't want to lose our suppliers here but to take them with us on the path. Because overall, there's no win for us when we change supplier and the supplier sells the same stuff (with a high carbon footprint) to other customers.'
GSK and AstraZeneca, who've set ambitious targets to reach net zero (GSK by 2030, AstraZeneca by 2025) are both are working to develop new inhalers for asthmatics that will have lower carbon propellants. GSK estimates use of its metered dose inhalers accounts for a third of its annual 15.9 million tonnes of CO2 equivalent scope 3 emissions. But the biggest source of scope 3 emissions for both companies is purchased goods and services – almost 13 million tonnes of greenhouse gas emissions between them. Eliminating those emissions (by working with suppliers to lower their scope 1 and 2 emissions) is the ultimate aim.
Additional information
Where necessary, we have calculated the 2030 target emissions based on the companies' stated baseline year emissions and percentage reduction goals. Several of the companies included (marked with an asterisk below) have not committed to scope 3 reduction targets that are directly comparable. In those cases we have carried the 2019–20 emissions figure through to the target total.
Chemicals companies included:
Borregard, Clariant, Ecolab*, Matsen Chemie*, Novazymes, Royal DSM*, Sekisui, Sumitomo*, Syngenta, Tata Chemicals*
Pharmaceutical companies included:
Astellas Pharma*, Astra Zeneca, Bayer, Charles River, Chiesi Farmaceutici*, Daiichi Sankyo*, Dr Reddy's, Gilead Sciences, GlaxoSmithKline, Johnson & Johnson, Novartis, Novo Nordisk, Ono Pharmaceutical, Otsuka, Pfizer, Sanofi, UCB
Data sources
https://www.bayer.com/en/media/sustainability-reports
https://reports.ucb.com/annual-report-2020/data-and-reporting/environmental-data
https://cdn.pfizer.com/pfizercom/2019_KPI_Table_Charts.pdf
https://criver.widen.net/s/m8qsrl6qtj/cr-2019-corporate-citizenship-report
https://healthforhumanityreport.jnj.com
https://www.sanofi.com/-/media/Project/One-Sanofi-Web/Websites/Global/Sanofi-COM/Home/en/our-responsibility/docs/documents-center/factsheets/CarbonfootprintScopes123.pdf?la=en&hash=DCACDEE8C39F8140FBDB24DF6FD69EA3
https://www.daiichisankyo.com/Environmental%20Data%20Book%202020.pdf
https://www.otsuka.com/en/ir/library/pdf/2019/2019_09.pdf
https://www.novartis.com/sites/www.novartis.com/files/cdp-2020-climate-change-information-request-response.pdf
https://www.gsk.com/en-gb/media/
https://www.astellas.com/en/sustainability/measures-to-address-climate-change
https://www.novonordisk.com/content/dam/nncorp/global/en/investors/irmaterial/annual_report/2021/Novo-Nordisk-Annual-Report-2020.pdf
https://www.astrazeneca.com/content/dam/az/Sustainability/2021/pdf/Sustainability_Data_Summary_2020.pdf
https://www.astrazeneca.com/sustainability/environmental-protection/greenhouse-gas-reduction.html
https://www.gilead.com/-/media/files/pdfs/yir-2020-pdfs/2020-gilead-yir_desktop.pdf
https://reports.clariant.com/2020/integrated-report/gri/gri-report-2020/material-topics-focus.html?tabc=2e2
https://matsen.de/en/responsibility/greenhouse-gas-balance/greenhouse-gas-balance-2019
https://www.syngenta.com/sites/syngenta/files/sustainability/reporting-sustainability/Syngenta-ESG-Report-2020.pdf#Page=39
https://report2020.novozymes.com/PDF/The_Novozymes_Report_2019.pdf
https://report2018.novozymes.com/accounts_and_performance/notes/environmental-data
https://www.borregaard.com/media/3w0f5glc/borregaard-annual-report-2020_spreads.pdf#
https://www.sekisuichemical.com/csr/assets/images/csr_report2020e_PerformanceData.pdf
https://www.sumitomo-chem.co.jp/english/sustainability/environment/climate_change/
https://www.chiesi.com/en/sustainability/sustainability-report/
https://www.drreddys.com/our-people-and-our-citizenship/sustainability/