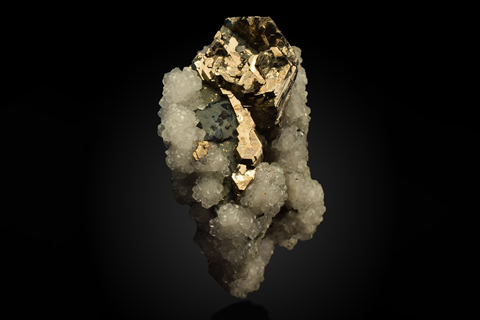 The US Geological Survey (USGS) has released its first map of where pyrrhotite – a mineral with the potential to compromise the integrity of concrete – is most likely to be found across the continental US. It is hoped that the map will help the US construction industry avoid pyrrhotite-bearing rocks.
'This project was a bit unusual for us, because typically we're trying to help people find mineral deposits that they want, not minerals that they don't want,' says author and geologist Jeff Mauk, who led the USGS mapping project. 'Pyrrhotite in concrete has caused enormous problems for homeowners in parts of Connecticut and Massachusetts.'
An iron sulfide mineral, pyrrhotite is related to pyrite – which is commonly known as 'fool's gold' – and is formed when pyrite loses its sulfur during recrystallisation. Unlike its more well-known cousin, however, pyrrhotite is both rarer and more reactive. When exposed to water and oxygen, it breaks down to form sulfuric acid and various secondary minerals, including gypsum, which have larger volumes that the pyrrhotite they replace. This has led to thousands of homes being damaged in Massachusetts and Connecticut alone, according to the National Institute of Standards and Technology.
This becomes a serious issue if pyrrhotite-bearing rocks are accidentally crushed up and used as filler in the production of concrete, as the expansion can cause the concrete to crack and fail. Unwitting incorporation of the mineral in concrete that later went on to be used in building foundations has caused damage to properties in the US, Canada and Europe.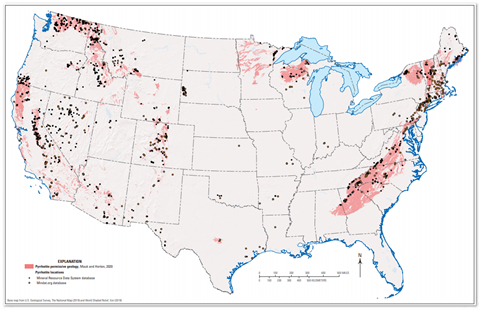 In their study, Mauk and colleagues combined data from a number of different sources to produce their map, including the USGS State Geologic Map Compilation, the Survey's Mineral Resources Data System database and the mineralogical database Mindat.org. Feedback from 35 state geological surveys was subsequently used to refine the map data.
As the mineral is rare – and its exact distribution across the whole US is not known – the researchers instead determined which sulfur-rich rocks formed in the moderate-to-highly metamorphosed geological settings that pyrrhotite would need in order to have formed. Of particular interest were metamorphic rocks formed from the sulfur-rich marine sediments in which pyrite might otherwise have been found.
The researchers concluded that pyrrhotite is mostly found in metamorphic rocks along the Appalachian Mountain chain – as well as in smaller pockets across the western US. The team caution that the map does not reveal the rock formations known to have the troublesome mineral, but those where there is a risk it might be found.
'We wanted to give Congress a guidemap so they'd know where pyrrhotite may occur in the United States,' Mauk says. 'This map is a starting point, and we are so grateful for the fantastic support and feedback that the state geologists provided to help us improve it.'
Sergio Cavalaro – a civil engineer from Loughborough University who was not involved in the study – says that the map should be helpful. However, he adds, 'this valuable information alone is not enough to judge the suitability of a particular aggregate, which requires appropriate testing and verification against clear limits for contaminant contents'.
Both the EU and Canada have set standards for the sulfur content of aggregate for concrete production, but the US has not.
References
J L Mauk et al, Pyrrhotite distribution in the conterminous United States, 2020: U.S. Geological Survey Fact Sheet 2020-3017, 2020, DOI: 10.3133/fs20203017