Ambitious plans to build more than 60 nuclear plants by 2030 have sparked protests across the country
China's nuclear industry is resuming its ambitious expansion that was brought to a halt by the Fukushima nuclear accident in Japan in 2011. But now there is a powerful public backlash against nuclear power and industry experts are now urging more comprehensive public engagement to head off further protests.
The National Nuclear Safety Administration, part of the Ministry of Environmental Protection, approved the Zhangzhou nuclear power plant in southeastern Chinese province of Fujian on 10 October. An estimated RMB62.1 billion (£7.5 billion) has been in invested in the plant, which will have six reactors and a generating capacity of 5GW. The approval came after China's Guangdong Nuclear Power Corp (CGNPC), one of the country's three nuclear conglomerates, signed an agreement in September with the French state power giant EDF Energy to jointly finance and build a nuclear power plant at Hinkley Point in the UK. Hinkley Point C, the first new nuclear power station in the UK in a generation, is predicted to cost £25 billion. It is the first time China has exported its technology, as well as capital, to build a nuclear plant in a developed nation and has been hailed by China's state media as a major milestone. At the World Nuclear Association symposium in London held in early September, the vice president of State Nuclear Power Technology Corporation (SNPTC), Zheng Guangming, said China plans to build more than 60 nuclear plants. Each of the three giants – CGNPC, SNPTC and China National Nuclear Corp – will build at least two nuclear power plants each year. China wants to generate 10% of its energy from nuclear power by 2030. At the end of 2015, the figure was less than 3%.
Public goes nuclear
Disquiet over nuclear power among the general public is building, however, despite the industry having enjoyed a good reputation for more than 30 years. In August, thousands of residents took to the streets to protest against the proposed construction of a reprocessing plant for spent nuclear fuel in the eastern Chinese city of Lianyungang in Jiangsu Province. The city has hosted a nuclear power plant for more than 20 years without attracting much public antipathy. The four-day demonstration – long by Chinese standards – has forced the municipal government to suspend the project.
'The nuclear industry distorted information to mislead the public,' says a senior energy policy analyst affiliated with a central government thinktank, who asked not to be named. 'The announced government plan is to only build 30 new nuclear plants by 2020.'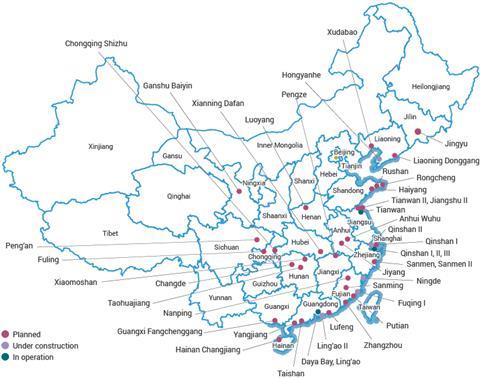 According to the energy policy analyst, the 30 new nuclear plants will make full use of coastal sites for nuclear power, while all the proposed inland plants are currently being halted due to strong public opposition. The government plan mentioned the inland sites in feasibility studies for the central Chinese provinces of Hubei, Hunan and Jiangxi, but the analyst tells Chemistry World that the final decision was never made.
Protests have been much rarer at proposed coastal sites but another major public demonstration derailed the construction of a nuclear fuel reprocessing plant in 2013 in Jiangmen in Guangdong Province. In recent years, public protests against chemical plants have grown. Para-xylene (PX), a chemical used to produce terephthalic acid, which in turn is used to manufacture polyester, has become a flashpoint for angry public protests. Proposed PX projects in Xiamen, Maoming, Dalian, Ningbo and Kunming have been halted as a result of public protest, although some projects went ahead when they were re-sited away from major cities to more remote areas.
Deng Lifeng, an associate professor of risk communication at Sun Yat-sen University, explains that the previously positive image of nuclear power in China depended on technological prowess, generous compensation for relocated farmers and the media's uncritical reporting. But the rise of social media has changed this. 'In the case of nuclear power, even people located 100km away may feel uncertain about nuclear safety. The nuclear industry, government and scientists must expand their risk communication initiatives to engage more stakeholders,' Deng says.
Chinese officials may now be starting to take note of public protest. China's government recently put a draft regulation on the nuclear power industry out for public consultation and public hearings are expected on selecting sites for new nuclear power plants.