Prizes awarded to Robert Robinson will be auctioned off in the UK next month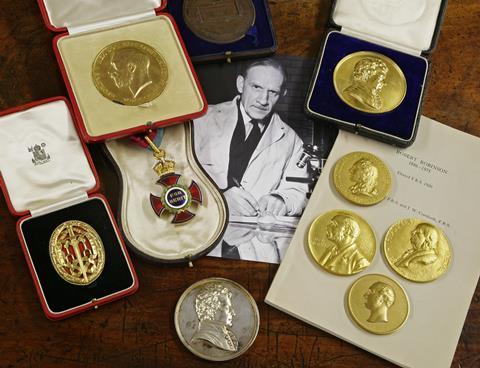 A collection of medals and awards that belonged to chemistry Nobel laureate Robert Robinson are being sold at auction.
The group of more than 30 medals and prizes – which includes a copy of Robinson's Nobel prize medal, his George VI Order of Merit and his Knight Bachelor badge – will be sold as a single lot at Sworders auction house in Stansted Mountfitchet, UK, on 6 December.
Robinson was a British organic chemist whose work included the structure and synthesis of numerous organic molecules. He is known for inventing one chemical symbol still in use for benzene (a circle within a hexagonal arrangement of carbons) and introducing curly arrows to illustrate the movement electrons in reactions. Robinson was knighted in 1939 and awarded the chemistry Nobel in 1947 for his work on plant alkaloids and anthocyanins. He received numerous other prizes and accolades throughout his career and was president of both the Royal Society and the Chemical Society, one of the forerunners to the Royal Society of Chemistry. He died in 1975.
The medals are expected to sell for between £6000 and £8000.