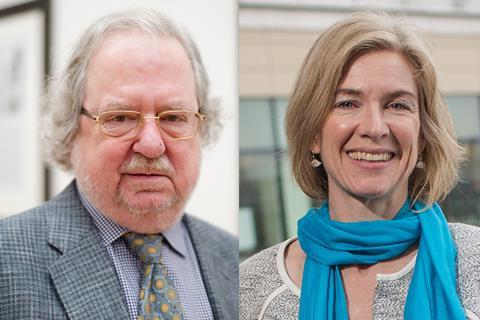 The University of California, Berkeley is auctioning off the patent disclosures behind two Nobel prize-winning discoveries made there by selling them as nonfungible tokens (NFTs), which have recently gained popularity as a way to sell digital assets. The scheme is part of fundraising effort to finance basic research at the university.
On 27 May, UC Berkeley minted an NFT related to the development of a cancer immunotherapy for which James Allison shared a medicine Nobel prize in 2018 while at the university. A 24-hour auction will begin as soon as 2 June.
NFTs are unique, verifiable digital assets that can't be copied or replicated because they are stored in a distributed computerised record called a blockchain. Ownership of the original is encrypted and non-transferrable, unless officially sold to another party.
The second NFT that will be sold by UC Berkeley, which will be minted at a future date, is for the Crispr-Cas9 gene editing technology that led to Jennifer Doudna jointly winning the chemistry Nobel prize last year. The university says it now has 44 Crispr-based patents in the US and dozens of foreign patents, including the original patent filing.
Both the NFTs that will be auctioned link to online digitised records, including internal forms and correspondence, that document the initial research findings that led to these Nobel prize-winning breakthroughs.
UC Berkeley, which will continue to own the relevant patents to the two discoveries, will receive 85% of the proceeds and the remaining 15% will go to Foundation, which is the platform on which the auctions will be held. The university will also earn 10% of the proceeds of any future sale of the NFTs, and Foundation will receive 5%.
'Something magnificent'
UC Berkeley has consistently ranked among the five top research universities in the world and is currently rated number one in chemistry. The university claims 25 Nobel laureates among its faculty.
'Someone might ask, "Why would I want a digital version of some internal university form?" Because it represents something magnificent,' said Rich Lyons, UC Berkeley's chief innovation and entrepreneurship officer. 'There are people who recognise and care about symbols of great science, and even if they never intend to resell the NFT, they want to own it and they want resources to go back to Berkeley, where the basic research behind these Nobel Prizes came from, to support further research.'
Lindsay Howard, head of community at Foundation, adds: 'We're just starting to see the beginning of what's possible, and certainly being able to support Nobel prize-winning cancer research is at the forefront.'
The university hopes that publicising the sale of these two NFTs will help underscore the key role that basic university research plays in major scientific breakthroughs. 'Auctioning NFTs of Nobel prize-winning invention disclosures to fund research and spotlight discoveries exemplifies the creative environment that UC Berkeley stokes,' said Mike Alvarez Cohen, who directs innovation ecosystem development in UC Berkeley's intellectual property office. 'Berkeley just might have pioneered a new NFT category and a way for universities to memorialise and monetise their history-making discoveries.'
A portion of the university's proceeds will also go toward carbon offsets for the energy costs of minting the NFTs, which can add up to an average of 215kg of CO2, according to a recent estimate.

Rebecca became the US Correspondent for Chemistry World in September 2014, based out of Washington, DC, after writing for the magazine on a freelance basis since 2007.
View full profile