Enerkem teams up with AkzoNobel and Air Liquide to turn rubbish into raw materials
A facility to convert non-recyclable waste into valuable raw materials is being planned at the port of Rotterdam. Canadian company Enerkem, is working with AkzoNobel Speciality Chemicals, and industrial gases group Air Liquide to develop a plant that will convert 350,000 tonnes of waste, including plastics, into 270 million litres of 'green' methanol, each year.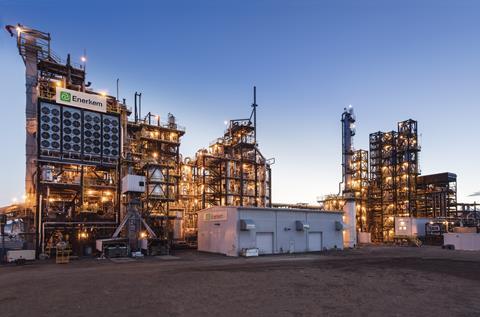 The consortium says this represents the annual waste of more than 700,000 households and will avoid some 300,000 tonnes of carbon dioxide emissions.
The methanol will be used as a biofuel, and by AkzoNobel to produce dimethyl ether, chloromethane and other chemical intermediaries currently produced from fossil fuel sources. Air Liquide will provide the oxygen, and together with AkzoNobel, the hydrogen required for the reactions.
Marco Waas, director of research, development and innovation at AkzoNobel's industrial chemicals business, described the project as 'a significant step toward implementing a sustainable and circular chemical industry'. He added that the agreement came at 'a very appropriate time given the current challenges in plastics recycling in Europe.' Recycling plants are struggling to cope since China banned imports of plastic waste, from January this year.
The firms will make a final decision on the $200m investment later this year, once permitting and detailed engineering planning are complete. However, Enerkem says there are currently limited support mechanisms to incentivise such sustainable chemistry initiatives: the Dutch government has undertaken to bring forward new policy measures to support the project.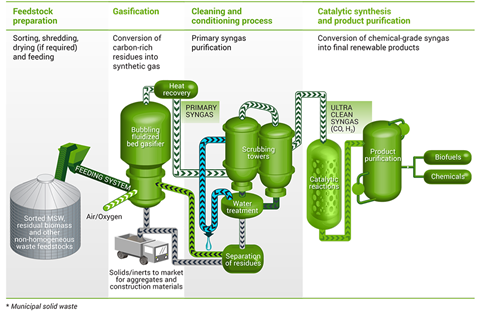 The plant will be twice the size of Enerkem's waste to ethanol plant in Edmonton – expected to be at full production later this year. That facility initially produced only methanol to obtain sustainability certification, and to demonstrate purity and process viability to potential European partners.
Enerkem's four-step process begins with gasification of the waste. The gasifier contains hot sand at 700°C, steam and very little oxygen, so when it's added, the waste is converted to carbon monoxide and hydrogen rather than being burnt. The synthetic gas is cooled and 'scrubbed' to remove impurities and contaminants. Edmonton's facility doesn't use renewable energy, but the heat is recovered and re-used in the gasifier to maintain the fluidity of the hot sand.
The syngas is heated again and the carbon monoxide and hydrogen combine at a specified temperature and pressure, in the presence of a copper catalyst. Lastly, the methanol is distilled from the gas.An Enerkem spokesman said the Rotterdam facility would benefit from 'many small, but important' process improvements that have been made since the Edmonton plant opened.