The US and Canada are targeting eight chemicals in the Great Lakes deemed dangerous to health or the environment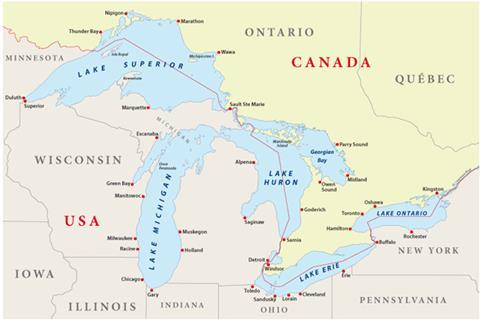 The governments of Canada and the US have designated a set of eight chemicals in the Great Lakes that are of mutual concern because of their potential harm to human health or the environment. The head of the US Environmental Protection Agency (EPA) joined the minister of Environment and Climate Change Canada in announcing this first set of chemicals of mutual concern on 31 May. These substances identified, which are in the Great Lakes because of human activities, are: hexabromocyclododecane, polybrominated diphenyl ethers, perfluorooctanoic acid, perfluorooctane sulfonate, long-chain perfluorinated carboxylic acids, mercury, polychlorinated biphenyls and short-chain chlorinated paraffins.
For every one of these and future designated chemicals, the Canadian and US governments will develop and implement strategies to address them. Under the auspices of the Canada-US Great Lakes Water Quality Agreement, they will report every three years on the status of each of these substances in the Great Lakes. 'Designating these chemicals of mutual concern puts us on the road to reducing them to protect the public health and water quality of the Great Lakes region,' said EPA Administrator Gina McCarthy.
Jennifer Caddick, a representative from the Alliance for the Great Lakes, says this first list contains no surprises but future iterations should be more 'forward looking'. She recommends that the next list focus on the emerging contaminants such as endocrine disruptors and antimicrobials.