Illumina's 'next-generation' MiSeqDx platform gets US approval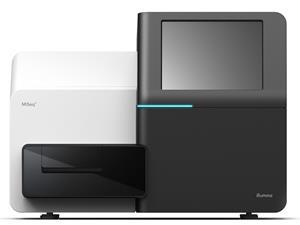 The first 'next-generation' DNA sequencing devices have been approved for clinical diagnostic use in the US. The approval covers Illumina's MiSeqDx instrument, together with two diagnostic assay kits for cystic fibrosis that run on it, and a kit that allows clinical labs to develop their own diagnostic tests.
While sequencing techniques for research purposes have been advancing at a blistering pace, sequencing in clinical settings is largely limited to variants of the methods developed by double Nobel laureate Fred Sanger in 1977, as well as a few large, validated service providers (including Illumina). Approval of the MiSeqDx platform is a big step towards making sequencing methods available in clinical practice.
Illumina has consistently been a nose ahead of other sequencing companies in terms of market share. After resisting a hostile takeover bid from Roche diagnostics (owner of sequencing rival 454 Life Sciences), Illumina has begun an acquisition drive. The firm has bought out several companies who specialise in diagnostic testing, such as Verinata Health and BlueGnome, as well as companies whose technology might help Illumina further improve its instruments, including informatics experts NextBio and microfluidics specialists Advanced Liquid Logic. Illumina has also licensed a protein nanopore sequencing technology from the University of Alabama at Birmingham, US. This move comes as the company ends its affiliation with Oxford Nanopore, selling off its stake in the UK company following Oxford's decision to commercialise a slightly different version of its sequencing technology to the one Illumina had invested in back in 2009.