Deal swaps Sanofi's animal health arm for Boehringer's consumer healthcare business as both firms aim to boost scale
Sanofi and Boehringer Ingelheim have agreed a multi-billion euro asset swap. French-headquartered Sanofi will exchange its animal health segment for the consumer healthcare business of Germany's Boehringer. The move will boost both companies' size and scale in key strategic areas.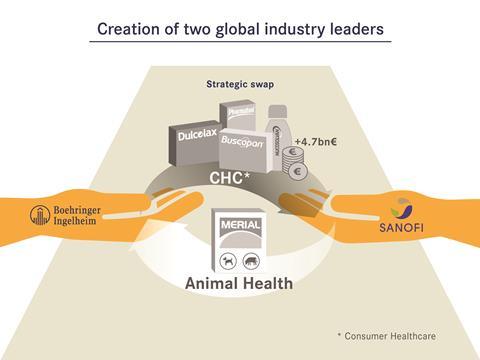 The transaction values Sanofi's animal health arm (Merial) at €11.4 billion, and Boehringer's consumer health business at €6.7 billion. Boehringer will pay Sanofi €4.7 billion in cash to make up the difference. The deal adds to the rising tide of dealmaking in the pharma sector and is the second largest asset swap after the 2014 exchange between GSK and Novartis.
'Scale and leverage and being able to have more products flow through your distribution network are key drivers for this kind of deal,' says Damien Conover at analyst firm Morningstar.
Sanofi sees consumer health care as a market offering modest but reliable growth. The firm identified Boehringer as having complementary brands in four priority areas – vitamins, minerals and supplements; cough and cold care; digestive health; and pain care. Sanofi already holds a top-5 position in digestive health, pain care and allergy. The exchange will help it compete with the likes of Bayer, GSK and Johnson & Johnson.
'We have identified [consumer healthcare] as a strategically important market for sustainable and stable growth of the group,' said Jérôme Contamine, executive vice president of Sanofi, on an investor conference call. He predicted growth in the sector driven by rising GDP, the aging population and growing middle class in emerging markets, as well as increased health awareness.
Consumer healthcare combines strong local markets with consumer loyalty and trust, he added. 'This in turn results in more stable long-term revenue streams than the more volatile innovative biopharmaceutical business.' The transaction pushes Sanofi into third position worldwide in consumer healthcare sector, with significant boosts to sales in Europe and the Asia Pacific region.
'Sanofi has been going down the path of more stable cashflow, and consumer healthcare gives you that more than the branded drug space, where you can have patent losses and new drug launches,' adds Conover.
For Boehringer, the swap more than doubles its sales in animal health care, to around €3.8 billion based on 2015 figures. Merial's focus on pets, farm animals and veterinary public health will improve Boehringer's position in the market by combining platforms in anti-parasitic, vaccines and pharmaceutical specialities.
Boehringer wanted to 'gain critical mass within animal health, which is much less fragmented [than consumer healthcare],' says Conover. 'You have just a few players holding the majority of the business there and scale is even more important. With the Sanofi assets, it is going to be one of the top players.'
The transaction is expected to be completed by the end of 2016.