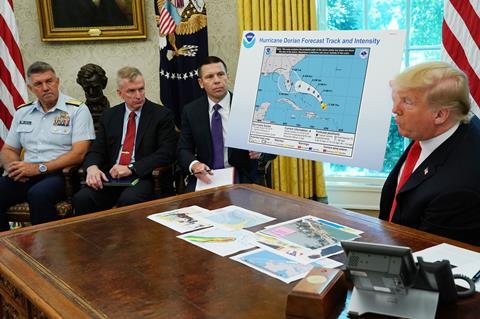 Safeguards meant to keep US government science research objective and publicly accessible have been weakened so much that 'a crisis point' has been reached, with violations occuring almost weekly, according to a bipartisan report by former government officials.
A trend of interference in government research that began under previous administrations has, the report's authors say, culminated in the efforts of the Trump administration 'not only to politicise scientific and technical research on a range of topics, but also, at times, to undermine the value of objective facts themselves'.
In my judgement, the tremendous amount of difference between administrations that have done well and those have done badly, is whether or not the president had sufficient regard for these issues

John Holdren, President Obama's science adviser
The report points to last month's scandal in which President Trump falsely claimed a hurricane would hit Alabama, and later showed a weather map that had been altered to support his assertion. Staff at the National Oceanic and Atmospheric Administration (NOAA), which produced the original forecast, were reportedly ordered to issue a statement to back the president, or face being fired.
The report from the National Task Force on the Rule of Law and Democracy catalogues not only abuses of science, but a breakdown in the appointments system for government agencies. It cites the suppression of a health study showing that perfluorooctanoic acid and perfluorooctanesulfonic acid, which are used in Teflon and firefighting foam, have contaminated water supplies, endangering human health at far lower levels than had previously been considered safe. The report also notes the case of a top climate scientist who was reassigned to an accounting role after he highlighted the dangers climate change poses for Alaska's native communities.
Political pressure
Meanwhile, the Environmental Protection Agency (EPA) stopped collecting data on oil and gas companies' methane emissions and removed web pages containing information on climate change, while scientists have been prevented from presenting research about climate change at professional conferences. Elsewhere the Secretary of Energy advisory board – a body that works on complex science issues – was ignored for a year, then reconstituted with eight new members, including five from industry. The previous chair, John Deutch, an emeritus chemistry professor at the Massachusetts Institute of Technology, was replaced by Vicki Hollub, chief executive of Occidental Petroleum.
Previous governments are culpable too: officials in the administration of George W Bush are accused of manipulating scientific analysis by the EPA of a proposed sharp reduction in the permissible levels of ozone, to cast doubts on the benefits of a lower standard, while under the Obama administration health officials met with alcohol industry representatives to seek funding for a study on the benefits of moderate drinking, and were allowed to contribute to the study's design.
'The problem of political interference in science is coming into laser focus under Trump – people of all political stripes are expressing discomfort,' says Michael Halpern, deputy director at the Center for Science and Democracy. The report's authors 'personally understand the need for unbiased information – that it's not just a problem for scientists but a problem for all those who believe in good governance'. Science, he adds, 'isn't the only factor that goes into making policy, but independent science has to have a seat at the table'.
A cure?
The task force does suggest a range of potential remedies in the form of legislation to establish scientific integrity standards at government agencies, and protocols for adhering to them. It also recommends disclosure of government research and data, including free online public access, and a range of measures to ensure government officials are accountable and qualified for their roles. 'The report sets out minimum standards – although you'd think that would have been taken for granted,' suggests Halpern. 'Certainly scientists feel like they're under the thumb of political appointees who are hostile to the missions of their agencies, like the EPA, and Department of the Interior where science is viewed as an inconvenience not as an input.'
John Holdren, who was President Obama's science adviser and crucially had direct access to the president, supports these ideas. When it comes to ensuring integrity and openness guidelines are being followed, Holdren say that 'it's a real impossibility to keep track of everything'.
'In my judgement, the tremendous amount of difference between administrations that have done well and those have done badly, is whether or not the president had sufficient regard for these issues [of scientific integrity],' and he stresses the importance of the staff and advisers in the White House. 'They'd be important even if congress passed these measures – because you need to have folks with day-to-day responsibility to make sure it happens, and with insight into the day to day operations of agencies.'
Jonathan Berman, one of the founders of the March for Science, describes the analysis as 'very thorough'. 'I wish something like this had existed when we were planning the march. It would have been a specific list to advocate for.' Berman is optimistic now as he says 'we have an opportunity to fix it in the future: rather like computer companies that do penetration testing to show weaknesses – this is it for science'.
Angeli Mehta is a freelance science writer with a research PhD, based in Edinburgh, UK
View full profile