Country's largest research institution maps out cuts to scientist and a freeze on new PhDs or postdocs until 2017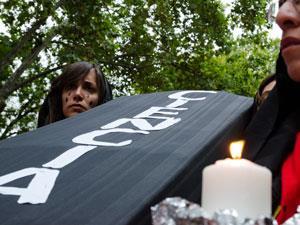 The Spanish National Research Council (CSIC) will not issue a call for new PhD, postdoctoral and technical staff in the next two years, according to its latest action plan for 2014–2017. Published in February, the plan, which the CSIC's director Emilio Lora Tamayo deems 'realistic', forecasts a decline in staff scientists and scientific productivity over the next four years.
The CSIC is Spain's largest research institution, employing 6% of the country's scientists and generating 20% of its scientific output. However, the council has suffered under draconian cuts to the science budget by successive Spanish governments, having had its budget cut by 30% since 2008. Last year, the institution only narrowly avoided bankruptcy after the government provided an emergency cash injection of €95 million (£79 million).
Lora Tamayo said in the plan's preface that the CSIC's situation is complex, but added that the institute was more financially secure now than it had been for some time. Last year the Spanish government increased its contribution to CSIC's funding for 2014 by 12%. The plan for 2014 will see the council employ another 25 to 30 permanent scientists – more than the five called for in 2013, but far fewer than the historical hiring peak of 267 researchers in 2008. A letter sent by Lora Tamayo to CSIC scientists on 27 February stated that the institution will also co-finance postdoctoral and technical positions, and launch the ComFuturo programme, a public-private partnership that will offer promising postdocs temporary positions at the CSIC.
However, the CSIC will not be taking on any new PhD students, postdocs or technicians of its own until 2016 – it made its last call for these positions back in 2011. By 2017, the plan envisages a slimmed down institution that employs far fewer scientists – 3700 researchers with doctorates versus 4363 in 2010. As a consequence, scientific productivity is expected to drop with fewer doctoral theses granted and patents secured.
'What worries me more is the human resources situation in the long run: the average age of scientists at the CSIC is around 53, and most will retire without being replaced by young talent,' says José Pío Beltrán, a chemist at the CSIC in Valencia, and coordinator of the 11 CSIC institutes in that region. Lora Tamayo admits in the plan's preface that the 'loss and ageing' of researchers is one of the CSIC's main problems.
'The plan is much less ambitious than the previous one,' says Alicia Durán, a chemist at the CSIC in Madrid, and a representative of the Workers' Commissions union at the institution. The 2010–2013 plan set objectives like reaching a €1 billion budget in 2013, whereas in actuality the CSIC's budget only hit €600 million.