Row over pensions has seen staff walk out for five days with another nine days of strikes planned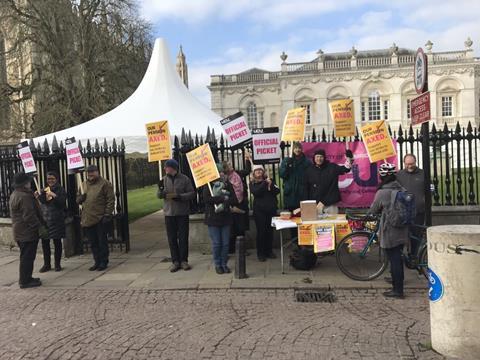 Chemistry departments are feeling the effects of five consecutive days of strikes after staff at more than 60 universities across the UK walked out over a row over cuts to pensions. Lectures have been cancelled and in some cases exams or assessments have been postponed as students demand refunds for lost teaching time.
Staff are striking in protest at cuts to their pensions that talks between the University and Colleges Union (UCU) and Universities UK, which represents senior management at UK universities, have failed to resolve. The dispute centres on plans to end the defined benefit element of the Universities Superannuation Scheme (USS) pension, which would guarantee a retirement income based on salary, in favour of a defined contribution scheme where pensions are dependent on the performance of the stock market. The USS says this is necessary to address a deficit of £6 billion but the union argues it will leave staff up to £10,000 worse off every year during their retirement.
'In 2015 we took a big cut in pension terms and were told that would sort everything out with the scheme,' explains David Smith, a chemistry professor at the University of York who outlined his reasons for striking in a Twitter thread that was shared by almost 2000 accounts. 'The final salary component was capped significantly and became a career average scheme for new entrants. For USS to come back just two years later and say they need to remove all the defined benefit […] it doesn't show a lot of loyalty from employers.' Smith adds that the decision to strike was something he had to think 'long and hard about'.
I love my job - teaching super bright students and doing research with talented scientists. But I am taking industrial action to try and protect academic pensions. I am sorry for the impacts this will have - in this thread I will explain why I'm doing it. #USSstrike #UCUstrike

— David K Smith (@professor_dave) February 21, 2018
'Academics have increasingly insecure careers, and part of the compensation for relatively low wages in academia, compared to industry, and a late [career] start date, has been a reasonable amount of job security and a good pension,' he tells Chemistry World. 'I feel terrible about disrupting students. They're paying a lot of fees to the university and fundamentally they're not getting what they paid for.' Smith says some chemistry lectures and workshops at York have been affected and some continuous assessment exercises will have to be postponed or cancelled.
Chemistry World approached the heads of chemistry at 38 universities – those with a chemistry department that appear on UCU's list of institutions taking part in the strikes – to ask if teaching and research had been affected by strikes and received responses from two.
At the University of Aberdeen half the chemistry department was on strike, says head of department Marcel Jaspars. He says lectures have been cancelled and that exam questions will need to be altered to reflect the missed material. There has not yet been any serious disruption to research, he adds, although the mass spectroscopy research officer is on strike so non-routine measurements were affected.
Rick Cosstick, head of chemistry at the University of Liverpool, also says the effects on research have been minimal so far. 'Most groups have postdoc support to provide immediate supervision and our safety officer has maintained a watching brief to ensure that PhD students have the appropriate guidance and support when performing lab work,' he says. He adds, however, that some lectures, tutorials and lab sessions have had to be cancelled as around a third of staff were on strike.
Student solidarity
Students have been broadly supportive of striking academics, and many joined lecturers on university picket lines, despite snowfall and sub-zero temperatures across the UK earlier this week.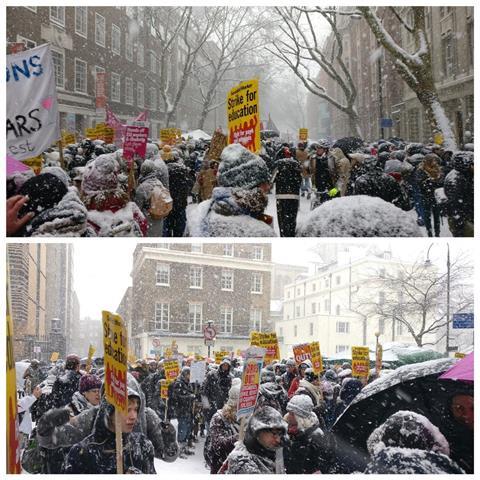 Alison Edwards, a chemistry lecturer at the Medway school of pharmacy – a collaboration between the universities of Kent and Greenwich – says her students understand the difficult position teaching staff are in. 'UCU advised that we should make students who were going to be affected aware a couple of days before the strikes so they were informed as to what would be happening,' she tells Chemistry World. Edwards did this by displaying a slide at the end of the lectures she was teaching the day before strikes explaining that she would be joining those striking and would cancel upcoming lectures. 'I was practically shaking about having to tell them […] but they actually gave me a round of applause,' she says.
At many universities there are concerns over how missed coursework and lectures will be made up. UCU has urged strikers returning to work not to reschedule missed lectures or tutorials and has criticised some universities – including Sheffield, Kent and St Andrews – for threatening to dock the pay of those who refuse to reschedule teaching.
'The information given out from universities that teaching will be redelivered – it'll all be fine, just delayed – is completely at odds with the union line,' says Edwards. 'They're promising something that people who are not delivering teaching because of strike action aren't obliged with the union to do.'
Others are planning to make extra resources available to students. 'We will be posting lecture notes on our electronic learning environment and in some cases video captured lectures will be available from the previous year,' Cosstick says.
Meanwhile, more than 100,000 students have signed petitions demanding partial refunds from their universities, who are still collecting tuition fees but do not have to pay those who go on strike. At a launch event for the new Office for Students this week, the universities minister Sam Gyimah urged universities to directly compensate students for missed teaching.
Looking ahead
Another nine days of strikes are still planned, starting next week. Those participating will walk out from Monday to Thursday, and then for a full five days the following week. Further talks between UCU and Universities UK are due to take place on Monday, mediated by Acas.
UCU has suggested a solution to the pensions row that would see both employers and those signed up to the scheme increase their contributions, and universities accepting more risk. 'We are pleased the employers have agreed to more talks. UCU has tabled proposals which provide the basis for settling this damaging dispute. We have listened not just to our members, but also to the many university leaders who have contributed ideas,' said UCU's general secretary Sally Hunt in a statement.
A spokesman for Universities UK said bosses would 'consider any credible and affordable alternative' to the decision over pensions. They urged the union to suspend strikes while talks were ongoing, but the UCU has said next week's strikes are still on. Universities are braced for further disruption starting on Monday.