Seeking to salvage some value, once-admired blood analysis firm lays off 40% of staff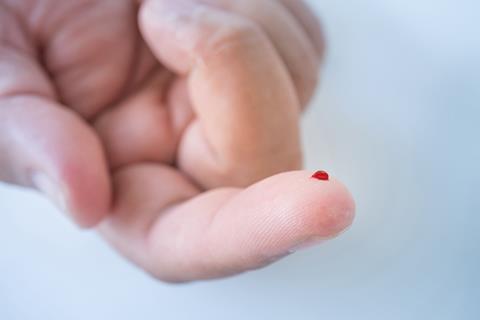 US blood-testing hopeful Theranos is closing its clinical labs and 'Wellness Centres', as the company's fortunes continue sliding from its 2014 peak valuation of $9 billion (£7.4 billion). Theranos announced the move, shedding 340 of its 790 employees, after it lost its main direct consumer testing partnership and approval to receive US government-funded Medicare or Medicaid payments.
The company is now focusing on commercialising its miniLab equipment to fulfil its promise of running multiple tests from a single blood drop. Becoming just an equipment supplier likely reduces Theranos' value to around $50 million, estimates Andrew Thompson, senior medical device analyst at GlobalData in London, UK.
Meanwhile, Steve Brozak, president of WBB Securities, an independent US research and investment bank, feels Theranos' inability to live up to its bold vision has harmed the diagnostics sector. 'Theranos challenged the system, but not with anything provable in the long run,' Brozak says. 'In the process it made things more difficult for other companies.'
Beyond hype
In 2003, then-19-year-old Stanford University chemical engineering student Elizabeth Holmes established Theranos, inspired by fear of needles and admiration for Apple cofounder Steve Jobs. By self-building its original Edison testing machines, Theranos did not require approval from the US Food and Drug Administration (FDA) – which is needed to sell machines commercially. Whereas usually diagnostic analysis requires vials full of blood and dedicated tools, Holmes said Edison systems could 'run any combination of tests' from a finger-prick. With the technology shrouded in secrecy, Holmes was central to the company's success, especially when she became the youngest US female billionaire thanks to her ownership stake.
In 2013, Theranos began a 'long-term partnership' with Walgreens Boots Alliance, establishing Wellness Centres offering various cheap tests in stores – for example for cholesterol or pregnancy. However, following the 2014 investment that valued Theranos at $9 billion, scepticism slowly grew.
Eleftherios Diamandis, a cancer geneticist at Mount Sinai Hospital in Toronto, Canada, recalls how Theranos's reputation made the hospital's vice-president keen to adopt its technology. Inspired to look closer, Diamandis concluded that 'most of the company's claims are exaggerated' in a June 2015 Clinical Chemistry and Laboratory Medicine paper.1 'I tried to demystify the company and say "What is new?",' Diamandis recalls. 'I didn't find anything.'
Meanwhile, Wall Street Journal reporter John Carreyrou was troubled by an unconvincing quote Holmes had given the New Yorker about Theranos's technology: 'A chemistry is performed so that a chemical reaction occurs and generates a signal from the chemical interaction with the sample, which is translated into a result.' In October 2015, Carreyrou revealed that Theranos often wasn't using its own technology.
Bad blood
Since then, Theranos has been deluged by calamities. An independent March 2016 Journal of Clinical Investigation paper showed that the company's tests were 60% more likely to find unusual blood lipid levels than its rivals'.2 Simultaneously, the US Centres for Medicare and Medicaid Services (CMS), which had previously certified Theranos's labs, threatened to impose sanctions for failing to meet multiple legal requirements.
In May, Carreyrou reported that Theranos had thrown out results from its Edison system from 2014 and 2015. In June, Walgreens terminated its partnership with the company, cutting off Theranos's primary revenue source. In July, the CMS enacted its sanctions, including banning Holmes from running labs for two years.
Attempting to regroup, Theranos launched miniLab in early August, initially targeting Zika virus diagnosis. However, by the end of the month it had withdrawn its application for FDA clearance after the FDA highlighted flaws in its patient testing. And just a few days after Theranos announced the closure of its clinical labs in September, a San Francisco hedge fund sued the company, claiming that it had been misled. In response to Chemistry World's questions about its circumstances, Theranos referred to statements on its website.
Matthew Arnold, principal analyst at Decision Resources Group in New York, US, says the case shows the need for regulation. 'We need an authority to say what works – you can't just blunder into medicine on a cloud of Silicon Valley bravado.'
Thompson agrees over-ambition was Theranos's key failing. 'I think the company bit off more than it could chew by trying to develop a novel device at the same time as providing a testing service,' he says.