Russian invasion pushes firms to the limits as facilities are damaged and distribution networks break down
The war has devastated the Ukrainian economy and the chemical industry is no exception. While some companies will never recover, others have managed to keep going, either because they had facilities away from the fighting or because they held stock outside the country. As the situation improves in Kyiv, many companies based in the capital are resuming operations and sourcing new delivery routes to get their products out.
Russian military aggression has dramatically affected the activity of all chemical enterprises in Ukraine, regardless of location, says Oleksii Holubov, president of the Ukrainian Chemists Union (UCU), the country's trade association. Companies are living with the daily threat that their facilities may be destroyed, and face 'the colossal consequences' of a prolonged war.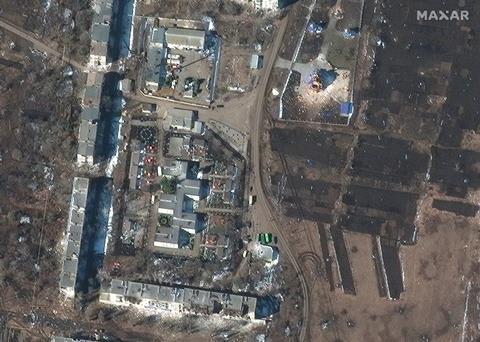 The chemical industry in Ukraine, built up when the country was part of the USSR, accounted for 9% of all Ukraine's industrial exports before the war, according to independent advisory body UkraineInvest. Structurally and geographically diverse, Ukrainian companies manufacture a range of products from fertilisers to fibres. In 2019, the sector's output grew 8% to reach $2.8 billion (£2.1 billion at current conversion rates).
The UCU estimates that, at the beginning of April, up to 20% of chemical companies had incurred damage of some kind. Around half of all chemical companies were in the war zone at this time. 'Obviously, the vast majority are not functioning, production lines are frozen, products have been sold or exported to safe regions. So far, less than 1% of companies have relocated their production to safer regions.'
Even those chemical facilities located away from active hostilities have had to suspend production due to disruptions in supply chains, lack of funds to buy raw materials and a reduced workforce as workers have moved to safer regions and abroad. The industry is also coping with global factors such as rising prices for hydrocarbons.
The vast majority [of firms] are not functioning, production lines are frozen, products have been sold or exported to safe regions

Oleksii Holubov, Ukrainian Chemists Union
'The main task of the national chemical industry is to survive under such critical conditions, to save production facilities, to minimise the consequences of destruction and its adverse impact on the environment, and what is most important – to preserve management and production personnel,' says Holubov.
The war's impact can be seen in figures produced by the Cherkasy State Research Institute of Technical and Economic Information in the Chemical Industry. It estimates that sales of chemical products fell on average by 30% in January-March 2022, compared to the same period in 2021. In January and February, exports of chemical products amounted to almost $600 million, but slumped to $160 million in March, following Russia's invasion on 24 February. Further reductions are expected in April.
Since the start of April, some chemical manufacturing has resumed in safe regions and in 'liberated' territories, Holubov reports. But, in certain areas, it is extremely complicated as work zones, industrial buildings and access roads are often mined. Rebuilding the workforce is also challenging. 'Military requirements have also significantly changed the balance of supply and demand in the domestic chemical market,' he adds. 'It will take a long time to restore this balance due to the technological complexity of the restoration and re-profiling of chemical companies.'
However, some companies have managed to keep going, such as those in safer regions including western and parts of central Ukraine – albeit often with limited manufacturing capacity. These include facilities producing fertilisers, pesticides and other agrochemicals, plastic and rubber products, detergents, paints and varnishes. 'The construction chemicals segment is also restarting manufacturing activity, but the situation for production of basic chemicals and primary plastics manufacturing is much more complicated,' says Holubov.
Customers from central Asia are ready to buy our products, but there is no possibility of delivery bypassing Russia. Selling to Europe is currently not possible

Mikhail Andrushchenko, Electrogasochem
Electrogasochem, which develops and manufactures products including emulsifiers and antioxidants for the food and pharma sectors, kept working from its production site is in the northwestern Zhytomyr region. 'We have retained all production facilities and personnel,' says Mikhail Andrushchenko. 'We have stocks of raw materials and finished products. We continue to ship products to the domestic market and are able to continue exporting.'
But some companies have been hit hard. 'Our client Mondelēz [a snacks and confectionary manufacturer], in Trostyants in the Sumy region, has stopped production due to serious damage,' says Andrushchenko. 'Some factories stopped because the supply chain was interrupted due to the fighting. Some continue to operate but have significantly reduced production.'
Meanwhile, Electrogasochem is looking for new partners in new markets to restore its sales. 'Customers from central Asian countries are ready to buy our products, but there is no possibility of delivery bypassing Russia,' explains Andrushchenko. 'Selling our products to Europe is currently not possible due to a huge number of restrictions.'
Before the war, Ukraine had a thriving synthetic chemistry sector. Around 80% of all screening compounds used in drug R&D were made in either Ukraine or Russia. Ukrainian companies such as Enamine, Life Chemicals and Otava Chemicals contributed over half of the world's stock of chemical screening compounds, according to Enamine. Before the war, they delivered thousands of novel compounds every month to researchers investigating new medicines.
When the invasion started, we stopped all work in the labs and prioritised the safety of our employees

Ivan Kondratov, Enamine
Until recently, Enamine's major collections of screening compounds and building blocks were held in Kyiv. During the first weeks of the war, it was impossible to get shipments out, but the company managed to keep supplying some customers from its small supplies in Riga, Latvia, and New Jersey, US, explains the company's head of medicinal chemistry, Ivan Kondratov. However, the company is now transferring all its screening compounds – over 3 million compounds – to a new facility near the Polish border.
'When the invasion started, we stopped all work in the labs [in Kyiv], including in the purification and analytical departments, and prioritised the safety of our employees and their families,' says Kondratov, who remains in Ukraine. 'Then we tried to ensure the safety of our facilities and warehouses. Our managers continued to work, keep in contact with the customers, and process inquiries and orders.'
Enamine has now resumed operations in Kyiv. Synthetic work is gradually restarting, apart from large-scale synthesis. It will start delivery of screening compounds and libraries from its new facility in mid-April.
As a backup, during the first month of the war, Enamine built up a small team of synthetic chemists in Riga at the Latvian Institute of Organic Chemistry, which provided lab space for up to 20 people. Their activity was limited because they were dependent on reagents and building blocks which were then mainly held in Kyiv. Staffing the lab also proved challenging – under Ukraine's martial law restrictions, men aged between 18 and 60 (which includes the majority of Enamine's chemists) must remain in the country.
Ukraine will overcome these dark days and become stronger. The same for Enamine. We are working 24/7 to adjust to the situation

Tetiana Matviyuk, Enamine
Tetiana Matviyuk, head of Enamine's screening libraries department, is currently based in Poland, which allows her to visit the Riga site. She has been surprised at the support from clients. 'We got many sincere messages of support, which help us to stay stronger and highly motivated. I believe this is the most important sign for a confident and promising future.'
Kondratov is also upbeat about the future. 'We believe in our army, in our people. Ukraine will overcome these dark days and become stronger. The same for Enamine. The first weeks of shock, confusion and disappointment are over. We are working 24/7 to adjust to the situation, operate under these conditions and we are moving on.'
Life Chemicals also manufactures and distributes screening libraries, fragment libraries and building blocks as well as offering custom synthesis to make new chemical compounds. Headquartered in Ontario, Canada, all its production facilities are in Kyiv. They were shut down for the first three weeks of the war, but now the situation has stabilised slightly, the company has restarted operations.
'We were lucky because we have inventory in Germany and the US which has allowed to fulfil orders,' says Vasily Pinchuk, vice-president for marketing and sales, who is based in Canada. 'Nevertheless, orders have been stacking up and now we are starting to weigh them out from our stocks in Kyiv and get them delivered.' International courier services are no longer available, but there are two Ukrainian businesses that have started to ship out of the country. 'It's not perfect but it is working.'
Like Enamine, the company must deal with a depleted workforce. At the end of March, some of Life's chemists returned to the lab, Pinchuk reports. 'This means we can start making new product from raw materials we currently have in stock. But we are also looking at how to ship in new raw materials.'
If the Ukrainian army can hold the Russians back from Kyiv, then we could return slowly to something like normal. Every day it has become a little safer, but they could try another push – we just don't know

Vasily Pinchuk, Life Chemicals
Pinchuk remains hopeful about the future of the business, despite recognising how volatile the situation remains. 'Most customers have agreed to wait, although some smaller orders have been cancelled, understandably as they have needed the molecules quickly. The future depends on how quickly we can restore our business. We are lucky because of our inventories elsewhere we have only taken a minor hit and have been able to keep on selling. If the Ukrainian army can hold the Russians back from Kyiv, then we could return slowly to something like normal. Every day it has become a little safer, but they could try another push into Kyiv we just don't know. We were lucky that Kyiv did not have it as bad as other cities; there has been no carpet bombing and services kept running.'
Meanwhile, Holubov believes that the future of the industry depends on resuming exports; pre-war, exports accounted for 45–55% of sales. However, the reality is that many companies will have to depend on the domestic market, and increased military requirements are likely to continue to have an impact. He warns that a fully-fledged recovery will be difficult, and not all facilities will be able to recover.
Holubov also stresses the importance of assistance from overseas investors, partner companies and the government. He hopes to see foreign investment funding new chemical plants; new supply chains of raw and auxiliary materials; and an expansion in imports of European chemicals to the Ukrainian market. The chemical industry should also benefit from the government's National Council for State Reconstruction which, as part of its plan for postwar recovery, will be aimed at economic development.