Temporary hydrogen bonding network stitches damage as the material fuses together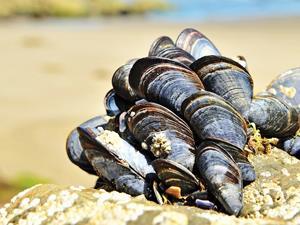 A common acrylic polymer used in biomedical applications and as a substitute for glass has been given the ability to completely self-heal underwater by US researchers. The method, which takes inspiration from the self-healing abilities of adhesive proteins secreted by mussels, could allow for longer lasting biomedical implants.
'Polymer self-healing research is about 10 years old now and many different strategies have been developed,' says Herbert Waite, who conducted the work with colleagues at the University of California, Santa Barbara. 'None, however, address the need for healing in a wet medium – a critical omission as all biomaterials function, and fail, in wet environments.'
The idea of mimicking the biological self-healing ability of mussel adhesive proteins is notnew, and previous attempts have involved polymer networks functionalised with catechols – synthetic water-soluble organic molecules that mimic mussel adhesive proteins – and metal-ion mediated bonding. However, how mussel adhesive proteins self-heal remains poorly understood, which has limited attempts to synthesise catechols that accurately mimic biological self-healing underwater.
Now, Waite and colleagues have discovered a new aspect of catechols after they were simply 'goofing around' in the lab and found a new way to modify the surface of poly(methyl methacrylate), or PMMA, with catechols. This led them to explore the material's properties and discover that hydrogen bonding enables the polymer to self-heal underwater after being damaged. 'Usually, catechols in wet adhesives are associated with covalent or coordination mediated cross-linking. Our results argue that hydrogen bonding can also be critical, especially as an initiator of healing,' he says.
The healing process begins because catechols provide multidentate hydrogen-bonding faces that trigger a network of hydrogen bonds to fix any damage – the interaction is strong enough to resist interference by water but reversible. Acting a bit like dissolvable stitches, hydrogen bonding between the catechols appears to stitch the damaged area, which allows the underlying polymer to fuse back together. After about 20 minutes, the hydrogen bonded catechols mysteriously disappear leaving the original site of damage completely healed. 'We don't know where the hydrogen bonded catechols go,' Waite says. 'Possibly back to the surface, dispersed within the bulk polymer, or some other possibility.'
Phillip Messersmith, a biomaterials expert at the University of California, Berkeley, US, says that this is 'really creative work'. '[This] reveals a new dimension of catechols, which in this case mediate interfacial self-healing through the formation of hydrogen bonds between surfaces, and which are ultimately augmented or replaced by other types of adhesive interactions.'