The worldwide celebration kicked off with a two-day opening ceremony in Paris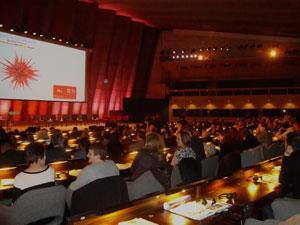 Around 1200 people gathered to officially launch the International Year of Crystallography (IYCr2014) at the United Nations Educational, Scientific and Cultural Organization (Unesco) headquarters in Paris, France on 20-21 January.
The year-long celebration aims to strengthen international collaboration and increase public awareness of crystallography with a series of conferences, exhibitions and educational activities taking place throughout 2014.
The opening ceremony began with welcome addresses from several dignitaries, including Unesco's director general, Irina Bokova, and the International Union of Crystallography president, Gautam Desiraju, who both stressed the global importance of crystallographic research.
The two-day scientific programme that followed included sessions on the history of crystallography, and a keynote lecture by 2012 chemistry Nobel laureate Brian Kobilka who studies the crystal structures of G-Protein-coupled receptors. International collaboration was a strong theme, and a panel discussion with early-career crystallographers from around the world highlighted some of the challenges faced by researchers in developing countries, including access to equipment, funding and training opportunities. Representatives from the governments of India, Brazil, South Africa, Russia and China also outlined their commitments to supporting crystallographic research in these countries.
The second day focused on crystallography's contribution to society, with talks highlighting its diverse applications, from making everyday materials to analysing Martian soil and studying the crystalline pigments used in ancient art.
In his closing remarks, Maciej Nalecz from Unesco's International Basic Sciences Programme explained it was important for IYCr2014 to leave a legacy. 'The international year of physics created a training programme that continues to this day, and the international year of chemistry introduced the global water experiment that became part of the school curriculum in many countries,' he said. 'Crystallography has many possibilities for follow up, and I'm absolutely sure this will be a year to remember.'