Chancellor reveals that core science budget will see inflationary rise of £500 million over course of this parliament
UK chancellor George Osborne has said the science budget will be protected in real terms over the next parliament. This means that inflation will push the science budget up by £500 million over the course of this parliament, alongside the previously announced £6.9 billion of capital funding for research infrastructure. Overall, the total resource budget will rise from £5.8 billion this year to £6.3 billion in 2019–20.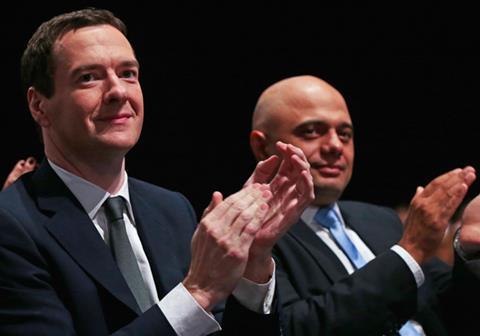 The plans were announced today as part of the government's comprehensive spending review, which sets out plans for public spending over the course of this parliament. The news was given a cautious welcome by science campaigners who had feared cuts or a flat-cash settlement, and called for an increase to the core science budget which has been frozen since the last spending review in 2010.
'In the last parliament, I protected the resource budget for science in cash terms. In this parliament I'm protecting it in real terms,' Osborne said, while presenting the review in the House of Commons. Overall, the government is planning £20 billion of cuts across all departments in order to deliver a budget surplus of £10.1 billion in 2019–2020.
'We are delighted that the chancellor has so clearly recognised the value that science delivers to our economy – particularly recognising cuts elsewhere,' says Dominic Tildesley, president of the Royal Society of Chemistry. 'UK science has continually proven it presents value for money and it is hugely encouraging to see our science base recognised as a vital part of the infrastructure needed to build a growing, knowledge-based economy.'
Shrinking investment
Jenny Rohn, chair of the campaign group Science is Vital, said the outcome of the spending review 'could have been much worse'. 'We were relieved that the science budget was not decreased as feared,' she says. 'However, we need to see the details, as it is conceivable that other items might be "tucked into" that budget, thereby diluting the whole.'
Rohn also points out that as it stands, the science budget is smaller than in 2010 thanks to preceding inflation, and even with a £500 million increase it will remain less as a percentage of GDP than in 2020. Eleanor Beal, a policy advisor at the Royal Society wrote that research funding in the UK still 'pales in comparison' to that of its international competitors. 'Before the spending review, the Royal Society had called on government to commit to increase public investment in research to match the OECD average of 0.67% of GDP; the UK currently invests 0.49%.'
There was no mention of the science budget ringfence on the day the spending review was announced, but it has since been reported that the ring fence will be protected.
The inflationary increase in science funding will partly be achieved by moving £1.5 billion from the Department for International Development – which is protected from cuts – to the science budget which sits within the Department for Business, Innovation and Skills (BIS). This money must be spend on international development research, meaning every year £300 million of the science budget will have to be spent on research that 'ensures UK science takes a leading role in addressing the problems faced by developing countries'. This allows the government to protect two funding areas simultaneously with the same pot of money. In principle, it could be a good thing, as a source of much-needed cash to tackle global challenges. On the other hand, the funds available to other areas that are equally worthwhile may be restricted.
Departmental fortunes
Although the science budget itself is relatively safe, some of the cuts planned elsewhere might affect research. BIS's overall budget will face cuts of 17%. Osborne says some of these savings will come from getting businesses to shoulder more of the costs of industrial R&D, by replacing some research grants from industry funder Innovate UK with repayable loans – these will account for £165 million per year by 2019–20. Innovate UK's budget will be protected in cash terms for the next five years, and funding for Catapult centres will increase, although it is unclear by how much.
It is also uncertain how departmental R&D spending will be affected by cuts, and the spending review does not mention the previous coalition government's 2014 Science and Innovation Strategy. In some departments facing cuts, such as the Department for the Environment, Food and Rural Affairs whose budget will be slashed by 30%, departmental R&D may suffer.
On the flipside, increased research budgets that fall within other departments may benefit research. The government has committed to up defence spending to the Nato target of 2% of GDP, of which it has promised 1.2% will go to science and technology. The Department of Defence's annual budget currently stands at £35 billion, so this could represent a significant boost to R&D in the area of defence. Spending on energy research will also double, including an extra £250 million for nuclear R&D, and the Department of Health (DoH) is to invest £5 billion in health R&D.
So far, just a few specific allocations of some of these funds have been announced. The spending review outlined £150 million for a Dementia Institute and £75 million to upgrade the Cavendish laboratories at Cambridge University out of the science resource budget. The DoH R&D spend will include £1 billion towards the Ross Fund – joint with the Bill & Melinda Gates Foundation – for drug, vaccine and diagnostics R&D. £50 million will be put towards a joint antimicrobial resistance (AMR) Innovation fund alongside China, and £4 million towards a new AMR research centre at Alderly Park in Cheshire. A further £250 million will be spent on Genomics England's 100,000 Genomes Project, and £400 million will go to Public Health England labs to fight global health challenges such as the Ebola virus and flu outbreaks.
Nursing research
Announcing the spending review, Osborne also said he would be accepting the recommendations outlined in Royal Society president Paul Nurse's review of research councils that was published last month. This will mean creating a new, more powerful agency, dubbed Research UK, to oversee the seven research councils. Responsibility for research funds currently administered by the Higher Education Funding Council for England (Hefce) will sit within Research UK, as will Innovate UK. Further details on when and how these changes will be introduced are yet to be announced. The government is also planning a review of the Research Excellence Framework to look into its effectiveness as a means for assessing research quality.
While the picture for research looks fairly positive at this stage, teaching is facing a funding squeeze. Hefce is facing a £120 million cut teaching grants, and a freeze on the repayment threshold for student loans means graduates will be worse off. But the government has acknowledged the value of STEM subjects and said it will protect the overall budget for these subjects in real terms. It has also promised loans for graduates wanting to do a second degree in a STEM subject, and will make more loans available to part time and masters students.
Naomi Weir, acting director of the Campaign for Science and Engineering, said the spending review had delivered 'real investment' in UK science. 'There are undoubtedly some details to unpick, but it is encouraging on many counts to see that the government has listened to the science community and made an evidence-informed decision to back science and engineering,' she said. 'It will have far reaching benefits in education, security and resilience, and health.'