Cartridge-based e-cigarettes in flavours other than menthol or tobacco without regulatory approval will be removed from sale
The US Food and Drug Administration (FDA) has committed to enforcing a ban on manufacture, distribution, and sale of unauthorised cartridge-based e-cigarettes, except for menthol or tobacco flavours. The action comes amid a concerning spike in vaping among US teens and an epidemic in America of a serious and sometimes fatal lung illness associated with such products, and is particularly focused on products that appeal to children.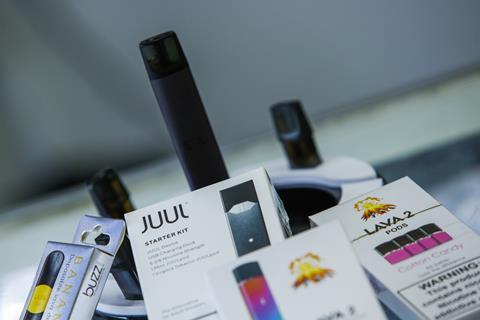 'The enforcement policy we're issuing today confirms our commitment to dramatically limit children's access to certain flavoured e-cigarette products we know are so appealing to them – cartridge-based products that are both easy to use and easily concealable,' stated the FDA's commissioner, Stephen Hahn.
Indeed, the National Youth Tobacco Survey found that more than 5 million US middle and high school students were active e-cigarette users in 2019, the majority of whom typically use cartridge-based products. That figure was up from 3.6 million the previous year – a 39% increase.
The FDA said that its 2 January action does not constitute an outright ban on flavoured or cartridge-based electronic nicotine delivery systems (ENDS) since it has already accepted and begun reviewing several premarket applications for such flavoured products under the US Tobacco Control Act.
When all e-cigarettes and other ENDS fell under the FDA's tobacco authorities in August 2016, any products on the market at that time technically required the FDA's authorisation to be sold. The agency, however, deferred enforcement action. 'To date, no ENDS products have been authorised by the FDA – meaning that all ENDS products currently on the market are considered illegally marketed and are subject to enforcement, at any time, in the FDA's discretion,' the FDA said.

Rebecca became the US Correspondent for Chemistry World in September 2014, based out of Washington, DC, after writing for the magazine on a freelance basis since 2007.
View full profile