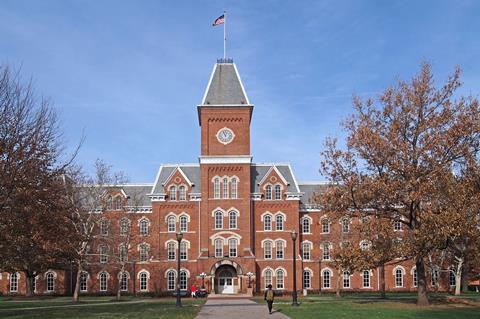 A former Ohio State University rheumatologist and researcher who was arrested in May 2020 for his role in an immunology research fraud scheme has been sentenced to 37 months in prison. Last November, Song Guo Zheng pleaded guilty to lying on federal research grant applications so that he could use more than $4 million (£2.8 million) that his research group secured from the US National Institutes of Health (NIH) to develop rheumatology and immunology expertise for the Chinese government. As part of his 14 May sentence, Zheng is ordered to pay more than $3.4 million in restitution to the NIH and approximately $413,000 to Ohio State University.
Zheng had been participating in the Chinese government's Thousand Talents programme – a scheme to recruit and cultivate high-profile scientists – since 2013, according to an affidavit filed with the criminal complaint. He was trying to hide his participation in the talent scheme and his affiliation with a Chinese university under Chinese government control, the US Department of Justice (DOJ) stated.
When detained last year, Zheng was in Anchorage, Alaska about to board a private flight to China. He had a briefcase containing two laptops, three cell phones, several USB drives, silver bars, expired passports for his family members and deeds for property in China, according to the DOJ. Prior to joining Ohio State University, he worked at the University of Southern California and Pennsylvania State University.
'For years the defendant concealed his participation in Chinese government talent recruitment programmes, hiding his affiliations with at least five research institutions in China,' said assistant director Alan Kohler Jr of the FBI's counterintelligence division. 'Zheng greedily took federal research dollars and prevented others from receiving funding for critical research in support of medical advances.'
Lamont Pugh III, the special agent in charge of the US Department of Health and Human Service's Office of Inspector General in Chicago, emphasised that reporting potential conflicts of interest when seeking grant funding from the NIH and other US government research funding agencies is crucial. 'Making false statements to conceal potential conflicts violates that trust and the law,' he warned, noting that his office is committed to ensuring the proper use of taxpayer dollars by identifying and investigating instances where individuals fail to report their sources of research support.

Rebecca became the US Correspondent for Chemistry World in September 2014, based out of Washington, DC, after writing for the magazine on a freelance basis since 2007.
View full profile