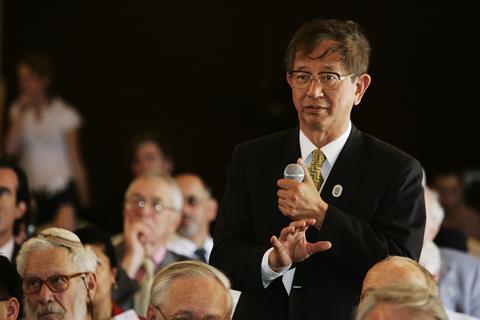 More than 100 Nobel laureates have rebuked the Chinese government for pressuring the US National Academy of Sciences (NAS) to revoke the invite of Taiwan's Yuan Lee, a chemistry Nobel prize winner, to address a virtual Nobel Prize Summit in April. The event, organised by the NAS and hosted by the Nobel Foundation, focused on climate change and sustainable development.
In a 28 July statement, 111 Nobel prize winners – 34 were chemistry laureates including Lee and 2020 laureate Jennifer Doudna – warned that these actions will affect their willingness to participate in future events in China, particularly those sponsored or supported by its government.
The NAS confirms that it received communication from the Chinese embassy in Washington DC requesting that Lee and the Dalai Lama – a Nobel Peace Prize recipient – be removed as speakers at the summit. The Chinese embassy made this request to a senior NAS official in late March and again in early April, according to the Nobel laureates. After being told twice that the two would still attend, they say the embassy emailed the NAS again immediately before the summit to make the same request and it was denied again.
Following these exchanges, the online summit became the victim of two apparent cyberattacks, which interfered with video transmission and disrupted the event.
'Regardless of whether these attacks were linked to the demands from the Chinese embassy, we are outraged by the Chinese government's attempt to censor and bully the scientific community by attempting to prevent two of our fellow laureates (or indeed anyone) from speaking at a meeting outside of China,' the Nobel prize winners state.
The US State Department described the Chinese embassy's alleged behaviour as 'harassment', in a statement to NBC News. The agency also said it has warned the embassy against this 'inappropriate conduct'.
Lee, who was awarded the chemistry Nobel prize in 1986 for work on chemical dynamics and became a US citizen in 1974, is considered a political figure in Taiwan. As president of Taiwan's Academia Sinica from 1994 to 2006, and as president of the International Council for Science from 2011 to 2014, Lee has publicly advocated for freedom of speech and other human rights. Lee, like the Dali Lama, has criticised Chinese policy and highlighted the human rights implications of climate change.
Last year, Lee was one of 10 Nobel prize-winning scientists that the NAS honoured in a virtual photo exhibit for championing human rights.

Rebecca became the US Correspondent for Chemistry World in September 2014, based out of Washington, DC, after writing for the magazine on a freelance basis since 2007.
View full profile