Federal Trade Commission has concerns that union will allow Amgen to stifle potential competition for Horizon's drugs
The US Federal Trade Commission (FTC) is suing to halt Amgen from acquiring Horizon Therapeutics. Amgen had announced in December that it would buy the Irish-headquartered biopharma company for almost $28 billion (£22 billion).
The FTC is seeking a preliminary injunction from a federal court to stop the merger on the grounds that it would substantially reduce competition. Specifically, the commission pointed to the potential for Amgen to block rival products from entering the market and compete with two monopoly blockbuster drugs from Horizon.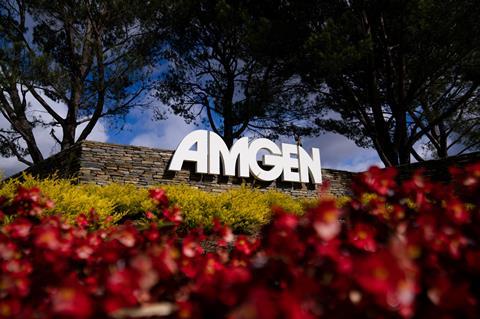 Tepezza (teprotumumab) is the only US-approved treatment for thyroid eye disease, representing 54% of Horizon's net sales, and Krystexxa (peglitocase) is the only drug for chronic gout, making up almost 20% of Horizon's sales in 2022. In negotiations with drug purchasers, Amgen pays substantial rebates in exchange for favouring 'bundles' of its drugs in lists of medicines an insurer will cover, for example, 'at the expense of drugs offered by its rivals,' according to the commission.
Due to the enormous sales and consistent volume of Amgen's blockbuster drugs – such as autoimmune treatment Enbrel (etanercept), which last year generated over $4 billion in global sales – even small enhancements to rebates can ensure payers accept such contracts, according to the FTC complaint. Lucrative rebates on these popular but expensive drugs could easily make payers reluctant to buy from emerging competitors to the Horizon products if they were to be bundled together.
The commission's action is seen as unusual, as typically it only challenges mergers between direct competitors or between firms at different levels of the same supply chain. 'The FTC theory is a step removed from Amgen eliminating direct competition, which is the most common [competition] violation,' says Eleanor Fox from New York University, US. 'They see the acquisition as raising barriers to competition and innovation in the area of these two drugs.'
The FTC has rarely moved to block pharmaceutical mergers, but competition experts say that the commission has become more focused on them and on the high price of drugs. Last June, it held a workshop on new approaches to enforcing competition laws in the drug industry. 'The agency's action in blocking this takeover is a shot across the bow for pharmaceutical companies,' notes Robin Feldman of UC College of the Law, San Francisco in the US.
The Biden administration has made clear its unhappiness with high drug prices. 'The FTC has for a number of years put pharmaceuticals and the high price of drugs in its sights and was ready to pounce,' says Fox. 'Because there are no price controls of drugs in the US, as there is elsewhere, the FTC has to be vigilant to prevent any changes in market structure that will give the firms the incentive to raise prices,' she adds.
The FTC does not usually sue to block deals either. The agency could have gone through its own administrative process while allowing the deal to continue, but obtaining an injunction stops the merger immediately, giving the agency time to examine the case in front of an administrative judge. If the merger is deemed illegal, the company can appeal within the commission itself, and then again within federal court if necessary.
The FTC has to be vigilant to prevent any changes in market structure that will give the firms the incentive to raise prices
'Often if firms decide the FTC has a good case, they will just abandon the merger,' says Fox, 'but this case is more speculative, so the company may want to pursue it.' Amgen has described the FTC's bundling claim as 'entirely speculative,' adding that it had committed not to bundle the two named Horizon products. It intends to proceed and complete the acquisition by mid-December.
Fox says the FTC is wary of relying on companies' promises of good behaviour, judging that the incentive to bundle will remain in place and therefore a company is likely to manoeuvre its way around such a fix.
The timeline for litigation could stretch for out years, given its complexities and possible appeals. Amgen might want to proceed with further mergers and so steel itself for a prolonged dispute. 'If the judge is conservative and has a narrow view of competition law, the case may be challenging for the FTC, which is asserting cutting edge theories,' says Fox.
Yet competition experts say that challenging the transaction may itself be a victory. 'Merger deals happen in the shadow of the law,' notes Feldman. 'The FTC's actions may cool the ardour of other companies contemplating a union.' It also throws down a gauntlet on the issue of bundling.
A wider issue?
The decision has relevance to Europe too, although there are no indications yet about EU approval. European national authorities often negotiate confidentially with drug companies using reference pricing, which looks at what others pay. ''But in practice, these reference prices are not real, because companies encourage public payers to reimburse their drugs by offering confidential rebates. However, confidentiality also means we can't check if a country has really got a good deal,' says Piotr Ozieranski, a political sociologist of pharmaceuticals at the University of Bath, UK.
'If Amgen is able to minimise competition by having its own bundle of treatments, then it is in a strong position to dictate prices and shape the market to such an extent that it diminishes competition,' says Ozieranski. 'In the [Amgen] case, it is fairly obvious that it cannot be good for consumers and that is why it is being raised as a problem.'

I am a freelance science journalist based in Dublin, Ireland. I cover a variety of topics in chemical and biological sciences, as well as science policy, health and innovation.
View full profile