Paris agreement sets out plans to limit warming to 2°C and work towards zero net emissions
Nearly 200 countries have come to an agreement at the UN's COP21 climate conference in Paris, France (21st session of the Conference of Parties), where world leaders have been discussing how to tackle climate change. The final document, which has been re-drafted multiple times over the past two weeks, includes a target to limit global temperature rise to 'well below' 2°C above pre-industrial levels – a key threshold above which scientists have warned humanity faces dangerous and irreversible impacts on the planet.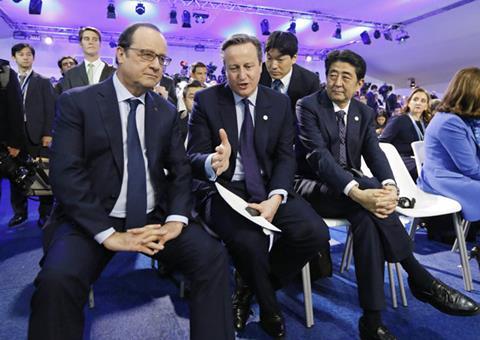 The agreement also says countries will 'endeavour to limit' the temperature rise still further to 1.5°C, to protect low-lying and small island nations which are more vulnerable to sea level rises. It has asked the UN's Intergovernmental Panel on Climate Change to produce a report for 2018 on how to achieve this, as it is widely acknowledged that even with the most recent emissions reduction pledges from individual countries temperatures will rise beyond the 2°C threshold.
In addition, the agreement says that global greenhouse gas emissions should peak 'as soon as possible', achieving net zero carbon emissions – where human emissions are completely offset by the carbon absorption by forests and oceans – 'in the second half of this century'. To achieve these goals, the deal says, countries will have to cut emissions by reducing their reliance on fossil fuels. Throughout the course of the conference the spotlight was on big emitters such as China and the US, who have both made fresh promises to curb carbon emissions.
The issue of 'climate finance' was also major sticking point during discussions. In the final agreement the most developed countries have committed to providing $100 billion (£67 billion) of funding a year by 2020 to help the poorest and most vulnerable nations both deal with the impacts of climate change and develop low-carbon technologies.
Positive but not perfect
The Paris agreement has been praised by world leaders and cautiously welcomed by scientists. Brian Hoskins, head of the Grantham Institute for Climate Change at Imperial College London, UK, says the agreement is a 'great start'. 'It's easy to get depressed and say things have been left out, or aren't strong enough … but to get all the countries of the world involved in doing something – that's an amazing thing,' he tells Chemistry World.
There has been progress on some of the key issues, but in reality the 1.5°C target would require a huge and rapid effort globally in terms of cutting emissions
Hoskins says it was crucial that the report gave out the 'right signals' to leaders in industry as well as politicians. 'Once that happens the technologies will leap over one another and people will be trying to make money out of it … once you start that sort of roller coaster it really goes.'
David Reay, professor of carbon management and education at the University of Edinburgh, UK, agrees that the overall outcome of the Paris talks is a positive one. 'There has definitely been progress on some of the key things that we want to see,' he says. 'In reality in terms of climate science [the 1.5°C target] would require a huge and rapid effort globally in terms of cutting emissions, but it's good to see that aspiration in there.'
But others have pointed out that the deal is far from perfect. Most countries' strategies to cut emissions are not on track to meet the 2°C temperature target, let alone the 1.5°C one. According to the most recent estimates, if all countries met the targets they had set for themselves there will still be a rise in global temperatures of around 2.7°C (with no action at all it would be 4.5°C). Only parts of the agreement are legally binding. Individual countries' pledges are not, meaning countries won't be able to sue each other for breaching terms of the agreements or failing to do their bit to cut emissions.
'There's an inconsistency in the document because they've removed [from earlier drafts] the level of emission reduction required and any specificity as to how the contributions of [different nations] should differ,' says Alice Bows-Larkin from the Tyndall Centre for Climate Change Research in the UK. She also points out that measures outlined for cutting emissions will most likely only come into play in the early 2020s, a delay that will almost certainly put the 1.5°C target out of reach.
Several other scientists echoed these views at a press conference in Paris before the final document was released, calling the draft text 'weak', 'inconsistent' and insufficiently robust in its language.
'Paris has been all about trying to get everyone on board. But the worry is by getting everybody included you end up with something that is not actually going to reduce emissions in line with what we're trying to aim for,' says Bows-Larkin.
Beyond expectations
Although not everybody is happy with the agreement, there is widespread consensus that the result of COP21 is better than the outcome of similar discussions in Copenhagen in 2009, which failed to produce a meaningful agreement between all parties. 'Copenhagen was awful for all of us that were there … we felt we'd gone with high expectations and came away with very little, and a lot of disenchantment. Paris … will be regarded as a success, certainly compared to what everyone thought,' says Reay. He is particularly pleased that the agreement has included a 'ratchet mechanism' whereby countries must review their progress every five years, starting in 2018, and adjust climate change strategies to be more ambitious.
Various groups have used COP21 as an opportunity to make new commitments alongside the main negotiations. Members of the Climate and Clean Air Coalition – part of the UN Environment Programme – have agreed new action on reducing short-lived climate pollutants such as hydrofluorocarbons, and a group of influential business leaders launched the Breakthrough Energy Coalition to back low carbon energy technologies.
Although concerns remain, there is no doubt that this agreement is the first of its kind. It remains to be seen whether it will have lasting impacts in the years to come.