Our skills as scientists hold the answer to global health inequality, says the Bill & Melinda Gates Foundation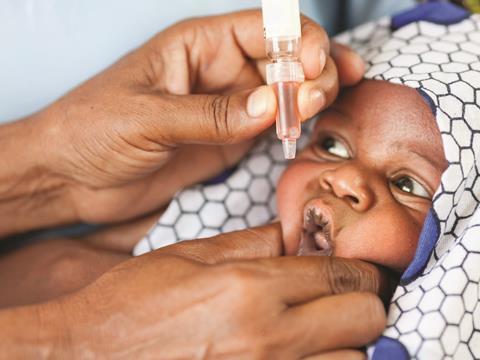 Over the past 30 years, the field of chemistry has evolved significantly – from a hard laboratory science to a multidisciplinary field that interfaces with the most pressing challenges of our time.
As a result, the work of today's chemists has real applications for improving health equity around the world. Child mortality has decreased by 50% globally since 1990; measles vaccination has prevented over 17 million deaths since 2000; oral rehydration therapy has saved 50 million lives since its creation; and water purification technologies have allowed 2.6 billion people to gain access to clean drinking water in the past 25 years.
We are also finding that chemical principles can be applied to overcome longstanding issues of access that prevent innovations from reaching marginalised communities. This not only brings us closer to achieving the United Nations' historic 2030 Agenda for Sustainable Development and its 17 Sustainable Development Goals, but also sets us up for a grand convergence in health outcomes between rich and poor countries.
Improving access
Achieving these global goals will require us to re-think how lifesaving tools to prevent, diagnose and treat diseases can arrive in the most difficult-to-reach places. Financially, there is little market incentive to stimulate the development of new products that combat diseases predominately affecting developing countries. Exciting discoveries – like biologics – often bypass the global health market because of cost. Furthermore, drugs developed in wealthy countries may be off-target for the populations that need them most and might not take into account the unique challenges associated with delivering products to rural or marginalised communities in developing contexts. While innovative financing mechanisms – such as product development partnerships – have helped to reduce risk when investing in global health R&D, there is still an urgent need to develop products that are appropriate for an emerging market.
Chemistry has a vital and exciting role to play in overcoming these access-related challenges. By going back to the drawing board, we actually have the power to reformulate existing tools and develop new ones so they can survive the cold chain and reach communities most in need.
Creating products with a global market in mind means that developing countries can benefit equally from essential tools to prevent, diagnose and treat disease. For example, until the 21st century, malaria treatment for the most heavily afflicted population – children under five years – was almost entirely overlooked. In the past 15 years, however, chemists and development professionals have worked together to develop and deliver targeted interventions. These include long-lasting insecticide-treated bed nets, rapid diagnostic tests and the first ever dispersible artemisinin-based combination therapy (ACT) for children – Coartem Dispersible – of which 300 million treatments have been distributed. These innovations have helped bring tools to high-burden, resource-poor communities, reducing death rates and putting many countries on a path toward malaria elimination. Now, a promising vaccine candidate could potentially hit the market by 2017, further changing the course of history by protecting millions of children from infection.
Streamlining supply
We can also reduce the costs required to manufacture vaccines and drugs by collapsing the steps required to make a product into a simple, more streamlined process. Similarly, starting from a different but equally effective raw material, or developing a vaccine that's more thermostable and easier to transport, can make essential commodities affordable and accessible for developing markets.
Finally, combination drugs have the potential to integrate treatments and significantly streamline service delivery. We have already seen how integrated delivery on a macro level can be a game changer, such as the distribution of vitamin A supplements as part of national immunisation days for polio. On a chemical level, this is a growing space that could include the combining of compounds to treat or vaccinate against different diseases with a single tool – cutting costs and simplifying delivery.
Making this future a reality will depend on the growing environment of scientific collaboration, and on partnerships between the public and private sectors. As chemists, we must make investments – financial and human – in the discovery of new innovations with localised applications. Governments must also invest in R&D to ensure these latest breakthroughs reach even the most isolated communities.
Through chemistry, we have a tremendous opportunity to protect the development of tomorrow's leaders and unlock economic potential around the world. Capitalising on this chance will not only stretch the bounds of our knowledge, but will also save lives and create a more equal and sustainable world.
Susan Hershenson is deputy director of chemistry, manufacturing and controls, Katey Owen is deputy director of vaccines development and Stephen Hadley is senior program officer for vaccines development at the Bill & Melinda Gates Foundation