Students should be told more about the different routes to a career in chemistry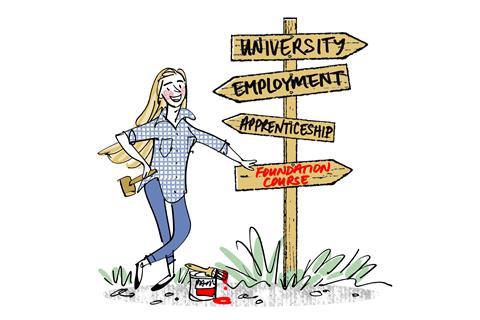 If I spoke to myself from 10 years ago, she wouldn't believe that I'd accomplished as much as I have. Despite practically failing my A-level exams, I'm here today studying for a PhD in organic chemistry.
My A-level results were a real blow. They made me believe that a career in chemistry was not possible for me. Throughout school and sixth form I was always told that if I wanted to be successful, particularly in such a competitive scientific field, I had to achieve high grades at GCSE, ace my A-levels and get into a top-tier university. So much pressure was put on every exam or piece of coursework and it was drilled into me that you had to do well academically to have any chance of competing with every other student fighting for the same place. This pressure was part of the reason why my grades weren't as high as I'd been predicted.
Underperforming in my exams meant I didn't get into any of my top university choices. I felt lost. I'd never been given any advice on what alternatives were open to me. While all my friends were heading off to university, the only option I was given was to resit all of my exams. However, since I had to resit them in the same way I'd sat them originally, in the same institution, with the same levels of pressure, my grades didn't improve at all. This route clearly wasn't going to work for me.
Fortunately, while at an open day at Keele University, I heard about a foundation year course that they were running. This wasn't something I'd previously been aware of, but it was an attractive option for me. I'd be given the chance to re-learn everything I'd learnt at A-level in a different environment while also getting extra support and guidance to improve my research and communication skills. Being able to study at the university helped me to feel less 'left behind' and also motivated me since I was exposed to real research and could more clearly see where a degree in chemistry could take me.
As teens and young adults we shouldn't be taught that there is only one path to success
I found that the foundation year really helped me to succeed in my subsequent years at university. It gave me a solid foundation in my subject knowledge and helped me to regain my confidence in my academic ability after feeling defeated over my A-level results. I went on to achieve high grades throughout the rest of my degree as I was fortunate to find that the university environment suited me much better when it came to exams and coursework. Of course, this isn't the case for everyone, which is why I believe it is important that support and information on alternative approaches to learning should be provided to students during higher education and beyond. Especially since university is a high stress environment and a lot of young adults suffer from mental health issues during their studies. No one should have to worry about failing their exams for personal reasons that are out of their control.
The foundation year route isn't the only option available. I believe that alternative directions for people to get to university should be more widely discussed to provide potential students with all the information they need to achieve their goals. For example, I was also fortunate enough to secure two summer placements in industry during my time at university. This was a valuable learning experience as I developed my practical chemistry ability and also learnt more about the inner workings of the pharmaceutical industry. Academic institutes, from high schools to universities, should provide more guidance on where to find and how to secure such placements and internships. They're an excellent way to demonstrate you're capable of working in a particular area, even if your grades fall short.
Perhaps, also, industrial placements should be more open to accepting students with lower grades and less experience as they have so much to gain from the opportunity. Willingness to learn is more important than what you already know. Applications could focus more on why the student is interested in the role and what they want to gain from the experience, rather than just current academic ability.
All students deal with exam pressures differently or have other things going on in their personal lives that can affect their academic performance. As teens and young adults we shouldn't be taught that there is only one path to success and if you don't follow it, you won't achieve your dream job. Science can only benefit from recruiting from a wider range of academic and industrial backgrounds as this broadens the pool of knowledge and experience in the scientific community. My own path might have had more twists and turns than I originally planned, but without them I wouldn't be the chemist I am today.
The Royal Society of Chemistry's Future in Chemistry website provides more information on the many different study options that lead to a chemistry career
Additional information
This article was produced in collaboration with the Creative Tuition Collective.
Creative Tuition Collective (CTC): Innovative and inclusive education is a non-profit organisation aiming to equalise the educational playing field. CTC strives to provide young people from low income backgrounds a free tuition service with holistic, high-quality tutoring, extracurricular opportunities and mental health support groups. With a passion and enthusiasm to teach and innovate education, CTC aims to not only develop the knowledge and self-assurance of young people in STEM but to also better prepare them for beyond the classroom. By assembling a diverse team within CTC along with specialist tutors, collaborating partners and invited speakers, CTC will tackle the lack of belonging, self-confidence and other barriers facing young people through an intersectional and progressive lens.
Highlighting different routes into science
1

2

3

4

Currently reading

The winding path to scientific success

5