This time, we look at physicist and cosmologist Brian Keating's new book, Losing the Nobel Prize: a story of cosmology, ambition, and the perils of science's highest honor.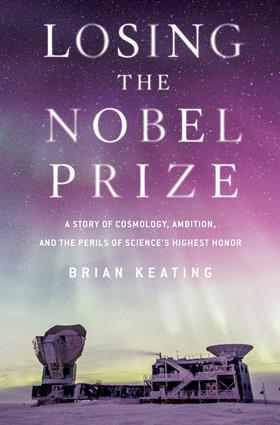 In 2014, Keating and his colleagues invented BICEP2, a revolutionary new telescope that redefined science history by claiming to witness the very first sparks of the Big Bang. In the months that followed, however, something became horribly clear: the claim wasn't true. Keating and his team mates had made a big mistake.
Both a story of the fallout of the loss and a history of cosmology, this is a book that will appeal to die-hard fans of physics as well as those interested in the workings behind science's most prestigious honor. Keating recounts not just the drama surrounding the loss of the prize, but also the insights he has had since that time, including recommendations for how the prize could be more valid for a modern world, and asking how much value we should give to such prizes.
For December's book club podcast, we brighten up those winter woes with a look at comedian Robin Ince's new book I'm a joke and so are you. Curious about what makes us laugh and cry, Ince speaks to a wide range of people whose job is to understand the human condition, from fellow comedians to neuroscientists and psychologists alike. A mix of personal insights and anecdotes from his time on the stage, for Ince the results prove to be profound. Can we overcome anxiety? What makes us all so…well, weird in our own unique ways?
We want to include you, the Chemistry World reader, in the conversation so tweet your thoughts to @ChemistryWorld, or use the hashtag #BookClubCW and we'll endeavour to include your opinions (or questions) in the podcast.