The chemical sciences are constantly changing and evolving. AstraZeneca believes actively collaborating with academia is essential to rapidly applying the latest technology to the research and development of new medicines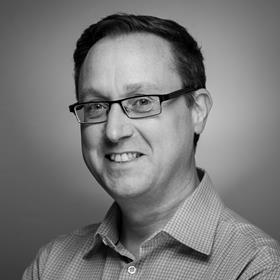 The discovery, research and development of new medicines takes hundreds of scientists working together across many different disciplines. At AstraZeneca, synthetic chemistry is at the heart of this process, as chemists push into new chemical space and strive to develop ever greener manufacturing processes. An essential part of a chemist's role at AstraZeneca is to be continually educating themselves in advances in synthetic methodology, so that these can rapidly be applied to drug projects. AstraZeneca believes one of the best ways to do this is to support academic research through both funding and active involvement in mentoring students.
Jeremy Parker, executive director of early chemical development at AstraZeneca, explains 'new synthetic methodology is at the heart of our efforts to explore novel chemical space, as we look to construct structurally diverse molecules. These types of molecule are helping us tackle targets that have been previously described as undruggable. The close relationship with UK academia allows us to use their expertise as we look to make new molecules and help with the serious challenge of applying the methodology on kilogram, and potentially tonne, scale.'
part of the excitement of working with AstraZeneca is directly seeing the research applied in industry
Recognising excellence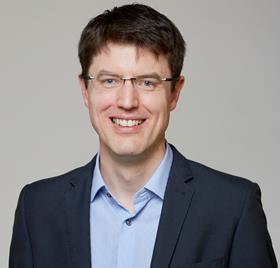 The 2021 AstraZeneca prize in synthetic chemistry is awarded to James Bull, a Royal Society university research fellow at Imperial College London. Bull's prize is recognition of a very productive early career, which has seen the development of new methodology useful to both discovery and development chemists at AstraZeneca. The Bull group's research focuses on synthetic chemistry developing new practical synthetic methods that enable access to new and medicinally valuable chemical space. 'We have a focus on the design and synthesis of polar heterocycles and other small polar motifs that can improve molecular properties either targeting fragments or their late-stage incorporation,' explains Bull. 'Modern synthetic chemistry demands improved methods for the rapid diversification of derivatives, and applications to library synthesis, and we aim to keep these principles in mind as we develop methods.'
AstraZeneca has made it its business to keep track of emerging talent in synthetic chemistry in the UK. 'We are hugely proud to support the outstanding research in progress at UK universities. It both helps develop the UK's capability as a leading scientific nation, as well as training talented and capable individuals, a significant number of whom are now part of AstraZeneca's research and development activities,' says Parker. 'We currently support over 80 PhD students via industrial cooperative awards in science and technology (Case) awards and the company supports eight UK doctoral training centres. The industrial mentorship of students is a valuable part of our scientists' continual professional development.' The help that AstraZeneca provides to academics early in their careers has fostered strong ongoing relationships. Bull reflects 'I have been fortunate to collaborate with AstraZeneca right from the outset of my independent career, through one of my first PhD students, which has built collaborations with engaged industrial partners and has helped to shape our research programme.'
AstraZeneca's commitment to training the next generation of scientists reflects a buoyant job market in the UK, especially for those with a synthetic chemistry background
It's not just PhD Students that the company supports; AstraZeneca is supporting developing talent at every level of education. Parker explains 'we host around 20 undergraduates a year in our labs for the sandwich year of their degree. We have a thriving apprenticeship scheme, and we're proud that AstraZeneca apprentices won the RSC Chemistry Apprenticeship of the year award in 2017 and in 2019. Our staff are actively encouraged to be Stem ambassadors, inspiring children to consider careers in science through supporting careers fairs and school science clubs.' AstraZeneca's commitment to training the next generation of scientists reflects a buoyant job market in the UK, especially for those with a synthetic chemistry background. 'This type of support from companies such as AstraZeneca further highlights the continuing demand for trained synthetic chemists and synthetic chemistry research,' notes Bull.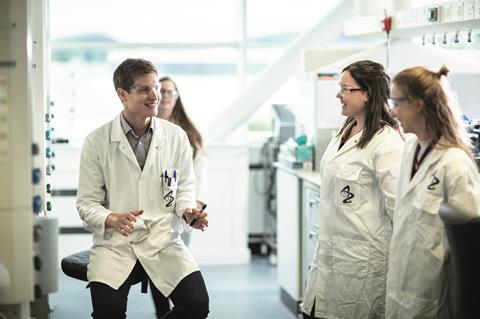 Prize winning lecture
Bull will be presenting highlights of his group's work at the third annual conference New frontiers in synthetic chemistry, organised jointly between the RSC and AstraZeneca. In 2021, the event will once again be virtual, held on the afternoons of 10 November and the 11 November. As well as speaking, Bull will be awarded the AstraZeneca prize in synthetic chemistry.
New frontiers in synthetic chemistry
10–11 November 2021
This symposium will showcase recent advances from across synthetic chemistry and discuss what future developments may be in store.
The meeting promises to showcase some of the most exciting advances in synthetic chemistry, with a mixture of industrial and academic talks. Darren Dixon from the University of Oxford will deliver the headline address, and there will be an opportunity for one lucky AstraZeneca Case student to present their project. Both academia and industry thrive on collaboration and the discussion of ideas. Alongside the conference lectures there will be a range of engaging break-out sessions including Q&As and panel discussions.
the industrial mentorship of students is a valuable part of our scientists' continual professional development
Industrially applied research
For Bull part of the excitement of working with AstraZeneca is directly seeing the research applied in industry. 'New synthetic methods have the potential to be readily adopted and generate rapid impact in improved synthetic routes, as well as to influence the types of compounds that can be prepared,' he says. The Bull group has a particular interest in four-membered rings, which are under exploited in medicinal chemistry and offer attractive properties through their polarity, metabolic stability and low molecular weight. The group's work on oxetanes started through an AstraZeneca sponsored studentship, in which they developed a C–C bond forming approach to new oxetane containing structures as novel non-planar fragments for medicinal chemistry. Bull adds that 'most recently with AstraZeneca, and building on this strategy, we developed methods for a divergent assembly of nitrogen-containing saturated heterocycles from simple diazo precursors that can flexibly form four to seven-membered rings.'


Working in collaboration with the Luisi group at University of Bari in Italy, the Bull group has developed several methods for sulfoximine synthesis that have been rapidly adopted in industrial and academic labs. Most notably their metal-free methods for NH transfer have allowed the preparation of NH-sulfoximines from sulfoxides or directly from sulfides using simple nitrogen sources such as ammonium carbamate along with a hypervalent iodine reagent as the oxidant. These methods have helped to make these interesting functional groups more readily available and easily incorporated. Bull exclaims 'I was particularly excited to see our work on sulfoximine synthesis used on large scale.'
Work for AstraZeneca
You'll do work that has the potential to change your life and improve countless others. And, together with your team, you'll shape a culture that unites and inspires us every day. This is your life at AstraZeneca.
References
1 K F Morgan, I A Hollingsworth and J A Bull, Chem. Commun., 2014, 50, 5203 (DOI: 10.1039/c3cc46450d)
2 A J Boddy et al, Angew. Chem., Int. Ed., 2019, 58, 1458 (DOI: 10.1002/anie.201812925)
3 M Zenzola et al, Angew. Chem., Int. Ed., 2016, 55, 7203 (DOI: 10.1002/anie.201602320)
4 A Tota et al, Chem. Commun., 2017, 53, 348 (DOI: 10.1039/c6cc08891k)