By eliminating waste and confronting supply chain issues, the Medicines Manufacturing Innovation Centre is bringing personalised medicine to healthcare
Almost everyone will access healthcare at some point in their lives. For those with chronic disease, that can be a daily reality. Personalised medicines offer next generation treatments not only for the one in five of us likely to develop cancer or one in nine living with diabetes, but for the many others at risk of developing common diseases each day.1,2 But, problems of waste and issues around manufacturing in the pharmaceutical supply chain can limit access to personalised medicines.
Back in 2010, a landmark report commissioned by the UK Department of Health estimated that around £300 million of medicines prescribed by the NHS were wasted. Many of these unused drugs can be due to over-manufacturing and transport losses within the pharmaceutical industry.
Wasted potential
A decade later, these issues have only been exacerbated as our healthcare systems face a series of intractable capacity and finance-related strains. The global population is growing at an unprecedented rate, with more people demanding treatment for more complex, multimorbid conditions. Moreover, an explosion in the number of costly personalised therapies receiving European Medicines Agency and US Food and Drug Administration approval means that global healthcare systems are now grappling with providing affordable access amidst misused resources.
To resolve these issues, the pharmaceutical industry has cast a scrutinising eye over its supply chain. This has called into question the antiquated and inefficient medicines manufacture and supply system currently used. Presently, pharmaceutical companies forecast the commercial demand for their medicines up to two years in advance, before creating the factories that manufacture each one accordingly.
We need an agile supply chain that delivers small batches of medication tailored to a patient's individual need
The challenge with this approach is that the supply chain struggles to proactively respond to changes in patient demand or more immediate threats to public health, such as a particularly severe season of flu. Moreover, to realise the full potential of personalised care, we need an agile supply chain that can deliver small batches of medication tailored to a patient's individual health needs.
The pharmaceutical supply chain must therefore undergo a radical overhaul, where tailored formulations can be manufactured as they are needed and at reduced costs. Emerging data-driven Industry 4.0 technologies – like artificial intelligence and the Internet of Things – are key to demand-driven manufacturing and supply chains in the pharma sector.
With collaboration across the whole supply chain, the risk element of new technologies can be mitigated
Incorporating these new technologies will help to reduce unnecessary waste and financial strain – driving down the cost of creating new medicines. Furthermore, each sector will better serve the ageing population by getting a personalised dose to the right patient at the right time, improving accessibility and standards of care.
Cleanup act
Despite this glaring need, the pharmaceutical industry is tightly regulated and altering its established systems poses major challenges. It is only by collaborating across the whole supply chain that risks associated with implementing new technologies can be mitigated.
The UK can be a pioneer in a pharma market worth almost £100 billion
To realise this vision, the independent technology innovation centre CPI partnered with industry giants AstraZeneca and GSK; government funding bodies Scottish Enterprise and UK Research and Innovation as well as academia through the University of Strathclyde to establish the Medicines Manufacturing Innovation Centre. Located near Glasgow, the centre aims to accelerate the development of new fine chemical and small molecule manufacturing technologies in the highly risky, regulated and competitive pharmaceutical sector. This will be achieved if small and large companies can trial novel technologies in a Good manufacturing practice-enabled environment. It provides an opportunity to operate free from the risks associated with the financial and technological investment otherwise required to perform this testing internally. Ultimately, it will bring new personalised therapies to market faster and at lower cost, positioning the UK as a pioneer in a pharma market worth almost £100 billion.
Incorporating these technologies into the pharma supply chain will make it more agile and responsive. It will allow suppliers to tweak the manufacturing rates of medicines and meet changing patient needs. Issues with forecasting medicine demand two years in advance could be mitigated, along with waste from over-manufacturing medicines. By reducing the working capital of drug manufacture, these technologies will allow the right drug to be delivered to the right patient with a significantly shortened lead time.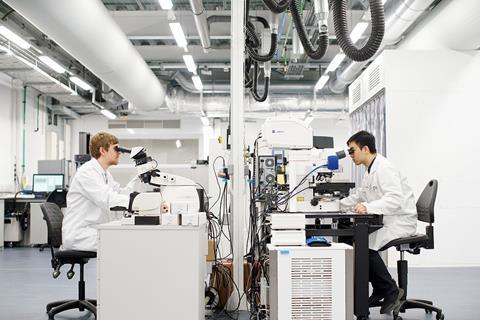 Supplying solutions
As part of these long and short-term aims, the Medicines Manufacturing Innovation Centre has announced two flagship Grand Challenge projects. Grand Challenge 1 is investigating how oral solid dosage medicines can be more cost-effectively produced across scales and with a longer shelf life. It is focusing on switching the pharma industry's traditional batch manufacturing methods to a continuous production method: continuous direct compression. This incorporates a variety of digital modelling technologies to provide a high level of process control, enabling new medicines to be made at precise and tailored doses. These medicines can then be compressed directly and efficiently into a tablet and the whole production technology can rapidly switch to produce a new personalised medicine.
New medicines can be brought to market faster and at a reduced cost
Grand Challenge 2 is focused on how clinical trial medicines can then be delivered to patients with minimal waste and maximum speed. It revolves around an automated and modular drug manufacturing platform called PACE (Pharmacy Automation for Clinical Efficiency) and its connection to a digital certification process for real time release. This combined technology solution will be capable of manufacturing and packaging multiple drugs in the same facility without cross-contamination. By generating real-time data throughout manufacture the platform will produce drugs at tailored quantities as they are needed, enabling just-in-time supply for clinical trials and reducing over-manufacturing. This will allow new medicines to be brought to market faster and at a reduced cost.
The impact of the two projects when combined will drastically shorten lead times and effectively marry supply and demand within the pharmaceutical sector. That is, matching the rate of tablet production with what is actually required by patients in real time. This will greatly increase the flexibility of the pharmaceutical supply chain. Once this has been established, vastly improved models for predicting patient demand can be developed, enabling the supply chain of the future.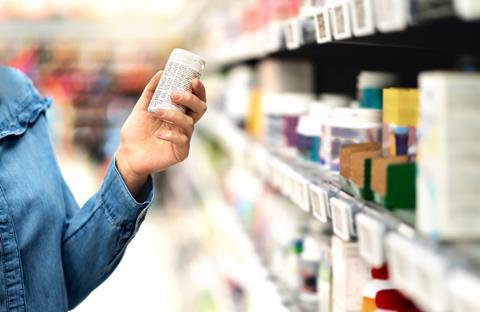 Plans are currently underway to develop and implement future Grand Challenge projects to resolve pharma industry issues. Improving connections between each step of the pharmaceutical supply chain and enabling companies to more easily react to changes in market demand and supply are areas of particular interest.
Stepping towards the mainstream
Due to the historical complexity of regulation in the pharma industry has a complicated and somewhat inefficient supply chain that struggles to cope with the new pipeline of complex and costly personalised medicines. New technologies are emerging to help companies better forecast and manufacture a wider and more complex range of medicines. However, in a highly regulated environment, it can be challenging to change such established systems. By fostering collaboration across each stage of the pharma supply chain, the Medicines Manufacturing Innovation Centre will help the industry implement new technologies. This will enable the industry to improve on its currently wasteful supply chains, ensuring that the population can receive accessible, affordable personalised care sooner – transforming the face of everyday healthcare.

CPI is a UK-based technology innovation centre. Established to support the UK process manufacturing industry, CPI collaborates with universities, SMEs and large corporates to help overcome innovation challenges and develop next generation products and processes.
View full profile
Welcome to our everyday chemistry collection
1

2

3

4

5

Currently reading

Marrying personalised medicine with the mainstream

6