The Royal Society of Chemistry aims to use Cop26 as a springboard to a more sustainable future. Rachel Brazil reports
The 26th UN Climate Change Conference of the Parties, better known as Cop26, held in Glasgow this November, marks the culmination of a huge amount of work for the team running the Royal Society of Chemistry's chemistry, sustainability and circular economy programme. But the series of events and initiatives they organised over this period is just the tip of the iceberg.
The two-year programme running through 2021 and 2022 aims to set the RSC on a path to being a sustainable, net zero carbon organisation and become the voice to champion the importance of the chemical science in limiting global warming to as close 1.5°C as possible. 'This isn't something that we're just doing for a two-year period,' says Gemma Wood, the RSC's manager for special projects. 'This is a launchpad to make sure that we've created a legacy beyond that, and a new way of working for us.'
'The RSC has always been an organisation mindful of sustainability,' says Wood, but when Tom Welton became RSC president this year, 'we were presented then with a really fantastic opportunity, because that's absolutely his passion'. Welton became the world's first professor of sustainable chemistry at Imperial College London in 2004 and when it came to his RSC presidency he was keen to make sure the society was practising what it preached.
Sustainability is now on almost everyone's agenda, along with the idea of a circular economy – where waste and pollution are minimised throughout a products lifecycle. Support for the concept has grown since the 1990s and in 2015 the European Union adopted its first circular economy action plan. 'I doubt that you would find a corporate strategy document nowadays that doesn't mention sustainability in some way, of course,' says Welton. But, he adds, 'that cannot just be a load of old flannel, we do need to hold everybody's feet to the fire, it has to be something real'.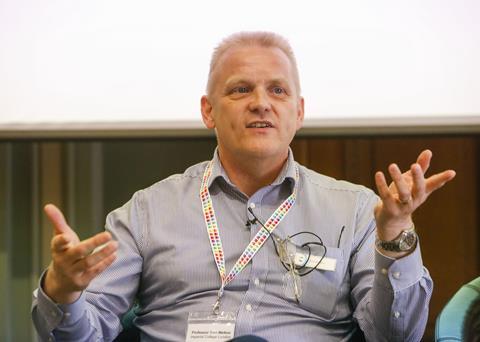 Most chemists will recognise that chemistry is at the heart of making it 'real' and delivering the low-carbon solutions we need for the future. 'The chemical sciences and chemical scientists have a huge contribution to make in meeting the challenges of preventing and mitigating climate change,' says Welton. RSC chief executive Helen Pain agrees. 'If we don't enable our community to come together to generate the solutions, then we're not fulfilling our role, we're not fulfilling our charter, and we're not fulfilling the responsibilities that we believe we have.'
Going net-zero
Central to the RSC's manifesto of actions on sustainability is its pledge to reduce its net carbon emissions to zero by 2040. 'We announced at the AGM in July that we had signed up to the UN's Race to Zero programme,' says John Broderick, RSC policy advisor on climate change and sustainability. Race to Zero is the UN-backed global campaign rallying non-state actors – including companies, cities, regions, and financial and educational institutions – to take action to achieve net zero carbon emissions by 2050 at the latest.
We do a lot of telling other organisations what they should do – you can't do that unless you walk the walk yourself
'The UK goal of 2050 is too late,' says Broderick, 'so I was very pleased when the organisation adopted a 2040 net zero goal to show leadership.' They plan to achieve at least half of its reductions by 2030, he adds. 'We know that carbon dioxide accumulates in the atmosphere, so it matters when you get to zero, not just that you get to zero.'
'It was about finding a commitment that was both realistic, but a proper stretch, and would be a proper achievement,' says Welton. 'At the RSC we do a lot of telling other organisations what they should do,' he admits. 'You can't do that unless you are prepared to walk the walk yourself.'
Broderick, who has a background in helping large organisations to plan their path to net zero, is now getting down to the details of the RSCs ambitious climate action plan. 'The work has begun now to identify where the emissions come from in the organisation.' This starts with a greenhouse gas emissions inventory to systematically look at all sources of emissions from RSC activities using the greenhouse gas protocol developed by the World Business Council for Sustainable Development.
This protocol categorises emissions. 'The most obvious are what we call scope one emissions, where we're releasing greenhouse gases directly: we're burning fossil fuels and are releasing greenhouse gases out of the flues of the buildings or vehicles that we operate,' says Broderick. These are supplemented by scope two emissions which include energy used but generated elsewhere, such as grid electricity. 'That's the basic carbon footprint that most organisations would adopt,' says Broderick.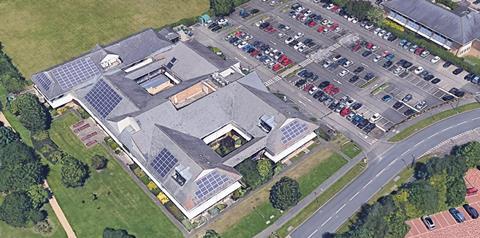 Dealing with these emissions will mean changing the way RSC offices, in the UK and overseas, are heated and air-conditioned, for example, and will probably mean a shift towards electricity. 'The UK power grid is very much cleaner than it was even just 10 years ago, due to retiring coal and producing far more renewable electricity with successes in onshore and offshore wind, and to some extent, solar and biomass,' says Broderick. Such changes may pose problems for the RSC's London base, the 150-year-old Burlington House. 'It's quite difficult to think about how you can make changes in a listed building, so we're having to be creative,' says Wood.
But the RSC is going one step further and trying to assess its wider carbon footprint, including emissions from its supply chain – the organisations from which it purchases goods and services. In future the RSC plans to preferentially select suppliers that are proactively embracing the carbon net zero challenge. There are also carbon contributions from downstream activities such as staff travel. 'Staff travel, particularly air travel, is one of the largest sources of emissions from our business,' Broderick concludes.
Tackling this will need organisational culture change. The Covid pandemic has started that change already. 'We are currently in the middle of a future workplace pilot designed to rethink how our buildings are used post-Covid [and] it also gives us a really great opportunity to think about how we're using them from a sustainability perspective,' says Wood.
'We'll [need to] think more deliberately about those high carbon activities that we do, so that we really think "Do I need to make take this flight? If I do, how can I combine it, so I'm not making multiple flights in a year?"' suggests Broderick. Covid has shown many organisations that this isn't as disruptive as they may have thought. 'In spite of the fact that I have yet to be inside a plane for the RSC, we've discovered I have done more international events than would be expected,' Welton says. 'It takes me an hour to have an hour meeting in Australia … we really are rethinking.'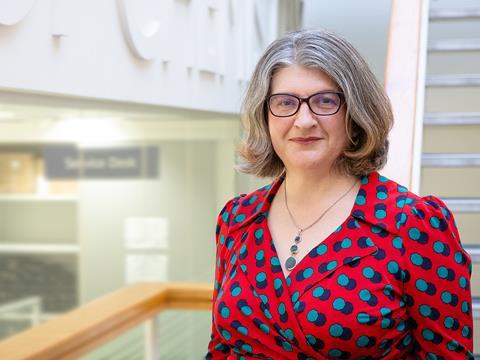 The RSC expects to announce the full plan at its AGM in July 2022 and will then publish the organisation's carbon footprint annually, using pre-pandemic 2019 figures as a baseline. 'I actually expect our emissions to go up in 2022, from a drop [in 2021], but what we need to do is lock in some of the things that have led to benefits through the Covid period [and] lock in all the new ways of working.'
But will moving towards carbon neutrality hamstring the society in any way? Will it be able to do less? 'There might be some areas where the low carbon route is perhaps more expensive, but energy costs are high and by reducing your energy demand, you're more likely to be reducing your costs than increasing them,' says Welton. 'Yes, we will have to take into consideration the cost of doing it, but there's also a cost of not doing it and I think we always have to keep that in mind,' says Pain. 'We are striving to achieve something that is the right thing to do… it's about showing leadership and absolutely living up to our purpose, our values [and] our commitment to use science in a responsible way.'
Taking the message to Cop26
With this ambition in mind, the Cop26 climate conference has presented a perfect opportunity for the RSC to highlight the importance of chemistry in moving towards sustainability and a circular economy, and the innovations the chemical science community can provide with adequate support and funding. 'We want the policy world to recognise the importance of this issue, and support this transition, support international collaborative science, [and] support the pull through from laboratory work into industry,' says Broderick.
Nothing can happen without chemistry of all sorts
'We put together a hugely significant program of hybrid [online] events around Cop26. Events for members, non-members, somephysical, some virtual, promoting careers in sustainable green industries, for example, [and] showcasing various industries,' says Wood. The events were aimed at multiple audiences, and included member-only 'Everything you ever wanted to know about… but were afraid to ask' talks, to provide context on sustainability from outside the chemistry community.
One area the whole programme is championing is new and next-generation battery technologies and energy storage. 'We see all of this progress in renewables, but the biggest, most obvious problem is that we don't have control over when that energy is available… and that is where the chemical science community is going to be absolutely vital,' says Broderick. 'Battery technology is something that there's an awful lot of exciting work coming from chemists,' says Wood.
One of the speakers at the Beyond Lithium Ion Batteries panel event streamed on Youtube on 25 October was materials chemist Magda Titirici, who is developing more sustainable battery materials at Imperial College London in the UK. Titirici agrees that chemistry is crucial. 'Nothing can happen without chemistry of all sorts, from organic chemistry to materials chemistry to physical chemistry through to electrochemistry.' With the UK expected to ban the sale of all combustion-engined cars by 2030, we will need better and more sustainable batteries.
Titirici says that current lithium ion technology is reaching its performance limit, and goes on to explain that lithium is a relatively scarce element, as is the cobalt used in the cathode, an issue highlighted in the RSCs recent 'elements in danger' campaign. 'Research is really moving towards developing new battery chemistries and there are multiple options there,' she explains. Her own research includes developing more sustainable carbon electrode materials using biomass-derived products and plastic waste for lithium-sulfur and sodium batteries.
'There's some really great battery work done in the UK,' says Welton, which Titirici says is partly due to the UK's battery flagship organisation, the Faraday Institution. It was formed in 2017 to manage fundamental battery research and speed up its commercialisation. 'By strategically putting [in] all this funding and linking academia with industry there are some interesting initiatives coming out of it,' says Titirici. 'There have been some breakthroughs in particular in terms of sodium ion batteries, and I think this will be the next commercially available technology.' In 2015 the UK company Faradion demonstrated the world's first sodium-ion battery powered vehicle and in May, Chinese company CATL announced it will start manufacturing sodium batteries for cars in 2023.
The message that chemistry is at the centre of creating a sustainable and circular economy is not just for policymakers and funders though. In its programme the RSC is keen to reach educators and the public. 'We need people to do the science, we need people to build technology, we need people to ensure progress is made, and that will require investment in education at all levels,' says Pain.
It's really important to give a hearing to young people at Cop26 because it's their future that we're impacting
The flagship initiative for educators and the public is a global experiment planned for 2022. 'We'll be encouraging schoolchildren to make their own [coin] batteries and investigate the batteries' technology,' says Wood. Aimed at 9–14 year olds, the challenge will run from March 2022 and will allow students from around the world to carry out their own investigations and upload their findings to a central RSC database. Wood hopes to showcase the results at a summer showcase next year.
The RSC has also provided £30k in sponsorship for outreach events and projects organised by member and non-member groups who wish to highlight chemistry and sustainability, to coincide with this year's Chemistry Week which ran over the whole duration of Cop26, in the first two weeks of November. One sponsored initiative is being run by PPL PWR, a group of scientists and students who volunteer to inspire others through public engagement on sustainability issues. 'You might find us serving solar [energy] tea at a festival, or teaching children in a school how to build their own solar phone chargers, or showing people how our DIY wind turbine works,' says Anna Hands, who became part of the initiative as a PhD student at University College London in the UK and now works as policy officer for the Academy of Medical Sciences.
An RSC grant provided funding for the Pupil Power Roadshow, which has recruited a group of secondary school students and climate activists to demonstrate sustainable energy technologies at the Cop26 exhibition, known as the Green Zone. 'I think it's really important for us to give a hearing to young people at Cop26 because, fundamentally, it's their future that we're impacting,' says Hands. The project has partnered with UCell, a group of UCL postgraduates who demonstrate energy storage solutions to schools and have built a 3 kW fuel cell stack that they take to festivals to 'power anything that needs powering!' from whole stages to mobile phones. With the RSC funding, PPL PWR was able to take 16 students to Glasgow, with a larger group of 60 engaging with the conference remotely.
Reaching out and influencing others
As with its outreach work, the RSC is working with others to maximise its impact as a professional body. In June, it joined 27 other UK professional institutions, representing over 400,000 professionals, to launch the Charter for Climate Action. The charter commits professional bodies to create an interdisciplinary professional bodies forum. 'This isn't just about chemistry, it's not just about the work the RSC does, it is about the opportunity to partner with other organisations, other disciplines, other professions… chemistry itself needs to play its part alongside other disciplines,' says Pain.
Oil companies have been talking about being 'beyond petroleum' for 20 years now
The RSC as an organisation is now fully engaged with mitigating the climate crisis but it's now time for individual members to do the same, says Welton. He recalls how during the pandemic his neighbours approached him, as a scientist, for advice on viruses and vaccines. 'People around me, I discovered, look to me as a trusted interpreter of scientific information and whether you like it or not, your neighbours are probably looking at you in that kind of way.' So Welton urges members to take on that role with enthusiasm and start engaging their friends and family on the sustainability agenda. Hand, herself a neuroscientist, agrees it's time for everyone to act. 'Just because you're not a chemist working on sustainability doesn't mean this topic isn't relevant; it's relevant to all people, all scientists, and there's always something that you can do.'
Of course not everyone associated with chemistry and its allied industries has been a champion of sustainability. A recent exposé by investigative journalist Chris McGreal showed that the oil industry is still donating millions of dollars to US political lobby groups such as the American Petroleum Institute who are fighting against measures that would help reduce climate change. 'Oil companies have been talking about being "beyond petroleum" for 20 years now – they have to show that is the case,' says Broderick.
But Welton is clear that the RSC needs to keep working with these industries. 'I don't think that disengagement is necessarily the thing that is going to provide the transformation we need. The role of the RSC is to connect those industries [to new sustainable technologies]. The future technologies that are going to replace fossil fuels are not going to be run by charities and the industries who are best positioned to be the clean energy industries of the future are the energy industries of today. Get moving, is the message that I have for them.'
Jonathan Oxley, chair of the RSCs member communities board, acknowledges that chemistry has been involved in some of the dirtier and polluting sides of the energy world, but 'it's also been involved in some of the newer, cleaner, greener forms of energy', he says. Since April, Oxley has managed the Humber Industrial Cluster Plan, the £2.6 million project to decarbonise the region's industry and was asked to be part of the RSC's advisory group to steer the chemistry, sustainability and circular economy programme. 'I'm very heartened by the way the RSC has taken on board its own role in regard to sustainability and the circular economy by looking at which targets it wants to nail its mast to and how it does that to become a carbon net zero organisation.'
Cynics may think the RSCs plans are just 'virtue signalling' but Oxley points out 'if it is virtue signalling, it's to a very large population, many of whom have significant influence in their own organisations, so it's not an unimportant thing to be doing'. Pain is clear that the RSCs words will be matched by actions. 'It's all very well making commitments, but unless we actually take action, as an employer, as a professional body and as a key voice for the community, then we will not make the difference that we need to make.'
Rachel Brazil is a science writer based in London, UK