UK Research and Innovation (UKRI) has revealed details of major research infrastructure projects that it will invest in over the next three years. In total, the funder has earmarked £481 million for more than 30 projects across many different disciplines. 'The UK is home to world-renowned facilities in a wide range of fields, which act as global hubs for research and innovation,' said UKRI chief executive Ottoline Leyser. 'We must ensure that we renew and upgrade that capability to keep pace with technological advances, empowering our researchers and innovators to go further faster.'
The funds will enable an upgrade to the Diamond Light Source facility in Oxfordshire, while researchers hoping to build an x-ray free electron laser (XFEL) in the UK have been given support to take the project to the conceptual design phase. More than £16 million has also been secured for a state-of-the-art 1.2GHz NMR spectrometer.
'Tremendously excited'
Last year, Chemistry World reported on proposals to build the world's most advanced XFEL in the UK. These facilities produce femtosecond x-ray pulses that can be used to probe rapid changes in substances' structures, providing unique insight into fundamental chemical processes.
'We are tremendously excited about today's announcement. Over the last 10 years, XFELs have demonstrated unique capabilities to probe the properties and dynamics in material systems,' says the University of Edinburgh's Adam Kirrander, a chemical physicist who helped build the case for a UK facility. 'The potential of XFELs for fundamental discovery-science and the role they can play in the development of new atomic-scale technologies is reflected in the major investments in new facilities worldwide.'
There are currently five XFELs operating around the world, with another three under construction. However, researchers estimate that these receive more than five times the number of requests for access than they can accept. The £3.2 million investment announced by UKRI will now allow researchers to advance their plans for a UK facility.
'The funding awarded today allows the UK XFEL project to proceed to the conceptual design stage,' adds Kirrander. 'We will deepen the science case, build the already significant UK community engaging in XFEL experiments, and develop the design and specifications that would make the UK XFEL an important and attractive light source for scientists in the UK and internationally.'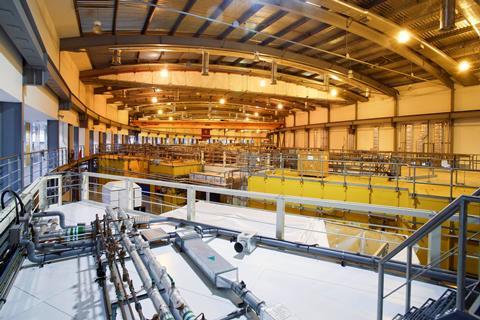 The largest single investment announced by UKRI will see £81.5 million spent over three years in a major upgrade to the Diamond Light Source, the UK's national synchrotron. The Diamond II project will see five new beamlines added to the facility and upgrades to existing beamlines. The funds will also support new computing power and the construction of a new building to house staff and equipment. The project is expected to take several years and will involve a period of 18 months in which the facility will be completely out of action.
National synchrotron upgrade
In a statement following the announcement, Diamond's chief executive Andrew Harrison described the advent of fourth generation synchrotrons as 'a new era of opportunity'.
'Progress in accelerator technology means Diamond II will offer the scientific community in academia and industry the opportunity to exploit much brighter beams and an increased coherence over a large energy range on all our beamlines plus additional beamlines,' he said. 'It will help inspire the next generation of Stem professionals and create new opportunities for researchers in universities, research institutes and industry, ultimately having a lasting impact on our society and the economy.'
The highest performance available in NMR globally, both in terms of sensitivity and resolution

UK Research and Innovation
Researchers had previously warned that the UK was 'playing catch up' with other nations in terms of NMR capabilities. UKRI notes that the investment in a new 1.2GHz NMR spectrometer will soon allow access to 'the highest performance available in NMR globally, both in terms of sensitivity and resolution'. Applications were invited earlier this year to host the new instrument, although at the time it was noted that the funding was still dependent on the government's spending review. UKRI's latest announcement appears to confirm that funding has been secured and the project will go ahead.
'The funding announcement for a 1.2GHz NMR spectrometer is important for UK science, building upon the current two 1GHz instruments recently at field in Warwick and Birmingham,' comments Steven Brown from the University of Warwick. 'High-field NMR is a powerful analytical science technique with a very wide range of applications encompassing batteries, catalysts, pharmaceuticals and life science applications.'
The new instrument will allow UK scientists to apply NMR spectroscopy to more challenging systems and to understand functional mechanisms and material properties in greater depth, adds the University of Birmingham's Teresa Carlomagno. She says that this will ensure that UK NMR 'stays competitive' across health, biological, environmental and materials sciences.
Carlomagno, a structural biologist who uses NMR spectroscopy to probe the function of biomolecules, notes that having access to cutting-edge technologies across a range of experimental techniques is essential for this type of research. 'A 1.2GHz spectrometer will ensure that NMR remains at the forefront of these studies, leveraging the specific benefits brought by the increase in field strength, such as the ability to look at larger, more complex systems – for example large RNA–protein machinery – and to study dynamics and disorder in greater depth,' she explains.
Other projects receiving UKRI support include a £17 million upgrade to the Science and Technology Facilities Council's (STFC) ultrafast laser and infrared, Raman and XUV spectrometer infrastructure in Harwell, Oxfordshire; new funding for upgrades at the STFC's ISIS neutron and muon source, also at the Harwell campus; £12.4 million to support new data platforms for the European Molecular Biology Laboratory's European Bioinformatics Institute in Hinxton, Cambridgeshire; £54.7 million to improve capabilities at the John Innes Centre and the Sainsbury Laboratory in Norwich to support research into genetic crop improvement. A full list of projects that UKRI is investing in is available on the funder's website.

Jamie Durrani is senior science correspondent for Chemistry World. He reports on the latest chemistry research and related topics including environment, energy and science policy.
View full profile