Bisphenol A studies spark mixed messages
As bottle makers and retailers move to pull products made with bisphenol A (BPA), law makers and health regulators continue to argue over the compound's safety.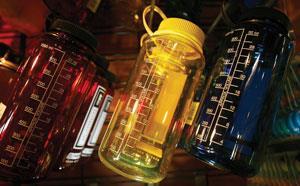 On 18 April, Health Canada declared BPA 'toxic', and a 15 April US National Institutes of Health report concluded that the polycarbonate monomer - used for decades in plastic drinks bottles and food containers - may affect health (see Chemistry World, May 2008, p9).
Two US congressmen on the House of Representatives' committee on energy and commerce have now written to four firms, including Nestl?, requesting that they remove BPA from their infant formula packaging. In their 6 May letter, committee chairman John Dingell, and Bart Stupak, the chairman of the subcommittee on oversight and investigations, say that they believe that the health risks from BPA in infants and children 'are serious enough to warrant immediate action'.
However, the US Food and Drug Administration (FDA) maintains that a large body of evidence shows that products made with BPA are safe. On 14 May, FDA associate commissioner for science Norris Alderson told a Senate subcommittee that an FDA review is ongoing - but that there is no reason to recommend consumers stop using polycarbonate products.
Several US shops, including retail giant Wal-Mart, have already said they will stop selling bottles made with BPA, and UK Wal-Mart subsidiary Asda is producing its own BPA-free range. The European Food Safety Authority (EFSA) is currently reviewing its BPA safety assessment, following the Canadian and US studies.
Some polycarbonate bottle makers have already pledged to phase out BPA-containing products. On 18 April, sports bottle maker Nalgene - a Thermo Fisher subsidiary - announced it would phase out production of bottles using BPA 'over the next several months', while stating it continued to believe its BPA-containing products are safe. However, a Californian woman has already sued the firm, accusing it of downplaying known risks of BPA leaching out of its bottles.
James Mitchell Crow
Chemistry industry
Nitric acid flows
BASF has started operating a new nitric acid plant at its Antwerp site, with a 500,000 tonne per year capacity. The acid will mainly be used in polyurethane manufacture. The German firm says the nitric acid plant is the first built entirely with the company's own technology - a cost-saving measure, BASF says.
Ethylene expansion
US chemicals company DuPont is to spend $150 million (?77 million) increasing its worldwide ethylene copolymer manufacturing capacity. As well as their previously announced new Chinese facility - a joint venture with Sinopec - the company will expand capacity at one plant in the Netherlands, and two in the US.
Scrubbing up
Belgium-based Solvay has launched a new product to treat sulfur dioxide in flue gases. The company is investing $40 million at a site in Wyoming, US, to make the sodium bicarbonate based product, called SOLVAir Select 300, with initial capacity of 125,000 tonnes per year.
Positive earnings
Despite the economic slowdown, many of the chemical industry's biggest companies reported strong economic growth in the first quarter of 2008, as the firms offset the rising costs of feedstocks and energy by charging more for their products. German chemicals giants BASF and Bayer both reported earnings around 10 per cent above 2007 figures, while US-based DuPont's earnings per share rose 22 per cent. However, Dow's earnings continued to fall, dropping 3.4 per cent from last year. Rising oil prices again boosted the income of BP and Shell - although Shell's earnings from chemicals fell 34 per cent.
Buying into biomedicals
Netherlands-based DSM has agreed to buy US biomedical polymers firm Polymer Technology Group, for an undisclosed sum. The US firm expects to make $40 million in sales in 2008 - and DSM says it plans to grow its sales in biomedical materials to over
100 million (?78 million) by 2012.
ICI no more
Netherlands-based AkzoNobel, who in January 2008 bought ICI for ?8 billion, has confirmed that the name ICI is to disappear. However, certain ICI brand names, including Dulux, will be retained. Meanwhile, the Dutch firm has announced two further acquisitions, its pulp and paper chemicals arm buying German silica sol business Levasil, and its polymer chemicals business buying two organic peroxide product lines from China's Jiangsu QiangSheng.
Flat screen team
DuPont and Japan's Dainippon have announced they will form a strategic alliance to develop manufacturing equipment for printed OLED displays. The two firms have also agreed a deal to move towards OLED mass production.
Pharmaceuticals
Further Pfizer closure
US pharmaceuticals giant Pfizer has announced it will close its Indiana plant, formerly used to manufacture Exubera, the inhaled insulin product the firm scrapped in October 2007 due to poor sales. The closure, to be completed by mid-2009, means the plant's remaining 140 jobs will be cut - adding to the 660 workers made redundant at the plant in January. Pfizer has already announced the closure of several other manufacturing plants - including the UK plant at Sandwich.
Bayer seeks pill protection
Bayer says it has received EU-wide approval for its low-dose contraceptive pill Yaz. The drug received US approval in 2006, and the contraceptive drug family made Bayer
1.04 billion in 2007. Meanwhile, the German firm has sued Watson Pharmaceuticals, and Novartis's Sandoz arm, in a bid to stop them from selling generic copies of its older birth control pill, Yasmin. The two generic drug makers had applied for FDA approval to sell copies, after Barr Pharmaceutical won a March US court ruling voiding a patent on Yasmin. The court's decision may prompt the Food and Drug Administration (FDA) to approve Barr's application to sell copies of the drug - although Bayer is appealing the ruling.
Does visiting the dentist leave you numb?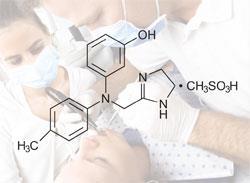 A drug that counteracts the effects of local anaesthetics used by dentists could soon be helping people to avoid dribbling or accidentally biting their numbed tongue after dental work. On 9 May the US Food and Drug Administration approved Novalar Pharmaceuticals' new drug, OraVerse, which cuts by more than half the time taken to recover full sensation after local anaesthetic.
OraVerse is a new formulation of long-known hypertension treatment phentolamine mesylate. Novalar says it doesn't know exactly how OraVerse works - but believes that by dilating blood vessels, it speeds the anaesthetic's diffusion away from the local area. The drug is likely reversing the effects of epinephrine, a blood vessel constrictor that dentists typically administer along with the local anaesthetic to prolong its effects.
Novalar says it plans to launch OraVerse at the 2008 American Dental Association annual meeting in October.
Risk of death
AstraZeneca's beta blocker drug Toprol, frequently given to patients before non-heart-related surgery to reduce the risk of heart attack, more than doubles the risk of stroke and increases the likelihood of death by 33 per cent, researchers reported in The Lancet. This increased risk may outweigh the reduced chance of heart attack, the researchers conclude, and further large trials are urgently needed.
Merck outsources to India
US drugmaker Merck has signed a five year deal with Ranbaxy to develop anti-infective drugs. The Indian firm will discover and develop drugs through to Phase IIa clinical trials, with Merck to carry out later stage clinical trials and bring the drug to market. Ranbaxy will receive an initial payment - and estimates it could eventually receive over $100 million, depending on the drugs developed reaching certain milestones.
Meningitis vaccine trials
Swiss pharma firm Novartis says its experimental meningitis vaccine Menoveo has performed well in a late-stage clinical trial. The drug triggered a strong immune response in a greater percentage of participants than those given Sanofi-aventis's currently available vaccine, Mencatra. Novartis says it plans to file for approval in the US and Europe before the end of the year, and analysts suggest the drug could reach annual sales of $1.5 billion. Novartis has also reported that Phase II trial data shows its meningitis B vaccine is the first to provide broad protection from the infection to infants.
Advert for growth
Myriad Genetics's $8 million TV and radio advertising campaign for its breast cancer gene test has boosted sales of the test by 55 per cent - drawing criticism from some in the medical community, who say women may be drawn to take the test unnecessarily, and that doctors lack the expertise to interpret it. Myriad uses the revenue from its genetic tests to fund research into new drugs for Alzheimer's disease and cancer.
Nice Alzheimer's drug denials
The UK Court of Appeal has ordered the National Institute for Clinical Excellence (Nice) to fully reveal how it calculated that certain Alzheimer's drugs weren't cost-effective enough to be provided by the National Health Service. In 2006, Nice ruled that the NHS would not pay for patients with mild Alzheimer's to receive drugs such as Aricept, Reminyl and Exelon - but were challenged in the courts by Japanese drug maker Eisai, who makes Aricept with Pfizer.
Next generation drugs for ADHD
Three pharmaceutical companies announced developments in their attention-deficit hyperactivity disorder (ADHD) drug programme in May. Eli Lilly says it has received FDA approval to sell Strattera - the first non-stimulant ADHD drug approved by the US regulator - for children and adolescents with the disorder. Meanwhile, Abbott presented Phase II trial data of experimental ADHD drug ABT-089, which the company says shows the selective neuronal nicotinic receptor agonist significantly improves core symptoms of the drug in adults, without some of the side-effects associated with current drugs.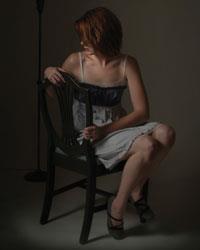 Finally, the UK's Shire presented Phase III trial data showing its own ADHD drug, Vyvanse, demonstrated significant symptom improvements in adults, while also meeting safety endpoints. The company received FDA approval of the drug for adults in April 2008, and for children in February 2007 - although shares in the company have slipped as the drug has failed to capture the market share analysts had expected.
Pharma's first quarter falls
Swiss pharmaceuticals company Roche posted a 10 per cent rise in first quarter profits - a rare piece of good news as the sector's big players struggle with competition from generics, drug safety issues, and the falling US dollar. Pfizer's earnings fell 15 per cent, and Sanofi-aventis profits fell 14 per cent. GSK's profits dropped 5 per cent, and Roche's fell 4 per cent, on the back of falling sales of Avandia and Tamiflu, respectively.
FDA scientist hiring spree
The FDA has announced it will hire 1300 new scientists in 2008 alone, following the expansion of its drug approval and safety operations, set out by Congress in the FDA Amendments Act of 2007. The new personnel will significantly expand the FDA's currently 10,000-strong workforce. Meanwhile, FDA commissioner Andrew von Eschenbach has written to Congress requesting an immediate $275 million in further funding, so that the regulator can ensure that imported foods, drugs and medical devices are safe.
View from the inside
US firm InfraReDx has received FDA approval for its imaging device to detect fat deposits in plaques in artery walls. Such fatty plaques can rupture and cause heart attack. The near-infrared spectroscopy-based device, which employs a catheter equipped with a fibre-optic laser to insert into the artery, could assist doctors to detect these deposits.
Crohn's drug approved
Belgian biotech UCB has received FDA approval for its antibody-based drug Cimzia to treat moderate to severe cases of the bowel disorder Crohn's disease. The treatment, which targets tumour necrosis factor alpha, also has potential as an arthritis treatment, and analysts suggest it has the potential to earn $1 billion a year in sales. Cimzia was originally developed by UK biotech firm Celltech, and the drug was the primary motivation for UCB's ?1.53 billion takeover of the UK firm in 2004 (see also Flashback).
Trial confirms Trasylol death risk
Final results of a clinical trial stopped prematurely in October 2007 due to high numbers of patient deaths have confirmed that Bayer drug Trasylol (aprotinin) is associated with a 53 per cent higher risk of death than alternative treatments. Aprotinin, or alternative drugs tranexamic acid or aminocaproic acid, had been routinely given to prevent blood loss during heart surgery - but approximately 6 per cent of patients given aprotinin died within 30 days of surgery, compared to 3 per cent given the alternatives. Bayer has responded by pulling the drug from all countries where it remained in the supply chain.
Sanofi loses patent appeal
Sanofi-aventis has lost its appeal over a US court's 2007 decision to strike down patents for the French pharmaceutical firm's anticlotting drug Lovenox. The court had ruled that the patents were unenforceable because the company had failed to disclose certain information to the US patent office. Sanofi earned
2.6 billion from Lovenox in 2007 - but may now face competition from generic copies of the drug.
Hayfever vaccine edges closer
UK-based allergy treatment company Allergy Therapeutics has announced the successful completion of a Phase III clinical trial for its experimental hayfever vaccine. Patients who suffer from hayfever from grass pollen - the most common cause of the allergy - experienced a 13 per cent improvement in symptoms when given the vaccine rather than a placebo. The company says it will file for European approval for the vaccine in early 2009 - and estimates the worldwide market for allergy treatments to be over $10 billion.
Agrochemicals
Nufarm's Etigra capture complete
Australian agrochemcials company Nufarm has completed its $69 million acquisition of Etigra. The US crop protection product firm had focused on turf and speciality sectors. Nufarm says it will use the acquisition to strengthen its US business, and will look to move Etigra products into new crop areas.
Dow discovery deal
US chemicals giant Dow's AgroSciences arm has announced a research agreement with India's GVK Biosciences, to synthesise and test novel molecules as new fungicides and insecticides. Contract research outfit GVK has traditionally worked in medicinal chemistry - and Dow says it will combine GVK's expertise in synthetic organic chemistry and cheminformatics with its own agrochemicals experience.
Novel pesticide approved
DuPont has received US and Canadian approval for two new insecticides - Altacor and Coragen - both based on novel active ingredient Rynaxypyr. The compound, an anthranilamide, is the first commercialised synthetic analogue of ryanodine, a toxin produced naturally by certain plants.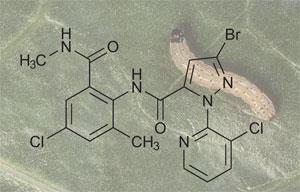 The pesticide targets insects eating the crop. Rynaxypyr selectively blocks insect calcium ion channels crucial for muscle function - paralysing and ultimately killing the pest. Altacor has been approved for fruit crops, including grapes, apples, peaches and cherries, while Coragen is registered for vegetable crops such as lettuce, peppers and tomatoes.
Energy
Geological carbon storage awards
The US Department of Energy has announced $126.6 million in research awards for two industrial partnerships to test large-scale carbon sequestration projects. The two projects, in California and Ohio, are intended to demonstrate that carbon dioxide can be permanently stored in two of the country's most promising geological formations - believed to have the potential to store 100 years' worth of North America's emissions.
Biofuel ventures seeking cellulose
German firms S?d-Chemie and Linde have agreed to collaborate to develop and market second generation biofuel production plants. The companies say their biotech approach will deliver ethanol or related fuels from cellulosic biomass - S?d-Chemie contributing biocatalysis and bioprocessing expertise, Linde providing engineering skills.
Meanwhile, US firms DuPont and Genencore have announced they will form a joint venture to develop a low cost technology to make cellulosic ethanol. The companies will invest $140 million over the first three years, and will initially target corn and sugarcane waste as a feedstock.
Powered by rubbish
Belgium-based Solvay says it will build a 'refuse derived fuel' power plant at its site in Bernberg, Germany, to provide energy for sodium carbonate and hydrogen peroxide production from spring 2010. The power plant can be run on a variety of non-recyclable waste materials, including plastics, wood, textiles, paper, and cardboard. Solvay will use its sodium bicarbonate-based Neutrec technology to clean the plant's emissions.
BP's Brazilian biofuels
BP is to invest $560 million in a project to make ethanol from sugar cane in Brazil. The company will invest $60 million to buy a 50 per cent stake in Tropical BioEnergia, a joint venture set up by Brazilian firms Grupo Maeda and Santelisa Vale. The remaining $500 million will be invested in two new ethanol refineries.
Sibur sold
Russian energy giant Gazprom has agreed to sell petrochemicals arm Sibur. In a management buy-out, Sibur's chiefs will pay $5.4 billion for the firm, after Gazprom declared the petrochemicals company a non-core business.
American Styrenics start-up
American Styrenics, a joint venture between US firms Dow and Chevron Phillips, has started operations. The new business - the West's largest polystyrene maker - consists of six US polystyrene plants contributed by Dow, and two Chevron Phillips plants.
Generic competition
Switzerland's Schweizerhall says it is preparing to introduce a generic version of Sanofi-aventis's Plavix, a blood thinning drug that protects against heart attack and stroke. Plavix is the French firm's second-biggest selling drug - and news of the generic rival triggered a 5 per cent fall in Sanofi's shares.
Lilly biotech complex complete
Eli Lilly has completed the final phase of its $1 billion new biotechnology research and development facility. The US pharmaceutical firm says 500 scientists and support staff will develop new biotech-based drugs at the site.
Bristol-Myers core focus
Bristol-Myers Squibb is to sell its ConvaTec wound care business to private equity investors for $4.1 billion, as the company increasingly focuses on its core pharmaceuticals business. In December 2007 Bristol-Myers announced the sale of its medical imaging unit to private equity group Avista for $525 million.
Bird flu vaccine approval
GSK has received European Commission approval for its H5N1 vaccine Prepandrix. The vaccine, intended to be stockpiled by governments and deployed pre-pandemic, is the first such treatment to receive approval - other drug makers, including Novartis and Sanofi-Aventis, are developing similar vaccines. Analysts predict GSK could earn over $1 billion in sales from the product.
Aspirin alternative
A study in China, published in The Lancet Neurology, has shown that antiplatelet drug cilostazol is as effective as aspirin at preventing stroke recurrence, but without the side-effects. The authors suggest Phase III trials should now be carried out in other populations, to see if the benefits hold.
Chantix government backing
The US government's Public Health Service has recommended Pfizer's Chantix (called Champix in Europe) as the most effective medicine for helping people to stop smoking - despite research linking the drug with depression and suicidal behaviour.
Pfizer consortium
Pfizer is to fund a $14 million, three year research collaboration to improve understanding of the link between diabetes and obesity. Four US universities - Caltech, the University of California, Santa Barbara, the University of Massachusetts, and MIT - make up the consortium, along with modelling company Entelos.
GSK sees red
GlaxoSmithKline has agreed to buy US biotech company Sirtris Pharmaceuticals for $720 million. Sirtris's lead compound, SRT501, is an analogue of resveratrol, a compound from red wine believed to be responsible for the drink's associated health benefits.
Multimillion vaccine deal
Cambridge, UK-based vaccine maker Acambis has won a 10 year, $425 million contract to supply smallpox vaccine to the US government's Centers for Disease Control and Prevention.
Merck job cuts
US pharmaceuticals firm Merck has announced it will cut 1200 US sales jobs - and also revealed that it will close its natural products research facility in Madrid, after a company executive inadvertently revealed the closure in a presentation.