UK physical sciences chief Philip Nelson talks exclusively to Chemistry World about his plans, doctoral training and discontent in the community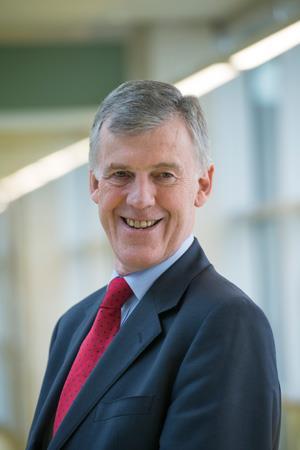 The new head of the UK's physical sciences research council plans to make engagement his watchword. Philip Nelson, who has been running the Engineering and Physical Sciences Research Council (EPSRC) for the past nine months, says he is 'very keen' to ensure an open dialogue between the physical sciences community and the council as it begins to formulate its funding plan for the next five years. To date, he says he has been meeting with universities and scientific societies to consult on the council's recently released strategic plan. This comes after accusations that the council, under Nelson's predecessor, was making decisions without talking to the physical sciences community. However, Nelson notes that with a community of around 13,000 researchers 'you have to be practical about it, as it's not always possible to consult with everybody on everything'.
Nelson joins the EPSRC, which invests around £800 million a year of government money in research and postgraduate education and manages a research portfolio of £2.5 billion, on secondment from the University of Southampton, where he is a professor of acoustics and was a pro-vice chancellor of research and enterprise. Nelson succeeds David Delpy, whose tenure at the research council was marked by friction between the funder and the research community it serves. Disagreements over what role the council should play in dictating the direction of physical sciences research – its shaping capability programme – loomed large, along with accusations that the council failed to consult with the wider community. Added into this heady mix were concerns over the council's decision to curtail the number of grant applications a repeatedly unsuccessful researcher could make – a policy critics likened to 'blacklisting'. This discontent culminated in a mock funeral with a coffin bearing the inscription 'science' being delivered to 10 Downing Street.
A misunderstanding
Much of this anger was the result of a misunderstanding, Nelson says. He suggests that some of the physical sciences community was under the misapprehension that the shaping capability programme was going to be more 'draconian' than it was and shut down whole areas of research. 'Having looked at it very carefully, I concluded that actually we were in a very good place and that the EPSRC was doing exactly the right sort of thing – it's making a number of gentle interventions to make sure that we have this good spread of work across the basic disciplines as advised by experts in the field,' he says. The council manages a portfolio of 113 sub-fields, and Nelson stresses that it is proper and correct that the council make tough decisions about which areas to grow, maintain or reduce. He also confesses that he had some jitters about the demand management programme for repeatedly unsuccessful researchers when it was brought in, but notes only 16 researchers are currently constrained so has no qualms about the scheme now.
Nelson says that it is now very important for the physical sciences community to speak with one voice as the next government spending review isn't far off. 'I think it's incumbent on all research councils, learned societies, universities and other research organisations to really lobby hard for, in an ideal world, an uplift in our budget,' he says. He acknowledges that science did well to get a flat cash settlement out of the last review, while other departments were hit with deep cuts. 'But there's no denying that it's been a net real terms cut with four years flat cash,' he adds. 'That's an erosion of around 10–15% in real terms, whilst other nations, if you look at the fraction of GDP they spend on R&D – I'm looking at the big picture here – we're losing touch with places like China, Korea and other nations in the far east.' He adds that it won't be enough for research councils to just hold out their hands – they'll have to make a compelling economic case.
Planning for success
Nelson hopes that the new strategic plan will be able to help make the case for the physical sciences. The strategy is based on three planks: accelerating impact, building leadership and balancing capability. The first is about helping scientists that want to take an idea through to an application as fast as possible. To do this the EPSRC is providing £20 million a year to help pioneering researchers spin out businesses from their research, while also providing support to work with industry and Innovate UK (the new name for the Technology Strategy Board). Nelson says that building leadership is about acknowledging that to make the UK the best place in the world to do science the best people are needed. On complaints that the starting grant for researchers just starting out is too small, he says that this is something they are keeping under review: 'For early career researchers trying to get their career launched I know how tough it is now, actually a lot tougher when I was at that career stage.' He adds that this isn't just about supporting researchers with grants, but also about recognising that the council is training and creating workers for the knowledge economy. The third plank is balancing capability, the new name for the shaping capability programme, and it will guide the 'spread of fundamental capability across the science and engineering base so that it is fit for purpose, and that it is really fulfilling national need at a time of constrained resource'.
Another issue that has divided the community are Centres for Doctoral Training (CDT) – one of three ways in which the council funds PhD students. In these centres, students work in cohorts, learning from each other. They also receive a much wider range of training than they would in a conventional PhD, often working on a project that addresses a specific industry problem. Critics have expressed concerns, however, that CDTs narrow the research base and were hastily expanded without consultation. Nelson counters that claim by explaining that CDTs have been tremendously successful, generating almost £500 million of funding from industry and public bodies to match EPSRC funding. He notes that they also provide students with a wide variety of skills valued by industry, rather than solely trying to train up the next wave of academics. In the end, Nelson says it all comes down to balance. Some students will want to go into industry, while others see their future in academia and the council will need to steer a course that provides well rounded individuals for these career paths and others.