Bombs and mortars abandoned by retreating Japanese troops in China are finally being destroyed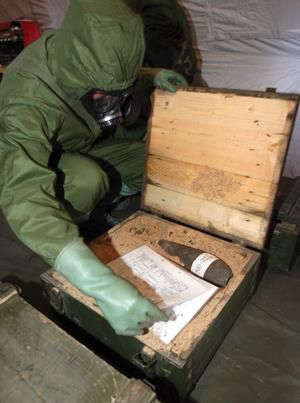 Nearly 70 years ago tens of thousands of chemical weapons were abandoned in China by retreating Japanese troops at the close of the second world war. Now progress is finally being made rounding up and destroying all these deadly weapons that are still injuring Chinese citizens today and have even killed them in the past.
More than 50,000 projectiles, mortars, aerial bombs, liquid-filled drums and gas-filled pots containing chemical agents such as sulfur mustards, lewisite and phosgene have been found scattered over 90 sites in China so far. Many of the discoveries were made during construction work. Chemical weapons have been found dumped in densely populated areas, in nature reserves and in rivers and lakes, as well as off shore. Due to their age, these munitions are rusty, damaged and often leaking. Some also contain explosives. Unsurprisingly, they have reportedly caused 2000 injuries and even a few fatalities.
Chemical weapons were used by Japan in its war with China an estimated 2000 times between 1937 and 1945. These attacks are thought to have maimed 80,000 people and killed another 10,000.
Team work
Since 1997, China and Japan have been working together to destroy these chemical weapons with the support of the Organisation for the Prohibition of Chemical Weapons (OPCW). The OPCW is responsible for coordinating the destruction of chemical weapons globally. Although the chemical weapons are on Chinese soil, the financial burden and responsibility for their destruction falls upon Japan. The most difficult challenge with abandoned chemical weapons is getting the two states to work well together, explains Dominique Anelli, head of the OPCW's chemical demilitarisation branch, speaking at the 2014 Chemical Weapons Demilitarisation Conference in London, UK. 'In this case they are being reasonable, but as you can imagine Japan want to give as little as possible and China want to get as much as possible.'
Discovery of these abandoned chemical weapons is still alarmingly frequent: 10 new locations have been identified since early 2013. Between November 2013 and March 2014, for example, 501 abandoned chemical weapons were discovered in Tianjing.
'When we have a report of a suspected munition, we send our chemical experts to identify it as a Japanese chemical munition,' says Cheng Tang, China's deputy chief at the Office for Disposal of Japanese Abandoned Chemical Weapons. Identification is done visually and with x-rays, and if any liquid has leaked out a chemical analysis can be run. 'We then report the details to Japan who will send a team to investigate.' The weapon will then be excavated and transported to one of 35 storage facilities in China.
Mobile destruction
Destruction of these legacy chemical weapons started in 2010, using two mobile destruction facilities. These pop-up facilities have been designed to be disassembled and then reassembled to reduce the distance the chemical weapons need to travel.
To destroy them, explosives are first packed around the chemical weapon, and then it is placed in a decompressed detonation chamber and blown up. 'The power of the explosion breaks down the chemical weapons,' explains Kenichi Takahashi, director general of Japan's Abandoned Chemical Weapons Office.
Five sites have been identified so far to host the facilities that will destroy the weapons. The first site, in Nanjing in southern China, started operating in 2010. This site was closed in 2013, after destroying over 35,000 chemical weapons. This facility is currently being reconstructed at a second site in southern China and the location for a third site is currently being discussed.
The second detonation chamber is to tour northern China. The process of destroying weapons at the first site, in Shijiazhuang, started in 2012. Since then nearly 80% of the chemical weapons stored there – over 1300 – have been destroyed. A second site in northern China is currently being prepared.
Burial pit
Haerbaling in north-east China is home to an estimated 330,000 buried weapons – the largest site in the country. A huge hanger-like structure has been built over the burial pit, and recovery of the chemical weapons began in 2012. The destruction facilities here are currently under construction. As well as a detonation chamber like those touring the country, a detonation furnace has also been built. 'In this [furnace] we will burn the chemical weapons at 500°C, so we can have continuous operation,' says Takahashi. 'For mass destruction this is very useful.' The detonation chamber, which can only destroy small batches of chemical weapons at a time, is better suited to larger munitions.
The original deadline agreed for the destruction of all the abandoned chemical weapons was 2012. The revised deadlines are 2016 for the items being destroyed using mobile facilities and 2022 for those at Haerbaling. '2022 is the best case scenario,' explains Anelli. 'I think that at this rate it will go over a couple of years.'
With total weapon numbers still unknown and timetables slipping, it is hard to put a price on the cost of this operation. 'It has already cost over €1 billion (£810 million) and the projection is very difficult,' explains Takahashi.
Corrections: On 10 June 2014 the opening paragraph was changed as abandoned chemical weapons last killed a Chinese citizen in 2003 in Qiqihar. In addition the recovery of chemical weapons in Haerbaling began in 2012 not 2013 and the mobile units can destroy small batches of weapons in one go, rather than just single large munitions.