Concerns raised over efficacy, side effects and use of advocacy campaigning to influence regulatory decisions
Almost five years after Boehringer Ingelheim stopped development on the female hypoactive sexual desire disorder (HSDD) treatment flibanserin, it has been approved by the US Food and Drug Administration (FDA). Boehringer sold the rights to Sprout Pharmaceuticals, which continued development and finally gained approval. It is expected to hit the market in the autumn, with the trade name Addyi.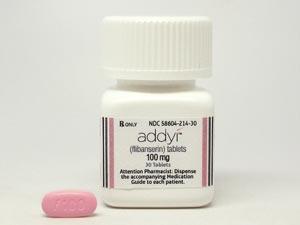 Days after the approval, Sprout agreed to be acquired by Valeant for $1 billion (£640 million) plus a share of future profits. It will become a new division within Valeant, with Sprout chief executive Cindy Whitehead remaining in charge.
First investigated as an antidepressant, flibanserin affects 5-hydroxytryptamine (5-HT, serotonin) neurotransmitter receptors in the brain. It is a 5-HT1A agonist and a 5-HT2A antagonist. It was given the go-ahead at the third attempt, after previous rejections in 2010 (which led Boehringer to drop the programme) and 2013. The FDA was concerned about its modest efficacy and potential side-effects. The approval comes with a requirement for a warning on the packaging that it could cause very low blood pressure and fainting, and that these side-effects are more common when it's taken in conjunction with alcohol. Doctors will have to assess how likely a patient is to abstain from alcohol before prescribing the drug.
The approval follows a Sprout-backed campaign, 'Even the Score'. This highlighted the fact that, although multiple treatments for male sexual dysfunction have been approved, nothing had been licensed for women. HSDD is thought to affect one in 10 women.
Sheryl Kingsberg, chief of behavioural medicine at University Hospitals Case Medical Center in Cleveland, US, has been treating women with HSDD for 25 years, and had patients involved in the trials. She says she and her patients have struggled to find treatment options when psychotherapy is not appropriate.
'I believe it is the most important advance in women's health since the approval of the [contraceptive] pill,' she says. 'Flibanserin met every pre-specified endpoint for the pivotal trial programme. It has a very benign safety profile, and I think there is much ado about very little when it comes to these claims about terrible side-effects.'
Not everyone is delighted, however. The National Women's Health Network says it is 'disappointed' with the decision, claiming it was influenced by the 'unprecedented and coercive sponsor-initiated marketing and public relations campaign [that] erodes the integrity and meaningfulness of the FDA's own standard for approving drugs'. They describe it as setting a 'dangerous precedent'.
Other products are in development for HSDD, including Palatin's melanocortin agonist bremelanotide, which is in Phase III. 'Flibanserin will work nicely for some women but not all, even those who are appropriate candidates for a pharmacologic option,' Kingsberg says. 'This is a huge start because it has propped the door open for more drug development. The efficacy, which people have challenged, really is there. What you're looking for in a drug to treat desire is a restoration to a woman's healthy baseline. The safety–benefit ratio is what the FDA has termed modest, and what patients would say is meaningful – moving from having no desire to having some desire.'