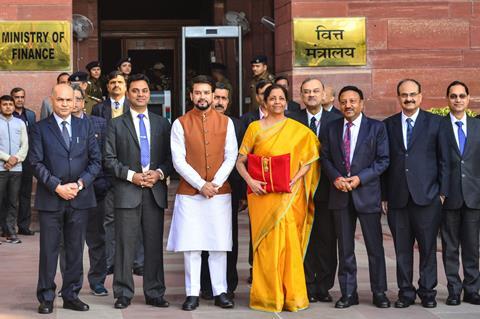 India's new budget, unveiled earlier this month, offers good news for science at first glance, but the state of the country's economy has many in the science community worried.
This year, the budget for the science and technology department, India's key science funding agency, received a 15% boost, the biotechnology department 17% and the scientific and industrial research department 10%, compared with last year's projected expenditure. Earth science received a 14% rise and health research 8%. Atomic energy and space – the departments that traditionally attract the most money – only received a 4.61% and 0.25% rise, respectively.
Budgetary allocations in recent times have raised eyebrows as science policy watchers and economists have suggested that the government barely has the money to fund existing ventures, let alone new ones. 'The Indian economy is nosediving and the government is in denial,' says development economist Jayati Ghosh, chair of the Centre for Economic Studies and Planning and a professor at Jawaharlal Nehru University (JNU). 'There is a huge shortfall in revenues since last year and significant spending will not happen,' she says.
There have already been huge cuts in expenditure since last year and even money that has been allocated is often released so late in the fiscal year that there is no time to spend it. Ghosh blames the government of Narendra Modi for monumental economic mismanagement. 'Worse, they have completely destroyed the credibility of our data and are wilfully misleading us,' she adds.
Arvind Subramanian, Narendra Modi's former chief economic adviser, calculated that India's growth rate has been overestimated by around 2.5 percentage points between 2011–12 and 2016-17 due to a change in methodology. India's growth rate in this period should be about 4.5% instead of the official estimate of close to 7%, he said.
Ghosh points out that the ministry of agriculture spent 39% less than it was allocated in 2018–19, the consumer affairs, food and public distribution ministry 65% less and new and renewable energy ministry 22% less. Of the INR950 million (£10 million) allocated to the higher discovery programme last year and INR500 million for transformational and advanced research in science virtually none had been spent by the end of 2019.
'The allocation figures being presented are largely speculative and calculated for good optics,' says science policy expert, Dinesh Abrol, former chief scientist for the Council for Scientific and Industrial Research and currently coordinator of the programme on sustainability studies at JNU. 'The actual ground reality is telling a different story.'
Where is the money?
Finance minister Nirmala Sitharaman announced in her budget speech that the government will spend INR80 billion on a 'national mission' in quantum technologies and applications (NMQT) over five years as it is 'opening up new frontiers in computing, communications, cybersecurity, with widespread applications'.
'Where is the allocation for such a mission?' asks Abrol. 'At least there should be an allocation of INR16 billion for one year for NMQT alone but the total budgetary increase for the Department of Science and Technology is only INR8 billion, which is supposed to cover all of science.'
The National Higher Education Campaign, dedicated to improving the quality of state universities, faces cuts of 86% from last year, says the Centre for Budget and Governance Accountability (CBGA), a New Delhi-based non-profit. In 2017, the government announced it would establish 20 world class institutions, as India's institutions perform poorly in international rankings. However, a freedom of information request by the Indian Express revealed that only 21% of the allocated amount was spent by December 2019, says the CBGA.
Despite longstanding calls to increase science investment, India's expenditure on R&D remains low and sat at 0.69% of GDP in 2014–15 – the latest available data. Global R&D leaders the US and China accounted for 25% and 23%, respectively, of global R&D expenditure in 2017, with India far behind at 1–3% of the global total.
'Our investment in science is a small fraction of China's investment. We are yet to cross 1% of GDP for science, especially for scientific research done by individuals in their laboratories,' says CNR Rao, former science adviser to the prime minister and honorary president of the Jawaharlal Nehru Centre for Advanced Scientific Research.
'The challenge is severe as China has equalled the US in number of research papers,' Rao adds. 'We have to make judicious investments and increase both the quantity and quality of research publications.'