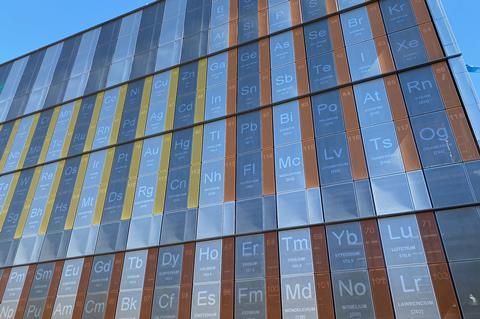 There can only be only one winner in the battle for the world's largest periodic table – and an Australian university has just beaten the previous record holder, the University of Murcia in Spain.
At 660m2, the giant periodic table is more than four times bigger than the one unveiled in Murcia in 2017. It is made out of 360 perforated powder-coated aluminium sheets covering an entire outside wall of a new science building at Edith Cowan University in Western Australia.
'The façade of our new science building presented us with a very large canvas with which to make a statement,' says Edith Cowan University's vice chancellor and chemist Steve Chapman. 'What better statement about the history and future of science is there than the periodic table?'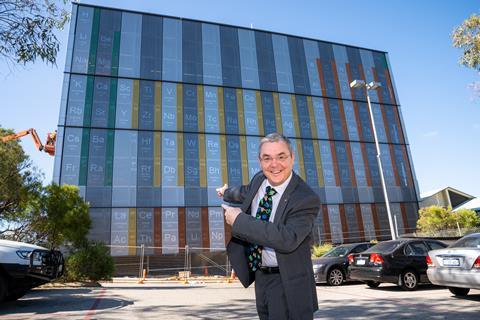 The building is a design by Silver Thomas Hanley Architects who specialise in health and research facilities. 'There are perforations within each panel that effectively create a screen that helps with solar heat and glare control, while also allowing natural light into the spaces behind,' explains Chapman. 'The actual lettering was created by utilising variations in the perforations to produce solid areas that form the text.'
The A$48 million (£25 million), five-storey building will house not only chemistry labs but also geography, genetics, microbiology and medical sciences, as well as a large cybersecurity unit. It will open its doors in February 2020.
While Edith Cowan University's building features the largest permanent version of Dmitri Mendeleev's table, several temporary installations were even bigger. For Mole Day this year – 23 October 2019 – members of the chemistry club at Wayne State University in Michigan, US, laid out 118 element tarpaulins on the university's athletics field. The enormous periodic table covered an area of 18,000m2.