Leaders of California, Oregon, Washington and British Columbia sign climate pact to harmonise greenhouse gas emissions, account for carbon pollution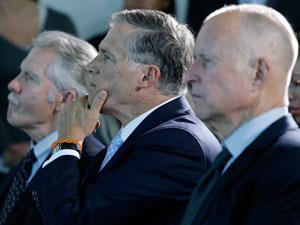 A new climate pact, signed by leaders of British Columbia, California, Oregon and Washington on 28 October, aims to harmonise the West coast greenhouse gas emission targets and set a path toward long-term reductions. The Pacific Coast region represents the world's fifth largest economy, with a combined GDP of $2.8 trillion (£1.8 trillion).
The Pacific Coast Action Plan on Climate and Energy is not legally binding. However, it does express the intention of the leaders of all four governments to account for the costs of carbon pollution. Under the plan, Oregon will set a price on carbon emissions and Washington will set 'binding limits' on carbon emissions, while British Columbia and California will maintain their existing carbon-pricing programmes.
In addition, the Action Plan specifies that the three US states and Canadian province will link programmes to grow their region's low-carbon economy 'where possible', and also synchronise 2050 targets for greenhouse gas reductions.
'We intend to better account for the environmental impacts associated with drilling and mining and burning fossil fuels, in terms of the detriment to the health and wellbeing of communities and future generations,' said Oregon's Democrat governor, John Kitzhaber, at the signing of the pact.
Washington's Democrat governor Jay Inslee went a step further. 'While progress in Washington, DC is strangled by climate deniers, there is no denying the fact that the West coast is rip-roaring and ready to go,' he stated.
But some observers say that the climate pact is largely symbolic, and that the governors of Oregon and Washington will confront the same difficulty as President Obama – facing legislatures where Republicans have veto power and a bipartisan consensus will be hard to achieve.
At the signing event, California's Democratic governor, Jerry Brown, said the pact will only achieve real results if it expands. 'You have got to get everybody – China, India, Texas, Alabama, Europe and Brazil,' he said. 'If we only do it ourselves, it doesn't do much because we are only 1% of the problem.'
Brown said the initiative is spreading. California has already signed a memorandum of understanding to address climate issues with several provinces in China and the country's national government. 'You are witnessing a historic, small but powerful first step,' he stated.
Environmental groups celebrated the agreement. 'This action today shows what climate leadership looks like,' said Gregg Small, executive director of Climate Solutions, a Seattle-based clean energy non-profit. 'The days of free and unlimited carbon dumping by polluters in our region are numbered.'
But others like Jeremy Carl, a fellow at Stanford University's Hoover Institution, who specialises in energy policy, points out that many key questions remain, including how this pact will be implemented. 'It is really aspirational,' he tells Chemistry World, 'you have to get cooperation from the legislatures.' Nevertheless, Carl suggests that the agreement could be 'the beginning of a ground-up type climate policy' in North America that then spreads out.