Tough, shiny artificial mother of pearl highlights new approach for biomimetic synthesis
Scientists in China have made synthetic mother of pearl, a shiny, iridescent material that coats pearls and is also found on the inside of mollusc shells.
Known as nacre, the coating is secreted by molluscs to prevent foreign bodies from penetrating their soft tissues. If parasites or debris lands on the surface, they are gradually entombed within the nacre layers and a pearl is produced.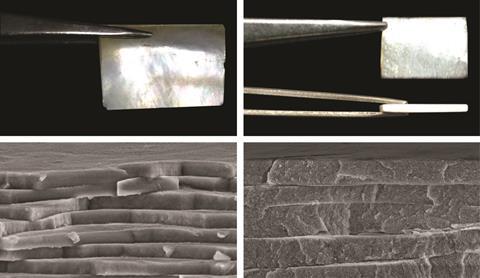 Although researchers are familiar with nacre's 'bricks and mortar' structure, where hexagonal calcium carbonate platelets are bound by an organic matrix, they have struggled to reproduce it in the lab.
Inspired by a mollusc's ability to mineralise mother of pearl, Li-Bo Mao and colleagues at the University of Science and Technology of China have now successfully made the tough, iridescent coating. Making a layered chitosan matrix, the team pumped a calcium carbonate solution through the layers and precipitated it out to form platelets.
After hot pressing the coating, the synthetic nacre appears to demonstrate a similar level of strength to its natural counterpart. The team now hope their mineralisation approach could produce other bio-inspired materials.