Polyurethane foams that are notoriously difficult to recycle have been converted to high value 3D printing resins. This economical upcycling paves the way for repurposing of other hard to recycle thermoset polymers.
Chemical recycling of thermoset polymers – cross-linked polymers that are irreversibly cured – is currently economically unattractive and the majority of these plastics end up in landfill. This has propelled research into the emerging area of chemical upcycling.
Researchers from Zhejiang University, China, have employed a fragmentation and reconstruction mechanism to repurpose polyurethane foams – found in everything from car seats, furniture and mattresses – into 3D printing resins, which are difficult to formulate even with virgin material. The polyurethane was first mechanically ground up and then soaked in dimethylformamide with a catalyst. The fragmented mixture was used as the starting material to reconstruct new polymer networks. A combination of photo pre-curing and thermal post-curing transformed the single network to an interpenetrating double network which is critical for a high-performance product. The resultant value added 3D printing resins can be chemically fragmented in the same way as the original polyurethane foam and made into a new photo-curable resin for another round of 3D printing.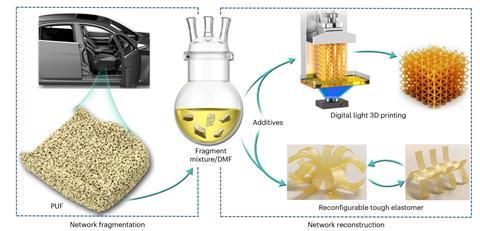 Upcycling of plastics has achieved before, for example converting plastic waste into muconic and gallic acids – important reagents for the food and pharma industry – and the conversion of hydrocarbon waste into carbon-based nanomaterials. Yet, these approaches are limited by their scalability and sustainability.
This process has a lower environmental cost and by bringing down the cost of the materials, 3D printing can potentially become a mainstream manufacturing technique. It can also be adapted for other classes of industrial thermosets, such as polyesters and anhydride cured epoxies, to reconstruct new polymer networks that yield diverse products of superior performance.

Zahra completed a PhD in chemistry in 2023 at University College London (UCL) and A*STAR (Singapore). She interested in science reporting and passionate about sharing diverse voices in chemistry to a global audience, making the stories inclusive and accessible to all, and inspiring the next generation to pursue science.
View full profile